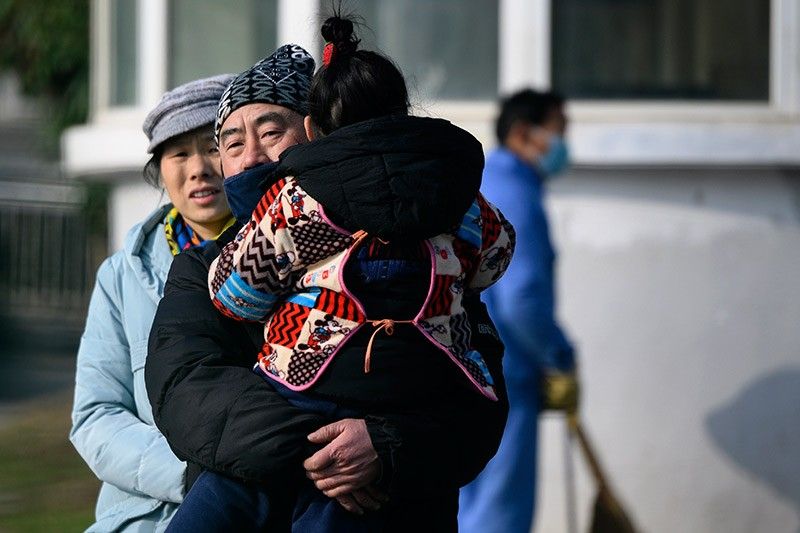 A man holding her daughter leaves the Wuhan Medical Treatment Centre, where a man who died from a respiratory illness was confined, in the city of Wuhan, Hubei province, on January 12, 2020. A 61-year-old man has become the first person to die in China from a respiratory illness believed caused by a new virus from the same family as SARS, which claimed hundreds of lives more than a decade ago, authorities said.
Noel Celis/AFP
First case of new virus behind China outbreak found in Thailand — WHO
(Agence France-Presse) - January 13, 2020 - 9:42pm
GENEVA, Switzerland — The World Health Organization confirmed Monday the first case in Thailand of a new virus from the same family as SARS that is behind a Chinese pneumonia outbreak.
The UN health agency said a person travelling from Wuhan, China, had been hospitalized in Thailand on January 8 after being diagnosed with mild pneumonia.
"Laboratory testing subsequently confirmed that the novel coronavirus was the cause," WHO spokesman Tarik Jasarevic told AFP in an email, referring to the new virus.
WHO said it might soon host an emergency meeting on the spread of the new virus.
The case marks the first outside of China, where 41 people with pneumonia-like symptoms have so far been diagnosed with the new virus in the central city of Wuhan, with one of the victims dying last Thursday.
The episode has caused alarm due to the spectre of SARS, or Severe Acute Respiratory Syndrome, which in 2002-2003 killed 349 people in mainland China and another 299 in Hong Kong, whose economy was hit hard by the epidemic's devastating impact on tourism.
The WHO has confirmed that the outbreak in China has been caused by a previously unknown type of corona virus, a broad family ranging from the common cold to more serious illnesses like SARS.
The agency said Monday it had been informed by Thai health officials that the patient there was recovering from the illness.
It stressed that it was not surprising that the virus had spread beyond China.
"The possibility of cases being identified in other countries was not unexpected, and reinforces why WHO calls for on-going active monitoring and preparedness in other countries," it said in a statement.
It pointed out that it had issued guidance on how to detect and treat people who fall ill with the new virus, and stressed that China's decision to rapidly share the genetic sequencing of the virus made it possible to quickly diagnose patients.
WHO has not recommended any specific measures for travellers or restrictions on trade with China, but stressed Monday it was taking the situation seriously.
"Given developments, WHO Director-General Dr Tedros Adhanom Ghebreyesus will consult with Emergency Committee members and could call for a meeting of the committee on short notice," it said in a statement.
As It Happens
LATEST UPDATE: January 23, 2020 - 6:01pm
Follow this page for updates on a mysterious pneumonia outbreak that has struck dozens of people in China.
January 23, 2020 - 6:01pm
Authorities say a second central Chinese city is being put on lockdown to help control the spread of a virus epidemic that broke out in neighbouring Wuhan.
The train station in Huanggang, which has a population of 7.5 million and is 70 kilometres (40 miles) from Wuhan, will be suspended until further notice from midnight -- all vehicles will be checked, and bars and cinemas will be closed, said city authorities.
The railway station in a third nearby city, Ezhou, which has a population of over one million, will also close from tonight, though no other measures were announced. — AFP
January 23, 2020 - 5:42pm
The Civil Aeronautics Board halts all chartered flights from Wuhan, China to the Philippines amid the new coronavirus outbreak.
JUST IN | Ipinagbawal na ng Civil Aeronautics Board ang lahat ng chartered flights mula sa Wuhan, China patungo ng Pilipinas, ayon sa director nitong si Atty. Carmelo Arcilla. Sa kabila ito ng pagdami ng kaso ng new coronavirus sa lugar. | via @GarryDeLeon pic.twitter.com/Rhpy9uNZP2

— News5 AKSYON (@News5AKSYON) January 23, 2020
January 23, 2020 - 4:31pm
The Health department says that there is still no confirmed case of novel coronavirus or 2019-nCoV in the Philippines.
"DOH is currently awaiting the results of the confirmatory test," its statement read which is posted on Facebook.
January 23, 2020 - 1:59pm
Officials announce Hong Kong will turn two holiday camps, including a former military barracks, into quarantine zones for people who may have come into contact with carriers of the Wuhan virus.
The international financial hub has been on high alert for the virus, which has killed 17 people since the outbreak started in central China.
The same sites were used as quarantine facilities during the deadly Severe Acute Respiratory Syndrome (SARS) outbreak 17 years ago. — AFP
January 23, 2020 - 11:40am
The Department of Justice says it is willing to assist the Department of Health in tracking the four family Chinese nationals exposed to the new corona virus who arrived in Manila last Wednesday.
"I'm sure that the DOH Bureau of Quarantine has taken steps to restrict the movements of this family from Wuhan," Guevarra said in a statement.
"But should the DOH need our help, I will direct the (Bureau of Immigration) and the (National Bureau of Investigation) to track down the whereabouts of these Chinese nationals and find the people they have interacted with in our country," he added.