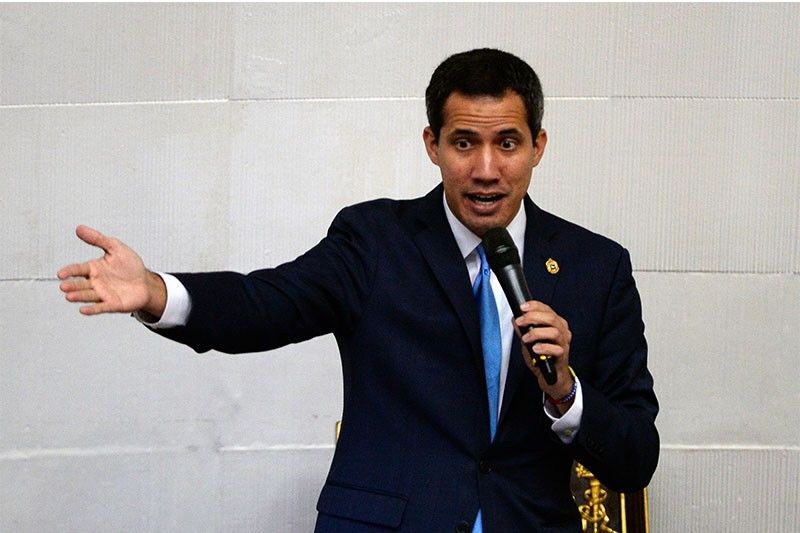 Venezuelan opposition leader and self-proclaimed acting president Juan Guaido speaks at the National Assembly in Caracas on September 17, 2019. Venezuela's government said Monday its deputies will return to the opposition-controlled legislature, which they walked out of three years ago.
AFP/Matias Delacroix
Venezuela parliament ratifies Guaido as interim president
(Agence France-Presse) - September 18, 2019 - 8:48am
CARACAS, Venezuela, — Venezuela's opposition-dominated National Assembly on Tuesday ratified Juan Guaido as the country's interim president until new elections can be held.
The endorsement came a day after the government of President Nicolas Maduro said its lawmakers would return to the legislature, which they abandoned three years ago.
The vote represented "unrestricted political support for the leadership of Juan Guaido as president of the National Assembly and as president in charge... until the cessation of usurpation occurs," according to a statement from the National Assembly.
The decision implies that US-backed Guaido, recognized as interim president by more than 50 countries, will continue to head the legislature after January 5 when his term ends.
The United States welcomed the move, saying it reflected "the unity and strength of the democratic opposition."
Deputies from the ruling socialist party walked out of the National Assembly in 2016 after losing control in elections, and the government set up its own body, the Constituent Assembly, to sideline the opposition-dominated body.
On Monday, Maduro's government said its deputies would return to the National Assembly "in the interest of deepening and extending the dialogue" with the opposition.
That announcement came hours after Guaido announced that talks aimed at resolving the country's long-running political had ended.
Maduro called off the talks, which were initially held in Oslo and then moved to Barbados, on August 7 in response to US sanctions against his government.
"After more than 40 days during which he refused to continue, we can confirm that the Barbados (dialogue) mechanism has ended," Guaido said.
Guaido earlier this year declared himself interim president with the backing of the United States and other western powers, saying elections that returned Maduro to power had been undermined by fraud.
The presidency of the National Assembly normally rotates annually under an agreement within the opposition coalition.
The position would next fall to minority movements within the opposition, including parties who have signed a pact with Maduro paving the way for a return of his socialist party to the legislature.
As It Happens
LATEST UPDATE: October 12, 2019 - 9:30am
Venezuelan President Nicolas Maduro accuses Colombia of being behind an "attack" with an explosive-laden drone he said targeted him on Saturday (Sunday, Manila time).
Speaking shortly after state television showed him cut off mid-speech in front of a Caracas military parade by a bang, Maduro says a "flying object exploded in front of me" and blamed the incident on Colombia's President Juan Manuel Santos.
"It was an attack to kill me, they tried to assassinate me today," Maduro says in a state broadcast. "I have no doubt that the name Juan Manuel Santos is behind this attack." — AFP
October 12, 2019 - 9:30am
Stateless baby Wilbelys officially "doesn't exist," Arianna is a six-year-old who's moved home seven times, Jazmin is missing school -- the children of the Venezuelan exodus are trading one ordeal for another in neighboring Colombia.
Migrants of all ages and social status are fleeing Venezuela's crippling economic crisis, unable to cope with hyperinflation and shortages of basic goods and medicines.
Well over a million have ended up in neighboring Colombia, among them nearly 200,000 children. In reality, the figure is higher, migration officers say, because many entered the country illegally.
In other circumstances, living abroad could be any child's dream. But this generation is suffering "an immense grieving," according to Sandra Perdomo, director of the Zion foundation which provides assistance to at-risk children. -- Agence France-Presse
September 26, 2019 - 12:37pm
US President Donald Trump says that Venezuela was suffering "a tragedy of historic proportions" as he pledged to do everything in his power to isolate Nicolas Maduro's regime.
Trump tells around two dozen Latin American leaders on the sidelines of the UN General Assembly that socialism had "destroyed" oil-rich Venezuela, but that the country's people "will be free."
"Today Venezuelans are starving and they're dying from lack of medicine. We will stand with the Venezuelan people every single day," he says, adding that socialism had "destroyed" the South American country. — AFP
September 26, 2019 - 8:49am
The right-hand man of Venezuelan President Nicolas Maduro is in North Korea leading a "high-level delegation", state media in the North said Thursday, as both nations grapple with economic pressures from international sanctions.
North Korean leader Kim Jong Un "received a personal letter and gift" from Maduro, which was delivered by Diosdado Cabello, KCNA reports.
Cabello is president of Venezuela's Constituent Assembly which effectively acts as a regime rubber stamp. He is considered the second most powerful person in Venezuela after Maduro.
The official Korean Central News Agency says Cabello delivered the gift on Wednesday during his meeting with Choe Ryong Hae, who is considered one of Kim's right-hand men and heads the North's rubber-stamp parliament.
"The willingness to make efforts to expand and develop the bilateral friendship in all fields was expressed at the talks that were held in a friendly atmosphere," KCNA reports.
— Agence France-Presse
September 25, 2019 - 5:59pm
Russian President Vladimir Putin tells Venezuela's Nicolas Maduro he supported talks between the embattled leader and the opposition, warning that refusing dialogue could further threaten the crisis-stricken country.
Welcoming the leftist leader at the Kremlin, Putin reiterates support for Maduro's regime but also indicates the Venezuelan president should be open to dialogue with his critics.
"No doubt we support the dialogue that you, Mr President, and your government are having with the opposition forces," Putin says. — AFP
September 19, 2019 - 7:38am
Venezuela's socialist government calls on the United States to restore diplomatic ties with Caracas after it opened talks with fringe opposition parties.
Venezuela broke off relations with the United States after Washington recognized opposition leader Juan Guaido as interim president on January 23.
Vice President Delcy Rodriguez tells reporters in Caracas that it made sense for the US "to restore diplomatic contacts and dialogue with the government" of President Nicolas Maduro. — AFP