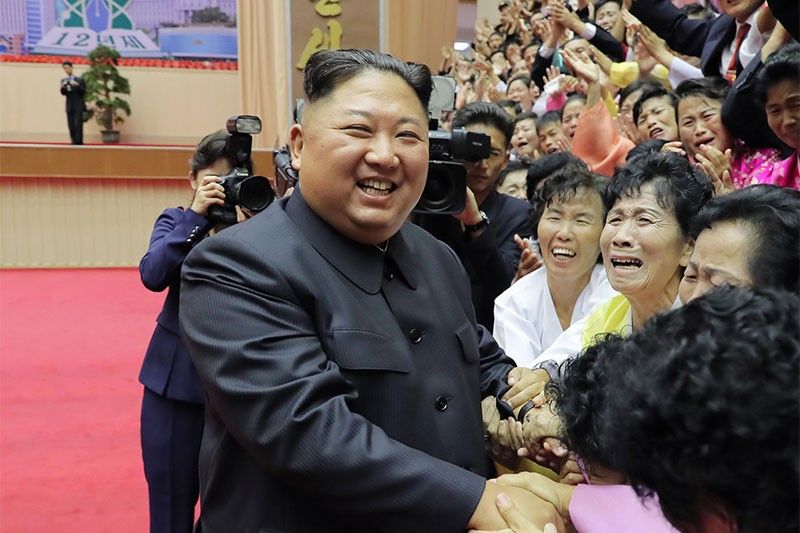 This picture taken on September 3, 2019 and released from North Korea's official Korean Central News Agency (KCNA) on September 7, 2019 shows North Korean leader Kim Jong Un welcomed by participants of the 14th National Conference of Teachers at an undisclosed location in North Korea.
AFP/KCNA via KNS
North Korea fires 'projectiles' after offering talks with US
(Agence France-Presse) - September 10, 2019 - 8:48am
SEOUL, South Korea — North Korea on Tuesday fired projectiles toward the sea, South Korea's military said, hours after Pyongyang said it is willing to hold working-level talks with the United States in late September.
Negotiations between Pyongyang and Washington have been gridlocked since a second summit between the North's leader Kim Jong Un and US President Donald Trump in February ended without a deal.
North Korea twice launched "unidentified projectiles" Tuesday morning in an easterly direction from South Pyongan province, South Korea's Joint Chiefs of Staff said.
No further details were immediately available but these were the latest to be fired since July. Previous launches have been identified as short-range missiles.
"We are aware of reports of projectiles launched from North Korea," a senior US official said. "We are continuing to monitor the situation and consulting closely with our allies in the region."
Trump and Kim had agreed to restart working-level dialogue during an impromptu meeting at the Demilitarised Zone dividing the nuclear-armed North and South Korea in June, but those talks have yet to begin.
"We are willing to sit face-to-face with the US around late September at a time and place that we can agree on," Choe Son Hui, the North's vice foreign minister, said in a statement carried on Monday by the official Korean Central News Agency.
Choe's comment followed her warning in late August that North Korea's "expectations of dialogue with the US are gradually disappearing", after Pyongyang conducted weapons tests to protest joint US-South Korean military exercises.
Asked about the proposal for lower-level talks in September, Trump told reporters: "I have a very good relationship with Chairman Kim. I always say having meetings is a good thing. We'll see what happens."
The period suggested by North Korea would correspond with the United Nations General Assembly in New York.
On Monday, Choe recalled Kim's comments that the North would wait until the end of the year for Washington to "quit its current calculation method".
She repeated Pyongyang's call for the US to come up with an "acceptable calculation" or risk jeopardising the entire diplomatic process.
When asked by AFP about the latest North Korean offer, a State Department official replied: "We don't have any meetings to announce at this time."
Nuclear warhead development
Kim and Trump adopted a vaguely-worded statement on the "complete denuclearisation of the Korean peninsula" at their first summit in Singapore in June last year, but little progress has since been made on dismantling Pyongyang's nuclear programme.
A report published by a United Nations panel of experts last week said North Korea's development of nuclear warheads has not stopped, despite the moratorium it declared on nuclear blasts and long-range missile launches.
US officials have called North Korea's recent short-range missile launches provocations, although Trump himself has avoided criticising them.
Pyongyang is barred from ballistic missile tests under UN resolutions, and its previous short-range missile tests have been condemned by European members of the UN Security Council.
North Korea is under heavy US and UN sanctions over its weapons programmes, and has criticised Washington's position that sanctions against the isolated regime will not be lifted until the country gives up its nuclear weapons.
Pyongyang's latest comments on talks come after the US special envoy to North Korea, Stephen Biegun, said the North must stop blocking nuclear talks.
"If we are to succeed, North Korea must set aside its search for obstacles to negotiations and instead seek the opportunities for engagement while that opportunity lasts," he said on Friday.
"We have made clear to North Korea that we are prepared to engage as soon as we hear from them," he said on Friday. "We are ready, but we cannot do this by ourselves."
As It Happens
LATEST UPDATE: November 28, 2019 - 4:40pm
The United States formally concluded that North Korea ordered the murder of Kim Jong-Nam, a half-brother and potential rival to ruler Kim Jong-Un, with the VX nerve agent.
"This public display of contempt for universal norms against chemical weapons use further demonstrates the reckless nature of North Korea and underscores that we cannot afford to tolerate a North Korean WMD program of any kind," US State Department spokeswoman Heather Nauert said.
The finding triggered another layer of US economic sanctions against Pyongyang, just as South Korea reported that the regime is ready for talks to end a nuclear standoff.
November 28, 2019 - 4:40pm
Seoul says North Korea fired an "unidentified projectile" on Thursday -- the Thanksgiving holiday in the US, as nuclear talks between Pyongyang and Washington remain deadlocked.
The one-line announcement from the South's Joint Chiefs of Staff did not immediately provide further details and came shortly after 3:00 am in Washington, DC on one of the US' biggest annual holidays. — AFP
November 5, 2019 - 11:25am
Pyongyang says the possibility of talks between nuclear-armed North Korea and Washington is "narrowing" after the US State Department reaffirmed its designation as a state sponsor of terrorism.
Last month the North walked away from working-level nuclear talks with the US in Sweden, saying it was disappointed at the lack of "new and creative" solutions offered by Washington.
The process has been deadlocked since the Hanoi summit between leader Kim Jong Un and US President Donald Trump broke up in February amid disagreement over sanctions relief and what the North would be willing to give up in return. — AFP
October 27, 2019 - 11:14am
North Korea says Sunday the United States must not exploit the "close personal relations" between Kim Jong Un and US President Donald Trump as negotiations over Pyongyang's nuclear arsenal remain deadlocked.
Talks between Pyongyang and Washington have stalled since a second summit between Trump and Kim in Hanoi in February broke down without an agreement.
The two have since blamed each other for the failure of the summit, with the North demanding the US bring forward a "new method" by the end of the year.
Kim Yong Chol, who served as the North's counterpart to US Secretary of State Mike Pompeo until the collapse of the Hanoi meeting, credited Trump and Kim's close ties for salvaging the diplomacy, but warned they were not enough.
"There is a limit to everything," Kim, now the chairman of the Korea Asia-Pacific Peace Committee, said in a statement carried by the official KCNA news agency. -- Agence France-Presse
October 24, 2019 - 1:08pm
A top Pyongyang official says North Korean leader Kim Jong Un and US President Donald Trump have a "special" relationship, echoing remarks this week by the American head of state.
Analysts said the comments were an indication Pyongyang still hoped to reach a deal directly with Trump over its nuclear programmes, despite Washington's longstanding insistence it give up its weapons before sanctions are lifted.
In a statement carried by Pyongyang's official news agency KCNA, foreign ministry adviser Kim Kye Gwan says he had met the North Korean leader "a few days ago", and "he said that the relationship between him and President Trump is special". — AFP
October 22, 2019 - 1:01pm
The United States was awarded ownership of a North Korean cargo ship that was seized for violating international sanctions, the US Justice Department says.
The Wise Honest — the first North Korean vessel to be seized by the US for sanctions violation — was caught carrying a $3 million shipment of coal in Indonesian waters last year and later handed over to the US.
The latest ruling by the Southern District of New York finalizes the US government's seizure of the North Korean vessel and ends its use in a "criminal scheme," the Justice Department says in a statement.
"This order of forfeiture sinks the Wise Honest's career as one of North Korea's largest sanctions-busting vessels," says Assistant Attorney General for National Security John Demers. — AFP