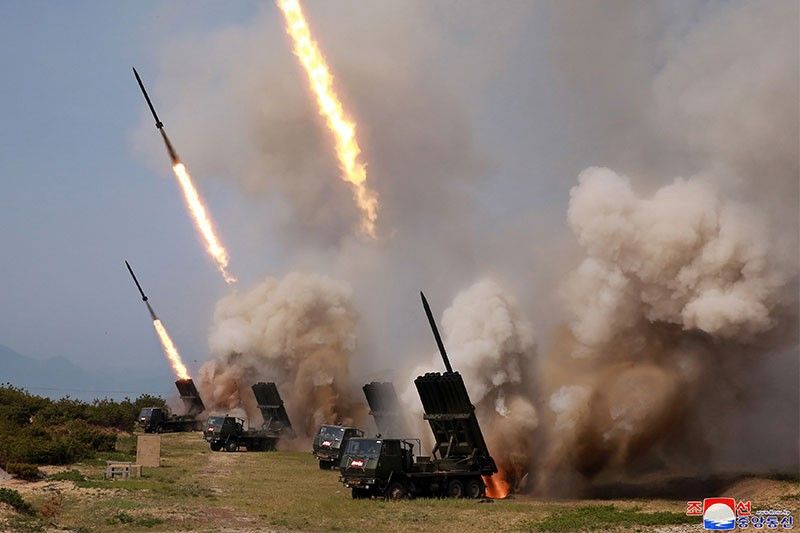 This picture taken on May 4, 2019 and released from North Korea's official Korean Central News Agency (KCNA) on May 5, 2019 shows rocket launchers firing during a test of weapons in an undisclosed location in North Korea. North Korea has tested long-range multiple rocket launchers and tactical guided weapons in a "strike drill" overseen by leader Kim Jong Un, state media said.
AFP/KCNA via KNS
North Korea fires projectiles: South's military
(Agence France-Presse) - May 9, 2019 - 4:44pm
SEOUL, South Korea — North Korea fired a number of unidentified projectiles Thursday, the South's military said, as a US envoy visited Seoul for discussions on how to break the nuclear deadlock.
"North Korea fired unidentified projectiles eastward" from Sino-ri in North Pyongan province, the South's Joint Chiefs of Staff said in a statement.
The launch came just days after North Korea carried out a military drill and fired multiple projectiles, with at least one believed to be a short-range missile.
It was also hours after the US Special Representative on North Korea, Stephen Biegun, arrived in Seoul late Wednesday for talks with South Korean officials on the allies' approach towards Pyongyang.
It is Biegun's first visit to Seoul since the Hanoi summit between US President Donald Trump and the North's leader Kim Jong Un collapsed without agreement.
"We are still analysing whether it is a single or multiple projectiles," JCS spokesman Kim Joon-rak told AFP.
Pyongyang, Seoul and Washington have refrained from calling Saturday's launch a missile, which could jeopardise the ongoing diplomacy by violating UN Security Council resolutions as well as Kim's promise of a freeze on long-range missile tests.
The North has said Saturday's drill involved multiple Pyongyang "long-range multiple rocket launchers and tactical guided weapons".
But experts say the North launched at least one short-range missile during the exercise, with a report on the respected 38 North website suggesting that it was a "direct import" of a Russian-produced Iskander.
"The debris generated by the launch in North Korea is a virtual match of a launch of Iskander conducted by Russia," it said.
If North Korea imported Iskanders from Russia, the report added, "it has an existing capacity to deliver warheads to targets in South Korea with great precision".
A summit between South Korean President Moon Jae-in and the North's Kim Jong Un a year ago triggered a rapid diplomatic thaw on the peninsula, paving the way for a historic first meeting between Kim and Trump.
But their second summit in Hanoi in February broke up without agreement on sanctions relief and what Pyongyang might offer in exchange, and the North has since blamed Seoul for siding with Washington, leaving inter-Korean relations in limbo.
A spokesman for the North's delegation for military talks with the South said earlier Thursday that Saturday's "routine drill" was conducted within its own waters and added the "flying objects" did not pose any threat to the US, South Korea and Japan.
"The firing of the intermediate- and long-range missile and the ICBM was not involved in it," he said in a statement carried by the official Korean Central News Agency.
As It Happens
LATEST UPDATE: January 1, 2020 - 3:51pm
South Korean officials were briefing the White House Thursday on the outcome of their pathfinding meeting with North Korean leader Kim Jong Un.
Seoul has already publicized that North Korea offered talks with the United States on denuclearization and normalizing ties, a potential diplomatic opening after a year of escalating tensions over the North's nuclear and missile tests. The rival Koreas also agreed to hold a leadership summit in late April.
Top Trump administration officials were getting a chance to hear firsthand from South Korean national security director, Chung Eui-yong, who led the delegation that went to Pyongyang. — Associated Press
January 1, 2020 - 3:51pm
North Korean leader Kim Jong Un appeared to skip his set-piece New Year speech Wednesday, with analysts suggesting the move may have been to avoid implicitly admitting mistakes in the last two years of diplomacy with the US.
Kim has been giving the annual speech since 2013, after he revived the tradition started by his grandfather -- North Korea's founding leader Kim Il Sung.
It has been a key moment in the North Korean political calendar, reviewing the past and setting out goals for the future, and printed in full in the Rodong Sinmun mouthpiece newspaper.
At first he wore a party uniform and stood at a lectern to address troops, but the format has evolved over time as Pyongyang modernises its messaging, and last year he sat in his office in a Western-style suit and tie.
But this year there was no January 1 morning broadcast -- as has been standard recently -- or even at noon, considered the latest likely time. -- AFP
January 1, 2020 - 12:08pm
North Korean leader Kim Jong Un has declared an end to moratoriums on nuclear and intercontinental ballistic missile tests and threatened a demonstration of a "new strategic weapon" soon.
Analysts said the announcement, reported by state media on Wednesday, amounted to Kim putting a missile "to Donald Trump's head" -- but warned that escalation by Pyongyang would probably backfire.
Washington was swift to respond, with Secretary of State Mike Pompeo urging Kim to "take a different course" and stressing that the US wanted "peace not confrontation" with the North, while Trump played down the development.
Pyongyang has previously fired missiles capable of reaching the entire US mainland, and has carried out six nuclear tests, the last of them 16 times the size of the Hiroshima blast, according to the highest estimates. -- AFP
December 29, 2019 - 9:21am
North Korean leader Kim Jong Un has convened a key meeting of top ruling party officials, state media said Sunday, ahead of a year-end deadline for Washington to shift its stance on stalled nuclear talks.
The plenary session, which opened on Saturday, follows widespread speculation that Pyongyang is preparing to test an intercontinental ballistic missile -- as a threatened "Christmas gift" for Washington.
Kim presided over the meeting which discussed a new "transparent, anti-imperialist independent stand", the official Korean Central News Agency (KCNA) reported.
The ruling Workers' Party of Korea will also "discuss important matters arising... in the building of the state and national defence", KCNA added.
Talks on denuclearizing the Korean peninsula have been largely deadlocked since the second summit between Kim and US President Donald Trump collapsed in Hanoi at the start of this year. — AFP
December 24, 2019 - 4:02pm
China hosted the leaders of squabbling neighbours South Korea and Japan for their first meeting in over a year on Tuesday, flexing its diplomatic muscle with America's two key military allies in Asia and seeking regional unity on how to deal with a belligerent North Korea.
The gathering in the southwestern city of Chengdu was held with the clock ticking on a threatened "Christmas gift" from North Korean leader Kim Jong Un that could reignite global tensions over its nuclear program.
The gathering also featured the first bilateral meeting between South Korea's Moon Jae-in and Japanese Prime Minister Shinzo Abe in 15 months. — AFP
December 24, 2019 - 9:52am
Former US national security adviser John Bolton on Monday sharply criticized President Donald Trump's North Korea policy, warning that the Asian country posed an "imminent" threat.
"The risk to US forces & our allies is imminent & more effective policy is required before NK has the technology to threaten the American homeland," tweeted Bolton, who was dismissed in September amid growing disagreements with Trump, particularly regarding his North Korea policy.
The erstwhile advisor, a longtime hawk on North Korea, was openly skeptical of the 2018 summit between Trump and North Korean leader Kim Jong Un, and encouraged the US president to be cautious.
The denuclearization process has been largely deadlocked since the collapse of a second summit in Hanoi at the start of this year. North Korea promised an ominous "Christmas gift" earlier this month if Washington does not give ground by the end of December. — AFP