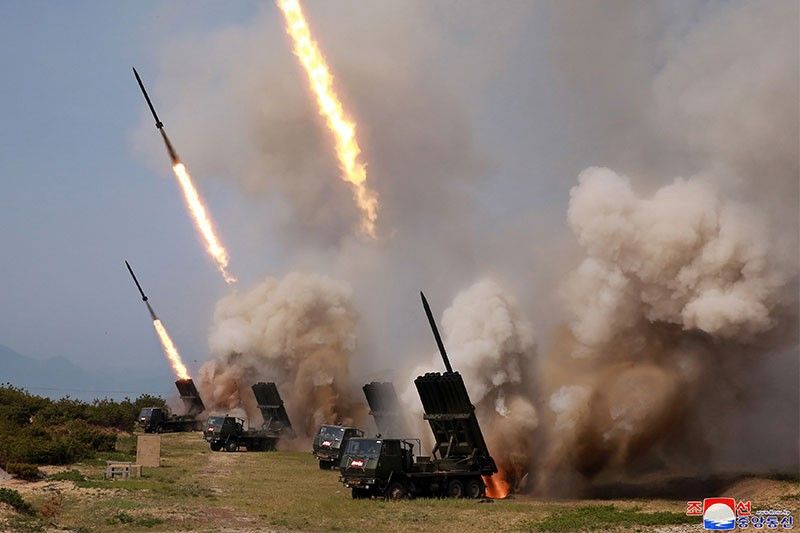 This picture taken on May 4, 2019 and released from North Korea's official Korean Central News Agency (KCNA) on May 5, 2019 shows rocket launchers firing during a test of weapons in an undisclosed location in North Korea. North Korea has tested long-range multiple rocket launchers and tactical guided weapons in a "strike drill" overseen by leader Kim Jong Un, state media said.
AFP/KCNA via KNS
North Korea fires projectiles: South's military
(Agence France-Presse) - May 9, 2019 - 4:44pm
SEOUL, South Korea — North Korea fired a number of unidentified projectiles Thursday, the South's military said, as a US envoy visited Seoul for discussions on how to break the nuclear deadlock.
"North Korea fired unidentified projectiles eastward" from Sino-ri in North Pyongan province, the South's Joint Chiefs of Staff said in a statement.
The launch came just days after North Korea carried out a military drill and fired multiple projectiles, with at least one believed to be a short-range missile.
It was also hours after the US Special Representative on North Korea, Stephen Biegun, arrived in Seoul late Wednesday for talks with South Korean officials on the allies' approach towards Pyongyang.
It is Biegun's first visit to Seoul since the Hanoi summit between US President Donald Trump and the North's leader Kim Jong Un collapsed without agreement.
"We are still analysing whether it is a single or multiple projectiles," JCS spokesman Kim Joon-rak told AFP.
Pyongyang, Seoul and Washington have refrained from calling Saturday's launch a missile, which could jeopardise the ongoing diplomacy by violating UN Security Council resolutions as well as Kim's promise of a freeze on long-range missile tests.
The North has said Saturday's drill involved multiple Pyongyang "long-range multiple rocket launchers and tactical guided weapons".
But experts say the North launched at least one short-range missile during the exercise, with a report on the respected 38 North website suggesting that it was a "direct import" of a Russian-produced Iskander.
"The debris generated by the launch in North Korea is a virtual match of a launch of Iskander conducted by Russia," it said.
If North Korea imported Iskanders from Russia, the report added, "it has an existing capacity to deliver warheads to targets in South Korea with great precision".
A summit between South Korean President Moon Jae-in and the North's Kim Jong Un a year ago triggered a rapid diplomatic thaw on the peninsula, paving the way for a historic first meeting between Kim and Trump.
But their second summit in Hanoi in February broke up without agreement on sanctions relief and what Pyongyang might offer in exchange, and the North has since blamed Seoul for siding with Washington, leaving inter-Korean relations in limbo.
A spokesman for the North's delegation for military talks with the South said earlier Thursday that Saturday's "routine drill" was conducted within its own waters and added the "flying objects" did not pose any threat to the US, South Korea and Japan.
"The firing of the intermediate- and long-range missile and the ICBM was not involved in it," he said in a statement carried by the official Korean Central News Agency.
As It Happens
LATEST UPDATE: October 2, 2019 - 7:32am
South Korean officials were briefing the White House Thursday on the outcome of their pathfinding meeting with North Korean leader Kim Jong Un.
Seoul has already publicized that North Korea offered talks with the United States on denuclearization and normalizing ties, a potential diplomatic opening after a year of escalating tensions over the North's nuclear and missile tests. The rival Koreas also agreed to hold a leadership summit in late April.
Top Trump administration officials were getting a chance to hear firsthand from South Korean national security director, Chung Eui-yong, who led the delegation that went to Pyongyang. — Associated Press
October 2, 2019 - 7:32am
A North Korean projectile appears to have breached Japan's Exclusive Economic Zone, Tokyo says.
North Korea on Wednesday fires "projectiles" toward the sea, South Korea's military earlier said, a day after Pyongyang signalled a resumption of nuclear talks with the US.
"North Korea fired unidentified projectiles from Wonsan ... towards the East Sea (Sea of Japan) this morning," the South's Joint Chiefs of Staff said without providing further details.
"Our military is monitoring the situation for additional launches and maintaining a readiness posture," the JCS said in a statement.
The launch came a day after the North's Vice Foreign Minister Choe Son Hui said that Pyongyang had agreed to hold working-level talks with Washington later this week. -- Agence France-Presse
August 11, 2019 - 1:12pm
North Korean leader Kim Jong Un supervised a "new weapon" test, state media reports, the latest in a series of launches that US President Donald Trump has played down as Washington seeks to restart nuclear talks with Pyongyang.
The report carried by the Korean Central News Agency followed Trump's comments that Kim had expressed a willingness to meet once the US-South Korean exercises are over and apologized for the slew of missile tests.
Saturday's launch was the North's fifth test in two weeks as it protests the annual military drills under way between Seoul and Washington which always infuriates Pyongyang. Defense officials in Seoul said Pyongyang fired what appeared to be two short-range ballistic missiles Saturday, flying 400 kilometers (250 miles) before splashing down in the sea between the Korean peninsula and Japan. — Agence France-Presse
August 2, 2019 - 8:02am
North Korea carried out its third missile test in eight days Friday, according to the South's military, but US President Donald Trump says he has "no problem" with the spate of launches by Pyongyang.
The nuclear-armed North is barred from ballistic missile tests under UN resolutions and its actions have drawn condemnation from European members of the Security Council but a comparatively sanguine response from Trump, who has met North Korean leader Kim Jong Un three times, generating global headlines on each occasion.
"I have no problem, we'll see what happens but short range (missiles) are very standard," Trump told reporters as he left the White House for a rally in Ohio. — Agence France-Presse
August 1, 2019 - 7:50am
South Korea's military said Wednesday that two ballistic missiles had been fired from the Wonsan area on North Korea's east coast.
Kim "repeatedly expressed satisfaction over the result of the test-fire," and "highly appreciated" the national defense science and munitions industry personnel who have "made another wonderful Korean-style multiple launch rocket system," KCNA said.
While there was little further detail on the weapons, the guided rockets "will play a main role in ground military operations," KCNA said.
The North is banned from ballistic missile launches under UN Security Council resolutions, but Wednesday's firings were the second such in less than a week, despite a meeting between leader Kim Jong Un and US President Donald Trump last month.
Pyongyang and Washington are engaged in a long-running diplomatic process over the North's nuclear and missile programmes that has seen three high-profile encounters between their leaders in the space of a year. — Agence France-Presse
May 9, 2019 - 6:54pm
Weapons fired by North Korea Thursday appeared to be two separate missiles, the South's military says, in what was Pyongyang's second launch in less than a week.
The North "fired what appeared to be two short-range missiles" from North Pyongan province, Seoul's Joint Chiefs of Staff said in a statement, adding they flew 270 and 420 kilometers and the South Korean and US militaries were jointly analyzing them. -- Agence France-Presse