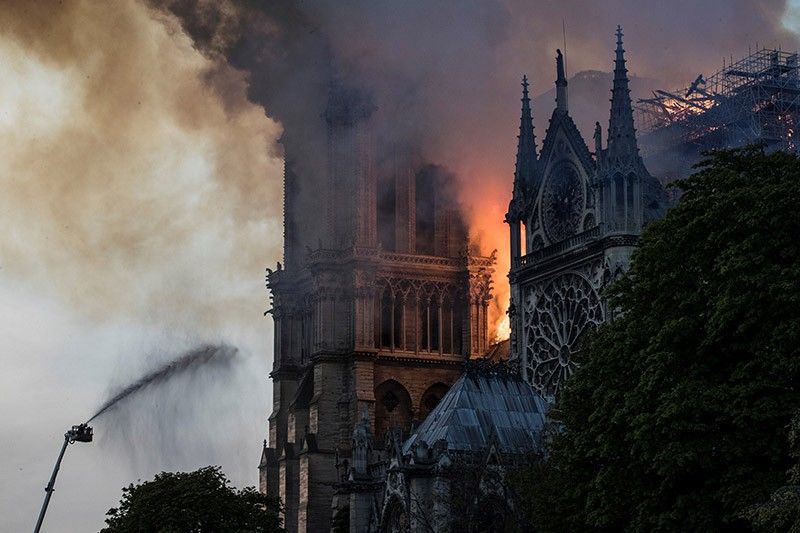 Firefighters douse flames billowing from the roof at Notre-Dame Cathedral in Paris on April 15, 2019. A huge fire swept through the roof of the famed Notre-Dame Cathedral in central Paris on April 15, 2019, sending flames and huge clouds of grey smoke billowing into the sky. The flames and smoke plumed from the spire and roof of the gothic cathedral, visited by millions of people a year. A spokesman for the cathedral told AFP that the wooden structure supporting the roof was being gutted by the blaze.
Thomas Samson/AFP
Infographic: Heritage sites devastated by fires
(Agence France-Presse) - April 16, 2019 - 11:23am
PARIS, France (Updated 11:54 a.m.) — Before Notre Dame Cathedral in Paris, engulfed in flames on Tuesday (Manila time), several heritage landmarks around the world have been either completely or partially destroyed by fires. Here are some examples.
York Minster
On July 9, 1984, a fire believed to have been triggered by a lightning strike caused severe damage to Britain's imposing York Minster. The massive blaze destroyed the roof of the south transept of the Gothic cathedral, which was completed in the 15th century.
The intense heat cracked its magnificent 16th-century stained glass Rose Window into tens of thousands of pieces but it was able to be painstakingly repaired.
Restoration work on the minister was completed in 1988 at a cost of £2.25 million (around £5.1 million, $6.7 million today).
Brazil's National Museum
Overnight September 2-3, 2018, Brazil's National Museum, north of Rio de Janeiro, was ravaged by a massive fire.
Latin America's largest natural history and anthropology museum held more than 20 million artefacts and 530,000 titles.
The museum was particularly reputed for the richness of its paleontology department with more than 26,000 fossils, including a dinosaur skeleton discovered in Brazil's central Minas Gerais.
Several specimen of species that disappeared in the blaze included giant sloths and saber-toothed tigers.
Venice opera house
In 1996 Venice's celebrated opera house La Fenice was gutted by fire.
With its near-perfect acoustics, La Fenice, opened in 1792, was one of the most beautiful opera houses in the world and one of the most famous in the history of opera.
Two electricians were sentenced to six and seven years in prison on negligence charges.
It reopened in 2004.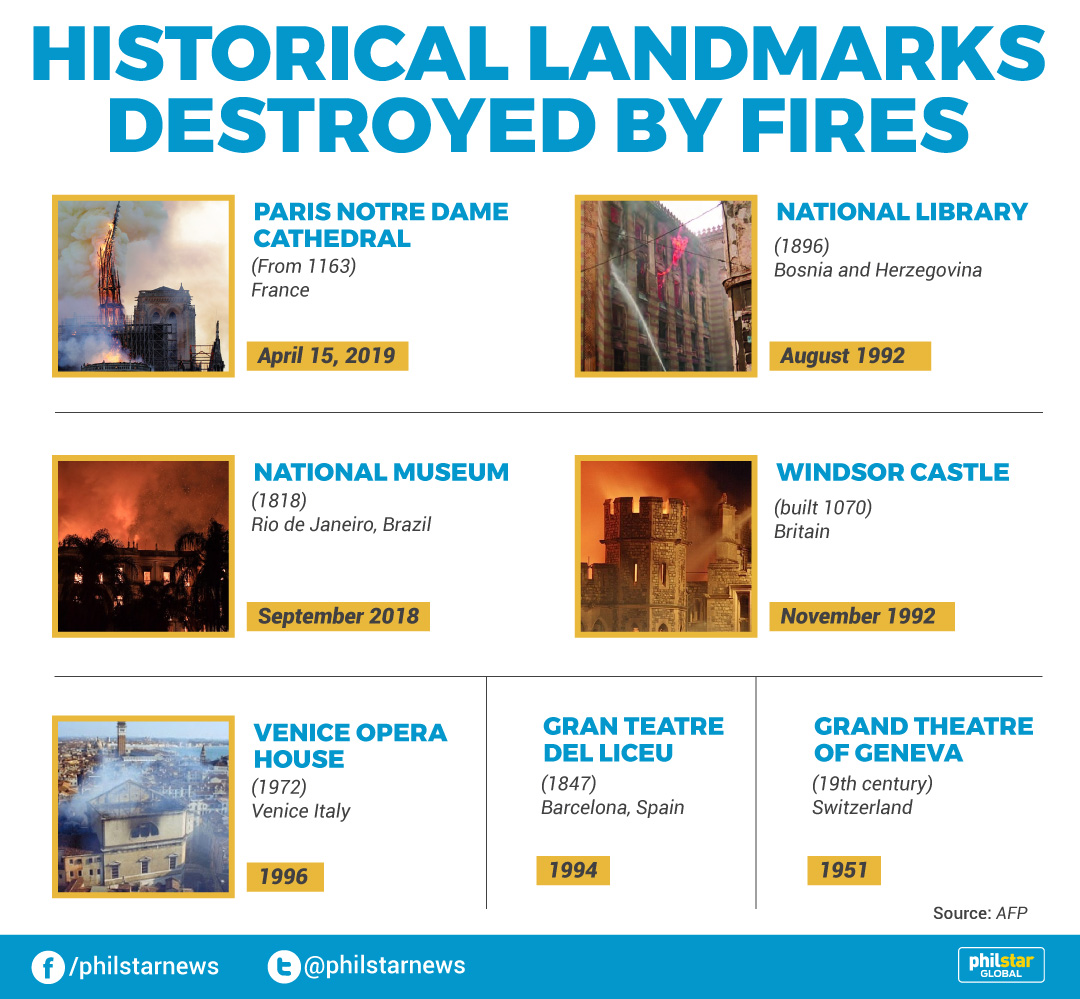 Barcelona opera house
In 1994 the Gran Teatre del Liceu, Barcelona's world-famous opera house was destroyed by fire.
One of Spain's cultural jewels, the 150-year-old theatre was gutted in a blaze in which only the foyer and the horseshoe arch over the auditorium were left standing. It has since been reconstructed.
Windsor Castle
A major fire at Windsor Castle, west of London, on November 20, 1992, destroyed the northeastern part of the royal site, the queen's weekend residence.
Nine of the rooms were left unrecognizable by the fire, which started in the former Chapel Royal when a lighting projector too close to a curtain started the blaze during routine maintenance work.
It took 250 firefighters working 15 hours and pumping more than 6.5 million liters of water to bring the blaze under control.
The Castle reopened to the public in 1997 after five years of restoration.
Bosnia's National Library
Bosnia's 19th century National Library was destroyed in the war-time siege of the city of Sarajevo, overnight on 25-26 August 1992.
It had housed some two million books, old scripts, photographs and transcripts before it was shelled by Serb forces who kept Sarajevo under a three-and-a-half-year long siege.
Only some 10 percent of its resources were saved from the resulting fire.
Reconstruction works, part-financed by the European Union, began in 1996 and the new library was inaugurated in 2014.
Geneva's Grand Theatre
In 1951 the Grand Theatre of Geneva in Switzerland, built in the 19th century, was devastated in a fire that began during the preparation for a performance of Richard Wagner's "The Valkyrie".
It reopened in 1962.
As It Happens
LATEST UPDATE: June 15, 2019 - 1:37pm
Follow updates on the Notre Dame Cathedral fire here.
June 15, 2019 - 1:37pm
The Notre-Dame cathedral in Paris will host its first mass, exactly two months after the devastating blaze that shocked France and the world.
For safety reasons, the mass led by Archbishop of Paris Michel Aupetit will be celebrated on a very small scale. Worshippers will be expected to don hard hats but priests will be wearing their ceremonial garb.
There will be just some 30 people -- half of them clergy -- although the mass will be broadcast live on Catholic TV channel KTO. — AFP
May 3, 2019 - 7:03pm
French citizens will be consulted on how Notre-Dame should be rebuilt after the iconic cathedral was ravaged by a fire on April 15, Culture Minister Franck Riester says.
"The French will be able to express themselves, and then we'll see which decision (will be taken) and how Notre-Dame will be restored," Riester tells LCI television. — AFP
April 21, 2019 - 3:23pm
The popularity of French President Emmanuel Macron remains stuck at under 30 percent as he battles a series of political troubles, with no major change reported after the Notre-Dame fire, a poll said Sunday.
According to the Ifop poll for the Journal du Dimanche just 29 percent of people polled said they are satisfied with the job Macron is doing, with 69 percent dissatisfied.
This April reading was unchanged from the last poll in March, the newspaper said.
The poll, carried out up until April 20, was published at the end of a dramatic week for Macron which saw him address the nation over the damage to the Notre-Dame cathedral in Monday's devastating fire. -- Agence France-Presse
April 19, 2019 - 10:00am
French President Emmanuel Macron hails as "exemplary" hundreds of firefighters who saved Notre-Dame in the devastating blaze, as efforts intensified to shore up the still fragile cathedral.
Some 600 firefighters worked throughout the night Monday to put out the fire at the Paris landmark and prevent an even worse disaster, in a blaze that felled the spire and destroyed two-thirds of its roof. — AFP
April 18, 2019 - 3:43pm
Catholic worshippers feeling orphaned by the fire that ravaged part of Notre-Dame will be welcomed in an "ephemeral cathedral" of wood in front of the Paris monument until it reopens, Notre-Dame's chief priest says Thursday.
Speaking to France's CNews television channel Monsignor Patrick Chauvet says: "We mustn't say 'the cathedral is closed for five years and that's it'.
To give the faithful somewhere to congregate next to Notre-Dame, he suggests: "Can I not build an ephemeral cathedral on the esplanade (in front of Notre-Dame)?"
Paris Mayor Anne Hidalgo had backed the idea and agreed to give over part of the esplanade to the church for a wooden structure, he says.
Chauvet says the wooden "cathedral" would host priests who could address some of the millions of tourists who throng the original 850-year-old Gothic cathedral each year. -- Agence France-Presse