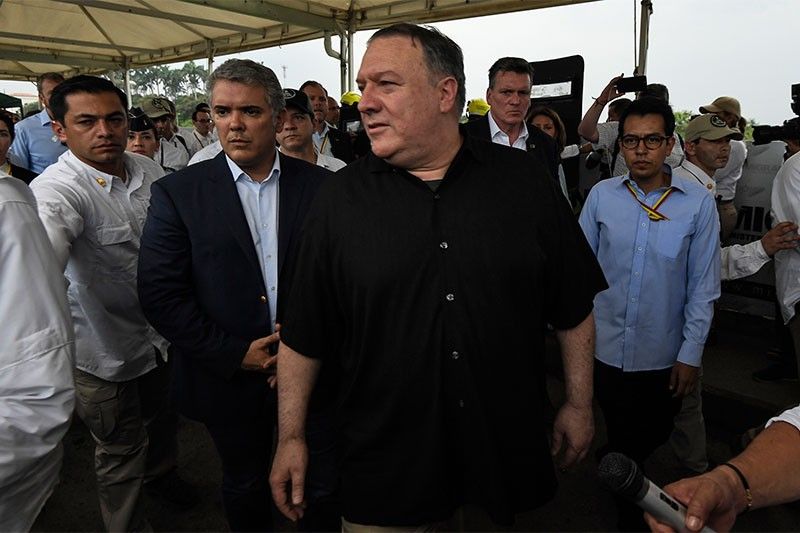 US Secretary of State Mike Pompeo (C), accompanied by Colombian President Ivan Duque (2-L) visits the international bridge Simon Bolivar, in Cucuta, Norte del Santander Department, Colombia, on the border with Venezuela, on April 14, 2019. Pompeo, who is on a four-nation tour of Latin American allies, finishes his trip with a brief visit to Cucuta, where he will meet Venezuelan refugees. All four countries of the trip are led by right wing or centre-right leaders favourable to Washington's uncompromising approach to Venezuelan President Nicolas Maduro.
AFP/Juan Barreto
Pompeo visits Colombia-Venezuela border
LIMA, Peru — US Secretary of State Mike Pompeo ended a visit to Peru on Sunday and traveled to the Colombian border city of Cucuta, crossed through by thousands of Venezuelans fleeing crisis under President Nicolas Maduro.
After attending a Sunday service in the Peruvian capital Lima, the chief US diplomat set off shortly after noon for the final leg of his tour of South America, which began Friday in Chile.
The highlight of Pompeo's trip will be the brief visit to Cucuta, where he will meet refugees.
All four countries on his itinerary -- the fourth being Paraguay -- are led by right-wing or center-right leaders favorable to Washington's uncompromising approach to Venezuelan President Nicolas Maduro.
"Peru has felt firsthand the effects of the disastrous Nicolas Maduro and the pain that he has brought to the Venezuelan people," he had said Saturday, following talks with President Martin Vizcarra and Foreign Minister Nestor Popolizio.
Pompeo said that Peru had shown "enormous leadership in responding to this challenge."
Over three million Venezuelans, around 10 percent of the population, now live outside the crisis-hit country. The United Nations predicts that number will hit 5.3 million by the end of 2019.
Peru has received the most Venezuelans after Colombia: 750,000, according to Popolizio, testing the capacity of the country's public services.
On Saturday, Pompeo paid tribute to Peru's welcome for hundreds of thousands of Venezuelan refugees. But he became irritated when a reporter asked if that contradicted US President Donald Trump's harsh immigration policy at home.
As It Happens
LATEST UPDATE: January 22, 2020 - 7:20am
Venezuelan President Nicolas Maduro accuses Colombia of being behind an "attack" with an explosive-laden drone he said targeted him on Saturday (Sunday, Manila time).
Speaking shortly after state television showed him cut off mid-speech in front of a Caracas military parade by a bang, Maduro says a "flying object exploded in front of me" and blamed the incident on Colombia's President Juan Manuel Santos.
"It was an attack to kill me, they tried to assassinate me today," Maduro says in a state broadcast. "I have no doubt that the name Juan Manuel Santos is behind this attack." — AFP
January 22, 2020 - 7:20am
Venezuela intelligence agents searched Guaido offices, opposition says. -- AFP
January 14, 2020 - 11:34am
When Venezuelan opposition leader Juan Guaido called for street protests at the weekend in a bid to rekindle popular outrage against President Nicolas Maduro, only a few hundred people turned up.
It's a far cry from the tens of thousands he mobilized a year ago after declaring himself interim president and winning recognition from more than 50 countries.
Many, like Jhoan Navarro, would rather turn their attention to the beach these days, glad of a distraction from the seemingly unending political standoff which they say has brought little change to their lives.
Navarro on Sunday made the hour's journey north from Caracas to Camuri Chico beach on the Caribbean coast with his wife and daughter "for a change of air, to clear our minds."
"When I have a problem with my wife we work it out together, but we know that neither Maduro nor Guaido are going to solve our economic problems," said Navarro, bopping to music blaring from the speakers of his car, parked on the edge of the sand. — AFP
January 6, 2020 - 11:12am
The United States on Sunday congratulated opposition leader Juan Guaido on being re- elected Venezuela's national assembly speaker -- despite the vote being hotly disputed and a rival also claiming to have won the post.
"I congratulate Juan Guaido on his re-election as president of the Venezuelan National Assembly and condemn the failed efforts of the former Maduro regime to negate the will of the democratically elected National Assembly," US Secretary of State Mike Pompeo said.
"The United States and 57 other countries continue to regard him as the legitimate leader of the National Assembly and thus the legitimate interim president of Venezuela." — AFP
January 6, 2020 - 7:33am
Juan Guaido was re-elected Venezuela's parliament speaker by opposition lawmakers on Sunday in a session held at a newspaper office after police blocked him from entering the National Assembly legislature.
Earlier in the day, rival lawmaker Luis Parra proclaimed himself the new speaker following a vote in parliament that Guaido was unable to attend.
Guaido received the votes of around 100 legislators, including several forced last year into exile or to take shelter in foreign diplomatic missions due to a crackdown by the regime of President Nicolas Maduro that the opposition has branded "political persecution." -- AFP
November 17, 2019 - 10:46am
Thousands of supporters of Venezuelan opposition leader Juan Guaido took to the streets of Caracas on Saturday, demanding the departure of embattled President Nicolas Maduro, but the turnout was far less than expected.
Guaido had hoped to capitalize on the situation in Bolivia, where leftist leader Evo Morales resigned in the face of accusations of election fraud, to deal a death blow to his own political nemesis.
Opposition demonstrators did answer the call — about 5,000 of them marched, according to AFP's crowd estimate. They carried national flags and banners with slogans such as "Maduro out" and "Follow Bolivia's example." — Agence France-Presse