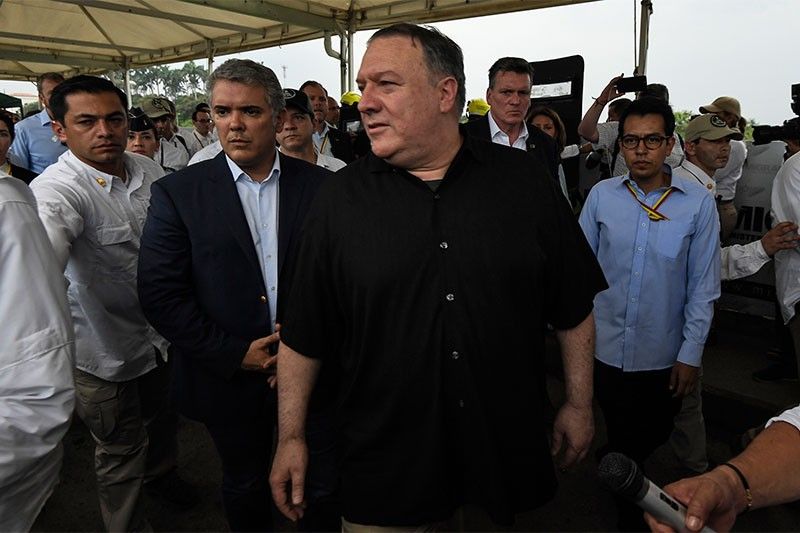 US Secretary of State Mike Pompeo (C), accompanied by Colombian President Ivan Duque (2-L) visits the international bridge Simon Bolivar, in Cucuta, Norte del Santander Department, Colombia, on the border with Venezuela, on April 14, 2019. Pompeo, who is on a four-nation tour of Latin American allies, finishes his trip with a brief visit to Cucuta, where he will meet Venezuelan refugees. All four countries of the trip are led by right wing or centre-right leaders favourable to Washington's uncompromising approach to Venezuelan President Nicolas Maduro.
AFP/Juan Barreto
Pompeo visits Colombia-Venezuela border
LIMA, Peru — US Secretary of State Mike Pompeo ended a visit to Peru on Sunday and traveled to the Colombian border city of Cucuta, crossed through by thousands of Venezuelans fleeing crisis under President Nicolas Maduro.
After attending a Sunday service in the Peruvian capital Lima, the chief US diplomat set off shortly after noon for the final leg of his tour of South America, which began Friday in Chile.
The highlight of Pompeo's trip will be the brief visit to Cucuta, where he will meet refugees.
All four countries on his itinerary -- the fourth being Paraguay -- are led by right-wing or center-right leaders favorable to Washington's uncompromising approach to Venezuelan President Nicolas Maduro.
"Peru has felt firsthand the effects of the disastrous Nicolas Maduro and the pain that he has brought to the Venezuelan people," he had said Saturday, following talks with President Martin Vizcarra and Foreign Minister Nestor Popolizio.
Pompeo said that Peru had shown "enormous leadership in responding to this challenge."
Over three million Venezuelans, around 10 percent of the population, now live outside the crisis-hit country. The United Nations predicts that number will hit 5.3 million by the end of 2019.
Peru has received the most Venezuelans after Colombia: 750,000, according to Popolizio, testing the capacity of the country's public services.
On Saturday, Pompeo paid tribute to Peru's welcome for hundreds of thousands of Venezuelan refugees. But he became irritated when a reporter asked if that contradicted US President Donald Trump's harsh immigration policy at home.
As It Happens
LATEST UPDATE: April 15, 2019 - 8:17pm
Venezuelan President Nicolas Maduro accuses Colombia of being behind an "attack" with an explosive-laden drone he said targeted him on Saturday (Sunday, Manila time).
Speaking shortly after state television showed him cut off mid-speech in front of a Caracas military parade by a bang, Maduro says a "flying object exploded in front of me" and blamed the incident on Colombia's President Juan Manuel Santos.
"It was an attack to kill me, they tried to assassinate me today," Maduro says in a state broadcast. "I have no doubt that the name Juan Manuel Santos is behind this attack." — AFP
April 15, 2019 - 8:17pm
China on Monday lashed out at US Secretary of State Mike Pompeo for accusing Beijing of prolonging the crisis in Venezuela, slamming his remarks as "lies".
Beijing has been Venezuela's main creditor and maintains relations with the government of President Nicolas Maduro, which also enjoys support from Russia.
Foreign ministry spokesman Lu Kang said Pompeo had "wantonly slandered" China-Latin America relations, and that it is Washington that views the region as its "backyard".
"For some time, some US politicians have been carrying the same version, the same script of slandering China all over the world, and fanning the flames and sowing discord everywhere," said foreign ministry spokesman Lu Kang.
"The words and deeds are despicable. But lies are lies, even if you say it a thousand times, they are still lies. Mr Pompeo, you can stop," he said. — Agence France-Presse
April 11, 2019 - 10:42am
Venezuelan President Nicolas Maduro announces an agreement with the International Committee of the Red Cross to bring humanitarian aid into a once-rich country now enduring acute shortages of food, medicine and such basics as soap and toilet paper.
As the economy of the oil-rich nation implodes, Maduro is locked in a power struggle with the increasingly popular leader of the opposition, national assembly speaker Juan Guaido. — AFP
April 11, 2019 - 9:32am
The International Monetary Fund will not have any contact with Venezuela, nor allow the country to access its reserves held by the institution, until the international community recognizes a government in Caracas, an IMF spokesman says.
The country's leadership has been in question since late January when national assembly leader Juan Guaido challenged embattled President Nicolas Maduro as the country's acute economic crisis worsened. — AFP
April 6, 2019 - 3:08pm
The United States announces sanctions on ships of Venezuela's state oil company and companies that link it to key ally Cuba, hoping to cut off vital lifelines for President Nicolas Maduro.
Vice President Mike Pence has unveiled the latest measures in Washington's bid to oust Maduro, a leftist firebrand who has nonetheless held on to power for more than two months, and vowed further pressure on Cuba -- a bugbear of the United States for a half-century. — AFP
April 6, 2019 - 1:53pm
Venezuela's opposition leader Juan Guaido has urged his supporters to demonstrate in the streets to maintain pressure on his rival President Nicolas Maduro, amid rising anger over the collapse of public services.
Thousands of opposition supporters are expected to march through the capital Caracas as Venezuela's power struggle is exacerbated by massive blackouts and the collapse of water supplies. — AFP