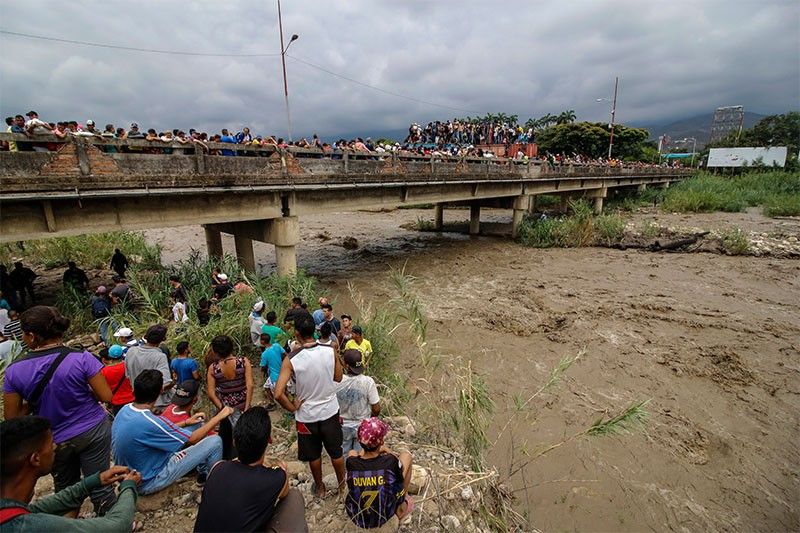 Venezuelans cross the blocked Simon Bolivar international bridge, in Cucuta, Colombia, in the border with Venezuela, as others watch from the bank of the Tachira river, on April 2, 2019. After the level of the Tachira River rose, the "trochas" -illegal trails- were flooded and Venezuelans who needed to cross to Colombia and back, climbed containers and walked through the blocked Simon Bolivar bridge in a desperate attempt to go through.
AFP/Schneyder Mendoza
Rich and poor united in desperate quest for water in Venezuela
CARACAS, Venezuela — Crippling power blackouts are subjecting Venezuelans to a second phase of deprivation -- massive water shortages that make no distinction in income or social class, forcing rich and poor alike to wait in long lines for drinking water, while some hoist it from sewers to be able to flush their toilets.
On the hill in the Caracas neighborhood of Petare -- the country's largest slum home to more than half a million people -- hundreds of people line up day and night behind two wells.
They carry anything that can hold water -- drums, cans, bottles, buckets. When their turn comes, they take as much as they can.
The water is not drinkable, but it will allow them some dignity, to bathe or wash clothes.
For the past month, repeated massive blackouts have plunged the country into darkness and disarray. As a result, electric water pumps have shut down, forcing a cut in water supplies.
'No water'
"We have no water, no electricity, the power cuts are terrible. Food is going bad," says 78-year-old Ernestine Velasco as she recites a litany of deprivation in her modest house, located on an unpaved street in the March 24 district.
"We are having a bad time. There is no transport, there's nothing."
Lack of water is a chronic problem in this teeming corner of Caracas. Though the cost is minimal, the service is non-existent, Velasco says.
"Thank God, we have this," she adds, pointing to the two wells nearby, though "it's chaos, it makes you want to run away."
Locals are waiting for the state water company to restore supplies. Even then, they expect it will only be for a few hours.
"We are dry. We don't have a single drop," said Carmen Moncada, tipping over an empty drum.
A little further on, in the district of El Valle, a crowd formed around a manhole, drawing up water for their toilets.
President Nicolas Maduro has ordered electricity rationing for the next month in a bid to buy his engineers time to fix the problem, which he blames on opposition sabotage designed "to drive the country crazy."
The working day has officially been shortened to ease the strain on the grid and allow people to get home before dark. Schools that have been shut since March 26 are expected to reopen on Wednesday, however.
Prohibitive price
In a Caracas park where a water tanker is dispensing supplies, a lawyer from the upscale northern neighborhood of La Castellana arrives to buy the whole tanker-full for his apartment building.
The driver of the 1969-era truck, which holds 2,100 gallons (8,000 liters) is quick to name his price: "For La Castellana, it's $200."
Despite the prohibitive price -- Venezuela's minimum wage is just over $5 -- the lawyer doesn't argue.
"This is the price we have to pay to stay in Venezuela," said the 42-year-old lawyer, who declined to give his name.
He said he would have to collect the money from his remaining neighbors, a third of whom have joined the exodus of 2.7 million Venezuelans the United Nations say have have left the country since the economic crisis began in 2015.
One possible solution for the lawyer and his neighbors was to sink a well to tap the aquifer at nearby El Avila hill, but that would cost $20,000. Right now, the cheaper solution is the tanker.
Every day, people fill up from streams running from the hill.
William the driver gets his water at a spring in the city's Eastern Park -- with government approval -- forming a line with other tanker drivers.
In return, they must make three free trips on the government's behalf to distribute water in various parts of the capital. The army enforces the agreement.
But in poor areas like March 24, the trucks are slow to arrive, playing on the nerves of locals like Carmen Veliz. She says that in other areas nearby, there has been no water "for months."
Such exasperation drove hundreds of people onto the streets Sunday to beat pots and pans in a display of outrage in different parts of the capital.
At least three people were injured in clashes with police and pro-government armed "colectivos" sent to tamp down the protests.
"What is the government doing? Neither one thing nor the other," says one woman.
Referring equally to Maduro's rival Guaido, she adds: "No one comes to help us...they are all useless."
As It Happens
LATEST UPDATE: November 17, 2019 - 10:46am
Venezuelan President Nicolas Maduro accuses Colombia of being behind an "attack" with an explosive-laden drone he said targeted him on Saturday (Sunday, Manila time).
Speaking shortly after state television showed him cut off mid-speech in front of a Caracas military parade by a bang, Maduro says a "flying object exploded in front of me" and blamed the incident on Colombia's President Juan Manuel Santos.
"It was an attack to kill me, they tried to assassinate me today," Maduro says in a state broadcast. "I have no doubt that the name Juan Manuel Santos is behind this attack." — AFP
November 17, 2019 - 10:46am
Thousands of supporters of Venezuelan opposition leader Juan Guaido took to the streets of Caracas on Saturday, demanding the departure of embattled President Nicolas Maduro, but the turnout was far less than expected.
Guaido had hoped to capitalize on the situation in Bolivia, where leftist leader Evo Morales resigned in the face of accusations of election fraud, to deal a death blow to his own political nemesis.
Opposition demonstrators did answer the call — about 5,000 of them marched, according to AFP's crowd estimate. They carried national flags and banners with slogans such as "Maduro out" and "Follow Bolivia's example." — Agence France-Presse
November 16, 2019 - 2:36pm
Venezuela opposition leader Juan Guaido and witnesses say armed men stormed the party headquarters of Guaido, one day ahead of a protest against President Nicolas Maduro.
Dressed in black and carrying pistols and rifles, the hooded men forced their way into the offices of Guaido's Voluntad Popular party in the east of the capital Caracas.
The men, who did not identify themselves, took security cameras and recording along with computers, money and identification from the approximately 30 people present. — AFP
October 12, 2019 - 9:30am
Stateless baby Wilbelys officially "doesn't exist," Arianna is a six-year-old who's moved home seven times, Jazmin is missing school -- the children of the Venezuelan exodus are trading one ordeal for another in neighboring Colombia.
Migrants of all ages and social status are fleeing Venezuela's crippling economic crisis, unable to cope with hyperinflation and shortages of basic goods and medicines.
Well over a million have ended up in neighboring Colombia, among them nearly 200,000 children. In reality, the figure is higher, migration officers say, because many entered the country illegally.
In other circumstances, living abroad could be any child's dream. But this generation is suffering "an immense grieving," according to Sandra Perdomo, director of the Zion foundation which provides assistance to at-risk children. -- Agence France-Presse
September 26, 2019 - 12:37pm
US President Donald Trump says that Venezuela was suffering "a tragedy of historic proportions" as he pledged to do everything in his power to isolate Nicolas Maduro's regime.
Trump tells around two dozen Latin American leaders on the sidelines of the UN General Assembly that socialism had "destroyed" oil-rich Venezuela, but that the country's people "will be free."
"Today Venezuelans are starving and they're dying from lack of medicine. We will stand with the Venezuelan people every single day," he says, adding that socialism had "destroyed" the South American country. — AFP
September 26, 2019 - 8:49am
The right-hand man of Venezuelan President Nicolas Maduro is in North Korea leading a "high-level delegation", state media in the North said Thursday, as both nations grapple with economic pressures from international sanctions.
North Korean leader Kim Jong Un "received a personal letter and gift" from Maduro, which was delivered by Diosdado Cabello, KCNA reports.
Cabello is president of Venezuela's Constituent Assembly which effectively acts as a regime rubber stamp. He is considered the second most powerful person in Venezuela after Maduro.
The official Korean Central News Agency says Cabello delivered the gift on Wednesday during his meeting with Choe Ryong Hae, who is considered one of Kim's right-hand men and heads the North's rubber-stamp parliament.
"The willingness to make efforts to expand and develop the bilateral friendship in all fields was expressed at the talks that were held in a friendly atmosphere," KCNA reports.
— Agence France-Presse