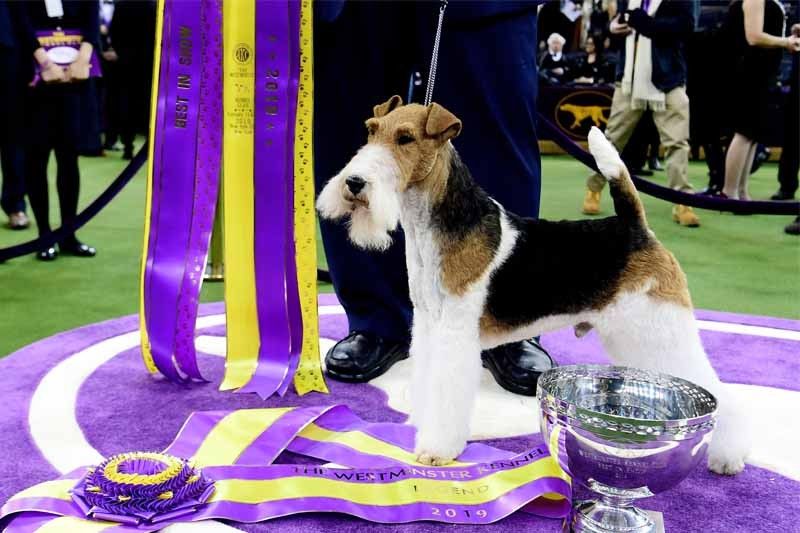 'King' the Wire Fox Terrier after winning Best in Show at the 143rd Westminster Kennel Club Dog Show at Madison Square Garden on February 12, 2019 in New York City.
Sarah Stier/Getty Images/AFP
Wire Fox Terrier named Westminster's 'Best in Show'
(Agence France-Presse) - February 13, 2019 - 3:19pm
NEW YORK, United States — The Westminster Dog Show crowned a Wire Fox Terrier named "King" its "Best in Show" Tuesday, further burnishing the breed's "top dog" status in the esteemed competition.
The breed, which already was the all-time champ at Westminster, has now claimed the crown 15 times. The Scottish Terrier is second on the all-time list with eight titles.
"It means everything," King's handler, Gabriel Rangel, told the crowd through tears at Madison Square Garden after judge Peter Green announced his pick.
Green selected a Havanese named "Bono" the runner-up over four other finalists.
"After you win this magnificent competition, there's nothing more to do," Rangel said of King's future. "He should be running around a field somewhere."
The 143rd installment of the dog show drew 2,800 dogs from around the world.
The championship round featured six dogs instead of the customary seven contestants after Colton the Schipperke was excluded because of a conflict of interest. The Schipperke won the non-sporting group on Monday, a first for the small black breed.
One of Colton's co-owners has co-owned dogs previously with Green.
At the outset of the "Best in Show" round, Colton was brought out to the audience and allowed to parade around briefly with the other finalists.
But he was escorted off the stage before Green got down to business with the judging as an announcer explained his banishment as needed to "maintain the integrity of the sport."