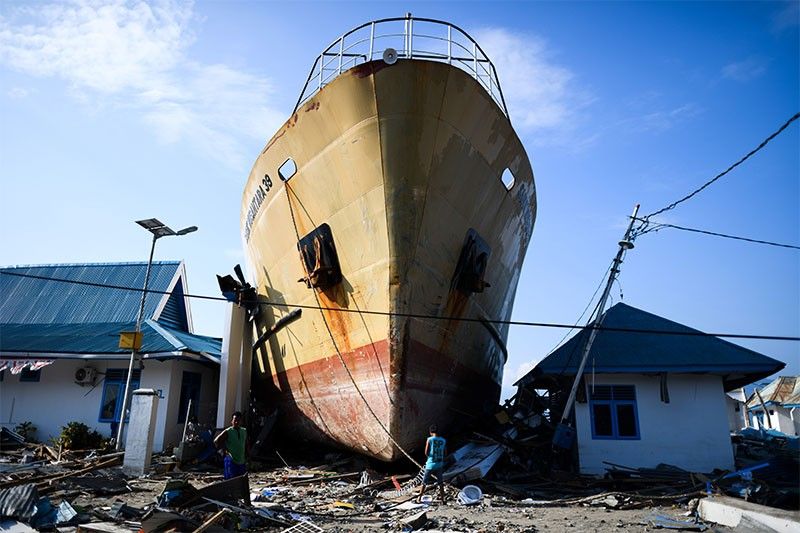 Quake survivors make their way past a washed out passenger ferry in Wani, Indonesia's Central Sulawesi on October 3, 2018, after an earthquake and tsunami hit the area on September 28. Nearly 1,400 people are now known to have died in the quake-tsunami that smashed into Indonesia's Sulawesi island as UN officials warned the "needs remain vast" for both desperate survivors and rescue teams still searching for victims.
AFP/Jewel Samad
Another tsunami could hit Indonesia, experts warn
PARIS, France — Another tsunami could strike Indonesia, experts warned on Sunday, a day after more than 200 people were killed by a wave triggered by a volcanic eruption.
What caused the tsunami?
The tsunami "appears to have been caused by an underwater collapse" of part of the Anak (or "child of") Krakatoa volcano, said David Rothery of The Open University in Britain.
Anak Krakatoa is a new island that emerged around 1928 in the crater left by Krakatoa, whose massive 1883 eruption killed at least 36,000 people.
The volcano has been particularly active since June, noted Jacques-Marie Bardintzeff at the University of Paris-South.
The tsunami that struck on Saturday was the third to hit Indonesia in six months.
Indonesia has 127 active volcanoes and lies on the Pacific Ocean's "Ring of Fire" where earthquakes and volcanic eruptions are frequent.
Why was it so deadly?
Anak Krakatoa, located in the Sunda Strait between Java and Sumatra islands, is close to densely populated zones.
And while the tsunami was relatively small, Richard Teeuw of the University of Portsmouth in England said: "Such waves -- laden with debris -- can be deadly for coastal communities, especially if there is no warning."
Simon Boxall of Southampton University added that the region was also in spring tide, "and it would appear that the wave hit some of the coastal areas at the highest point of this high tide, exacerbating the damage done."
It also struck at night, further catching people by surprise.
Why were people not warned?
"We were helpless given how sudden" the event took place, Bardintzeff said. "The time between cause and effect was a few dozen minutes, which was too short to warn the population".
"Tsunami warning buoys are positioned to warn of tsunamis originated by earthquakes at underwater tectonic plate boundaries," Rothry said.
"Even if there had been such a buoy right next to Anak Krakatoa, this is so close to the affected shorelines that warning time would have been minimal given the high speeds at which tsunami waves travel."
Could more tsunamis be coming?
"The likelihood of further tsunamis in the Sunda Strait will remain high while Anak Krakatoa volcano is going through its current active phase because that might trigger further submarine landslides," Teeuw said.
Bardintzeff also warned that "we must be wary now that the volcano has been destabilised".
Teeuw said that sonar surveys would now be needed to map the seafloor around the volcano, but "unfortunately submarine surveys typically take many months to organise and carry out," he added.
But "devastating tsunami caused by volcanic eruptions are rare; one of the most famous (and deadly) was caused by the eruption of Krakatoa in 1883."
As It Happens
LATEST UPDATE: December 28, 2018 - 7:40pm
At least 43 people have been killed and nearly 600 injured in a tsunami in Indonesia, officials say Sunday.
"In the Sunda Strait 40 people have died, 584 people were injured and two people are missing," national disaster agency spokesman Sutopo Purwo Nugroho says in a statement.
Another three people were killed in nearby Serang, he adds. -- Agence France-Presse
Photo: Si Gam, CC BY 3.0
December 28, 2018 - 7:40pm
Indonesia's tsunami has raised fears that another deadly wave could wipe out the few dozen Javan rhinos still living in the wild, conservation authorities say.
There are believed to be fewer than 70 of the critically endangered species in a national park not far from a rumbling volcano that triggered Saturday's killer wave.
None of the animals are believed to have been killed in the disaster -- which left more than 400 people dead -- but officials are warning that another deadly wave could slam into the stricken region. — AFP
December 27, 2018 - 4:50pm
Indonesia has raised the danger level for an island volcano that triggered a tsunami over the weekend, killing at least 430 people in Sumatra and Java, and widened its no-go zone.
The country's volcanology agency says that the Anak Krakatau volcano's alert status had been raised to the second highest level and the exclusion zone more than doubled to a 5-kilometer (3-mile) radius. — AP
December 26, 2018 - 8:26pm
Indonesian search and rescue teams Wednesday plucked stranded residents from remote islands and pushed into isolated communities desperate for aid in the aftermath of a volcano-triggered tsunami that killed over 400.
But torrential rains hampered the effort and heaped more misery on the region, as officials warned another killer wave could hit the stricken area.
The disaster agency cautioned residents to stay clear of the coast, as fresh activity at the Anak Krakatoa volcano, which sits in the middle of the Sunda Strait between Java and Sumatra islands, threatened to spark another tsunami. -- Agence France-Presse
December 24, 2018 - 8:54am
United Nations Secretary-General António Guterres expressed his condolences to the families of the victims and to the government and people of Indonesia. The UN leader also wished for speedy recovery to those who were injured.
"The United Nations stands ready to support the ongoing Government-led rescue and relief efforts," Guterres said.
.@antonioguterres is deeply saddened by the loss of life, injuries and damage caused by the tsunami that struck the coast of the Indonesian island of Sumatra yesterday. The @UN is ready to support ongoing Government-led rescue & relief efforts. Read more: https://t.co/WEqIoYnlei

— UN Spokesperson (@UN_Spokesperson) December 23, 2018
Canadian Prime Minister Justin Trudeau and Venezuelan President Nicolás Maduro also expressed their support to Indonesia.
"Canadians' thoughts are with you & our government is ready to offer assistance if needed," Trudeau said on Twitter.
"On behalf of the people of Venezuela, I express my heartfelt condolences for the catastrophe that occurred in the Indonesian people, which amounted to more than 220 people who died, hundreds of missing persons and incalculable material losses," Maduro said on Twitter.
A very shocking and tragic situation in Indonesia - today we send condolences to everyone affected by the tsunami that caused so much devastation on the Sunda Strait. Canadians' thoughts are with you & our government is ready to offer assistance if needed.

— Justin Trudeau (@JustinTrudeau) December 23, 2018
En nombre del pueblo de Venezuela expresó mis sentidas condolencias por la catástrofe ocurrida al pueblo de Indonesia, que suma más de 220 personas fallecidas, centenares de desaparecidos e incalculables pérdidas materiales. Toda nuestra solidaridad y respaldo.

— Nicolás Maduro (@NicolasMaduro) December 23, 2018
In his Twitter account, Indonesian President Joko Widodo said he has ordered government agencies to conduct emergency response measures to rescue the victims and to tend to the wounded.
Duka cita yang mendalam atas jatuhnya korban bencana tsunami di Pandeglang, Serang dan Lampung Selatan, semalam.

Saya telah memerintahkan segenap jajaran pemerintah terkait untuk segera melakukan langkah tanggap darurat, mencari dan menemukan korban, merawat yang luka-luka. pic.twitter.com/rD5bDr16gF

— Joko Widodo (@jokowi) December 23, 2018
December 24, 2018 - 8:41am
US President Donald Trump on Sunday offered a message of support after a volcano-triggered tsunami left 222 people dead and hundreds more injured in Indonesia's Sunda Strait.
"Unthinkable devastation from the tsunami disaster in Indonesia," the Republican leader tweeted. "More than two hundred dead and nearly a thousand injured or unaccounted for. We are praying for recovery and healing. America is with you!" — AFP
Unthinkable devastation from the tsunami disaster in Indonesia. More than two hundred dead and nearly a thousand injured or unaccounted for. We are praying for recovery and healing. America is with you!

— Donald J. Trump (@realDonaldTrump) December 23, 2018