N. Ireland marks 20 years of peace deal as Brexit casts shadow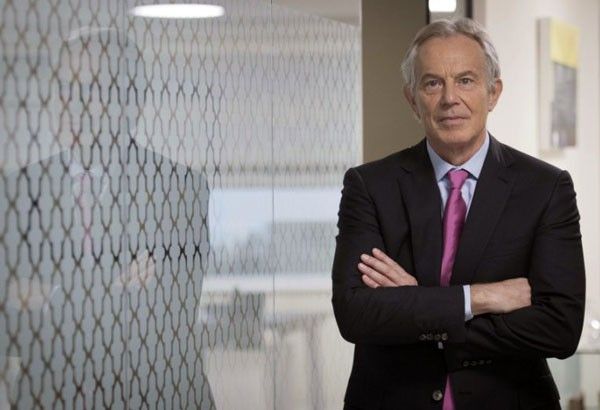 LONDON — Former US President Bill Clinton and ex-British Prime Minister Tony Blair were in Belfast yesterday to mark the 20th anniversary of Northern Ireland's peace accord, as Brexit casts a shadow over the deal's future.
Former US Sen. George Mitchell, who headed the talks that produced the 1998 Good Friday Agreement, said that while challenges remain, "Northern Ireland today is unrecognizable to the Northern Ireland of two decades ago."
He said "new challenges emerge" but could be met "through courageous political leadership."
Mitchell was attending a conference at Queen's University Belfast alongside Clinton, Blair, former Irish Prime Minister Bertie Ahern and other architects of the agreement.
The deal, signed on April 10, 1998, largely ended three decades of sectarian violence in which more than 3,000 people died. Over the following years the Irish Republican Army and other paramilitary groups renounced violence and destroyed their stockpiles of weapons, and the British military dismantled its bases and checkpoints in Northern Ireland.
But two decades on, one of the peace deal's main achievements — a Protestant-Catholic power-sharing government for Northern Ireland — is in limbo. The administration collapsed in January 2017 and attempts to restore it have faltered over the issue of protections for the Irish language — a sign of the cultural and political issues that still separate Northern Ireland's British unionists and Irish nationalists.
Britain's impending departure from the European Union threatens another product of the peace process, the all-but invisible border between Northern Ireland and the Republic of Ireland.
After Brexit next year, it will be the only land frontier between the United Kingdom and the EU. Both sides say there should be no return to customs posts or other border infrastructure, but it is unclear how that will be achieved.
The EU has proposed a "backstop solution" that would keep Northern Ireland within EU's tariff-free customs union while the rest of the U.K. leaves it.
Britain says it can't accept that, because it would create a customs border between Northern Ireland and the rest of the U.K. But EU Brexit negotiator Michel Barnier said yesterday that the backstop must "apply unless and until a workable alternative agreed solution is found."
Barnier said "an operational solution" to the border issue needs to be worked out by October as part of a divorce deal between Britain and the bloc. Britain is due to leave the EU in March 2019.
Blair said he believes the peace deal "can and it should survive Brexit, but you can't deny that there is now a problem."
He said that over the last 20 years the border had become "of no great practical meaning to people in the north or the south ... Now there is going to be a practical border so of course it's a complication."
"Peace has to be worked on continuously. It is not guaranteed," Blair told reporters on Monday. "Brexit is complicating things, but the Good Friday Agreement has to survive Brexit."