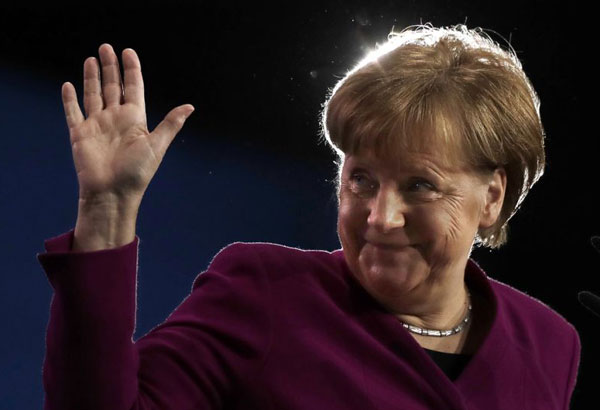 German Chancellor and party chairwoman Angela Merkel waves during the party convention of the Christian Democratic Union CDU in Berlin, Germany, Monday, Feb. 26, 2018. The delegates came together to decide on the coalition agreement on forming a new German government. (AP Photo/Markus Schreiber)
Merkel's party backs coalition deal to form new German gov't
BERLIN — German Chancellor Angela Merkel rallied her party yesterday to overwhelmingly back a deal to form a new coalition government with the center-left Social Democrats, touting a series of policies to help families and bolster law and order.

Of around 1,000 delegates at a convention in Berlin, only 27 voted against the agreement, which had drawn criticism from some conservatives in the party.

Unrest among the Christian Democratic Union's members has been growing in recent years. While the country has enjoyed strong economic growth under Merkel, her centrist policies have alienated more conservative supporters.

Though getting the most votes, Merkel's party posted one of its worst-ever results in last September's election as many conservative voters, anguished over the arrival of more than a million refugees, defected to the anti-migrant Alternative for Germany party, known as the AfD.

"We were all disappointed," Merkel said of September's election result, which forced her into months of coalition haggling with other parties. Critics within her CDU have taken particular umbrage at the fact that key ministries — including interior and finance — will go to its Bavaria-only sister party and the Social Democrats.

Merkel acknowledged the unease among party supporters, but said it would have been wrong to let coalition talks collapse over the distribution of ministerial posts.

In an hour-long speech to hundreds of delegates in the heart of Berlin, Merkel insisted that as the strongest force in German politics, her party had to live up to its responsibility to form a government.

The agreement still needs approval from Social Democrats' membership to take effect. The result of that party's postal ballot will be announced March 4 and is harder to predict.

Part of Merkel's response to disaffected members has been to replace several of the party's long-time ministers with a younger team including more women and one of her most prominent critics, the 37-year-old Jens Spahn.

The generational shift drew cheers from members such as Catharina Neumeyer, a lawmaker's aide in her late 20s.

"I think it's good there are a lot of women and that Jens Spahn was picked," said Neumeyer, adding it would boost the party's appeal to young, liberal voters.

Others lamented the lack of ministers from eastern Germany, where the party has suffered particularly big losses to AfD in recent years.

Ingo Gondro, deputy chair of a recently formed conservative bloc within the party, said Merkel's concessions wouldn't satisfy critics.

"There's unrest among the membership," he said, warning that many fear the party could be beaten by AfD in regional elections in the eastern state of Saxony next year.

Gondro's bloc, the Values Union, had urged delegates to reject the coalition deal with the Social Democrats and instead consider forming a minority government with the pro-business Free Democratic Party. A minority government is still possible if Social Democrats reject the coalition agreement; the only other option would be new elections.

Merkel, who has governed Germany since 2005, pledged to regain voters' trust by easing their fears about migration, globalization and the pace of technological change.

In a signal to conservatives, she said there would be zero tolerance for extremists of any kind and migrants who refuse to integrate into German society will feel "tangible consequences."

She added that anti-Semitism has no place in Germany, "whether it's from Muslim refugees, the AfD or left extremists."