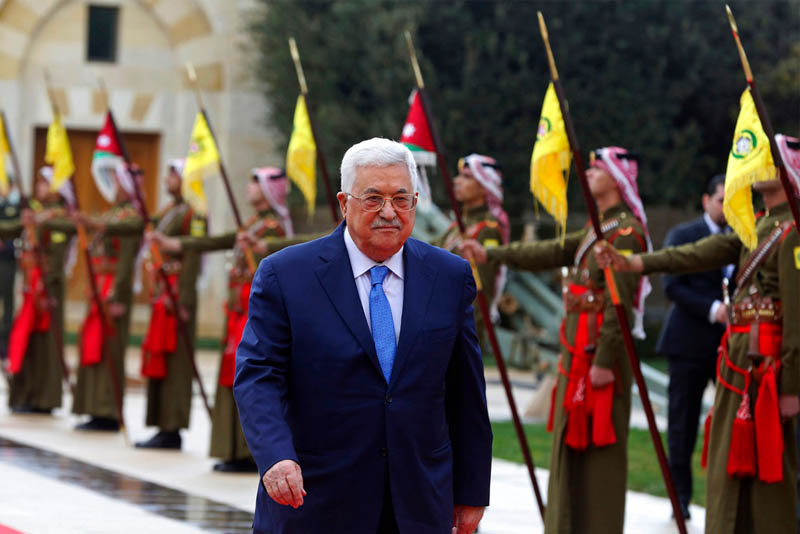 Palestinian President Mahmoud Abbas reviews an honor guard on his arrival to the Royal Palace, in Amman, Jordan, Monday, Jan. 29, 2018. Khalil Mazraawi, Pool Photo via AP
Palestinian president coming to UN to respond to Trump
UNITED NATIONS — Palestinian President Mahmoud Abbas is coming to the U.N. Security Council later this month to respond to the Trump administration's declaration of Jerusalem as the capital of Israel and Israel's expansion of settlements — a rare appearance reflecting escalating tensions over peace prospects.
Kuwait's U.N. Ambassador Mansour Al-Otaibi, the council president for February, told a news conference Thursday that his government invited the Palestinian leader to address its monthly Mideast meeting on Feb. 20 and believes it will be "important" and "beneficial" for members.
Arab foreign ministers met last month, he said, and "there is an Arab movement to push forward the peace process" and "to oppose the Israeli violations, especially those pertaining to Jerusalem and the settlements."
Abbas usually attends the annual gathering of world leaders at the General Assembly in September, but his decision to speak to the U.N.'s most powerful body at a regular monthly meeting attended by ambassadors is an indication of the deepening rift between Israel and the United States on one hand and the Palestinians and their Arab and European supporters on the other.
It follows President Donald Trump's announcement in December declaring Jerusalem to be Israel's capital which has created reverberations through the region and countered decades of U.S. foreign policy and international consensus that Jerusalem's status should be decided in negotiations between Israel and the Palestinians.
The Palestinians have pre-emptively rejected any peace proposal floated by the Trump administration amid concerns it would fall far below their hopes for an independent state in the West Bank, east Jerusalem which they want as their capital and Gaza, lands captured by Israel in the 1967 war. Their demand for a two-state solution is supported by the U.N. and almost all of its 193 member-states.
That possibility appeared to be dealt a new blow when Israeli Prime Minister Benjamin Netanyahu said Wednesday that Israel will retain security control over the Palestinians as part of any future peace deal.
Since taking office, Trump has distanced himself somewhat from the two-state solution favored by his predecessors for the past two decades saying he would support Palestinian independence only if Israel agrees.
The Palestinians are also angry at the Trump administration's announcement last month that it is withholding $65 million of a planned $125 million funding installment for UNRWA, the U.N. agency that helps an estimated 5 million Palestinian refugees. The administration also made clear that additional U.S. donations will be contingent on major changes by UNRWA, which has been heavily criticized by Israel.
Israel's U.N. Ambassador Danny Danon responded to the announcement of Abbas' appearance saying: "After disseminating anti-Semitic messages in recent speeches, Mahmoud Abbas is now seeking to put an end to any possibility of negotiations with Israel."
"By continuing to act against the United States and seeking unilateral action against Israel, Abbas is completely misreading today's reality and harming the prospects for a better future for his people," he said.
Kuwait is the Arab representative on the Security Council and as president it decides its program of work for the month. Ambassador Al-Otaibi said there were no objections among members — including the United States — to the proposed agenda.
He also announced that the council will hold an informal meeting Feb. 22 on the Palestinians where former U.S. president Jimmy Carter, former U.N. humanitarian chief Jan Egeland and former UNRWA chief Karen AbuZayd. Such meetings are held outside the councils and members are not required to attend.
Carter bridged wide gaps between the rigid Egyptian and Israeli leaders, Anwar Sadat and Menachem Begin, leading to the Camp David accords in September 1978.
Al-Otaibi said Carter has followed the Palestinian question for a long time, his position against Israeli settlement expansion is well-known, "and we believe that he does a role to play, he can give his opinion, and that's why we decided to invite him."
He said it's still unclear whether Carter will attend, or whether Abbas will stay to participate.
Last week, U.S. Ambassador Nikki Haley accused Abbas of not having the "courage" of Sadat or the late King Hussein of Jordan who made peace with Israel.
"If President Abbas demonstrates he can be that type of leader, we would welcome it. His recent actions demonstrate the total opposite," she said. "To get historic results, we need courageous leaders. History has provided such leaders in the past. For the sake of the Palestinian and Israeli people, we pray it does so again."