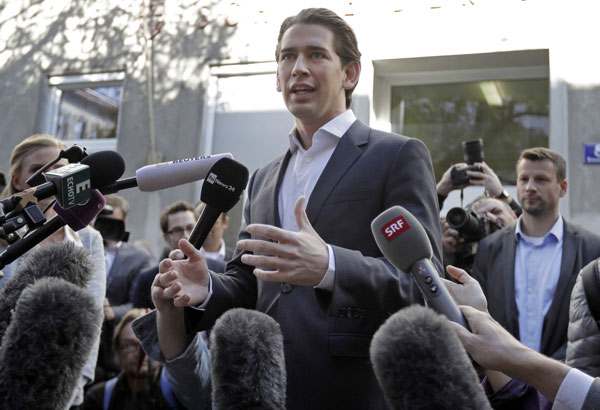 Foreign Minister Sebastian Kurz, head of Austrian People's Party, talks to the media after casting his vote in Vienna, Austria, Sunday, Oct. 15, 2017, when about 6.4 million people are eligible to vote in the national elections. (AP Photo/Matthias Schrader)
Austria vote could tilt country right, install young leader
George Jahn
(Associated Press) - October 15, 2017 - 8:39pm
VIENNA — A general election in Austria could shake up the country where centrist policies have been the norm for decades as voters decided yesterday whether to take a turn to the right and pave the way for Europe's youngest government leader.

Three parties, and two messages, are vying for first place in the general election: the center-left Social Democrats are campaigning on reducing social inequality, while the People's Party and the Freedom Party have focused on concerns about immigration and Islam.

The latter two parties have called for securing Austria's borders and quickly deporting asylum-seekers whose requests are denied — ideas that appear to have been heard. The People's Party went into the election with the most support, according to polls, with the Freedom Party second and the Social Democrats third.

Much of the People's Party's appeal has been credited to its leader, Foreign Minister Sebastian Kurz. At 31-years-old, Kurz would become Europe's youngest leader if his party wins and he can form a government.

Since taking the helm in the spring amid growing strains between the governing Social Democratic-People's Party coalition, he has moved his center-right party further to the right, particularly on the issues of migration and Muslims. But he avoids the inflammatory rhetoric of the right-wing Freedom Party and its head, Heinz-Christian Strache.

That makes Kurz's party appealing to voters sensitive about immigration in the wake of the 2015 mass influx of mostly Muslim migrants into the EU but who oppose the Freedom Party. Strache has modified the tone of his message and the party is keen on shedding its past links to anti-Semitism. But it continues to attract a small neo-Nazi fringe.

Kurz, greeting supporters as he cast his vote, said he hoped for "a good result, so that real change can be possible." E

Expressing optimism at another polling station, Social Democratic Chancellor Christian Kern said "we are planning a longer party."

Strache voiced optimism for "a good result and the chance for real change."

Left-leaning President Alexander Van der Bellen, who narrowly defeated a Freedom Party candidate in elections last year, said he "puts great value on pro-European government."

Van der Bellen must swear in any new government and a strong showing by the euroskeptic Freedom Party and the People's Party would make a ruling coalition between them likely.

More than 6.4 million Austrians were eligible to vote. The last polling stations close at 1500 GMT (11 a.m. EDT). Final results aren't expected until later this coming week, when the last of the absentee ballots and ballots cast at polling stations outside a voter's district are counted.