Carter's Asia trip spotlights issues for next Pentagon head
December 6, 2016 | 8:42am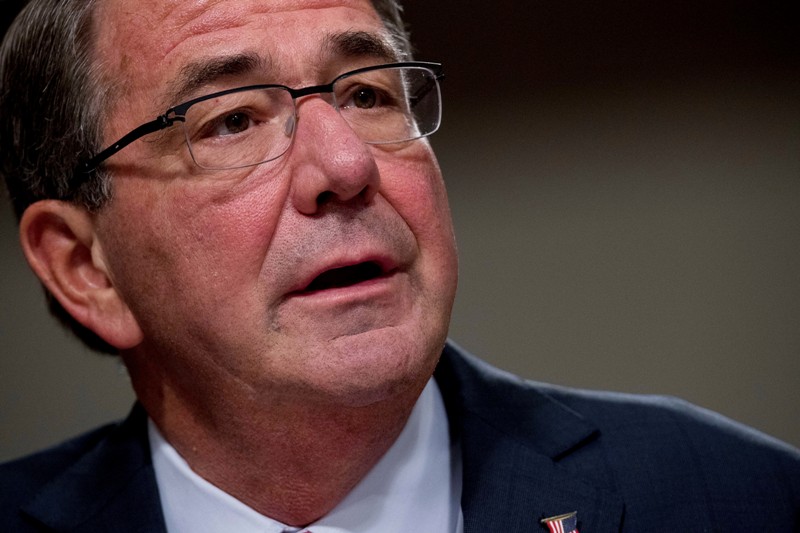 TOKYO — Ash Carter's final swing across Asia as Pentagon chief shines a spotlight on tough issues to be inherited by his successor, from concern in Tokyo and Seoul about being forced to pay more for U.S. military protection to worry across the region about North Korea's nuclear ambitions.
Carter also will hand off to the next defense secretary unfinished diplomatic business, including deployment of a U.S. missile defense system in South Korea that North Korea and China consider provocative, and uncertain military relations with a longtime treaty ally, the Philippines.
An increasingly muscular China, too, presents the incoming Trump administration with significant military challenges. Among them are Beijing's moves to establish military footholds on artificial reefs and islets in the South China Sea, which has become a flashpoint.
An older and potentially even more sensitive point of contention is Taiwan, which U.S. leaders have for years avoided giving any official recognition in deference to China, which claims Taiwan as part of its territory. Trump broke with decades of U.S. presidential practice by speaking by telephone last week with Taiwanese President Tsai Ing-wen.
On a flight to Tokyo on Monday, Carter said he was pleased at the more diverse avenues of security cooperation available in Asia now, including closer consultations between the U.S., Japan and South Korea on the prospect of a nuclear-armed and provocative North Korea.
"North Korea threatens all three of us," he said.
The Obama administration from Day One began deepening U.S. involvement in Asia, arguing that it required more diplomatic attention and a long-term shift of U.S. military resources. It's unclear how the Trump administration might change that approach, although during the campaign Trump raised the specter of withdrawing U.S. forces from Japan and South Korea unless they pay more to host the troops.
Carter said the Obama administration is satisfied with the burden-sharing arrangement with Japan, calling the defense relationship a "two-way street" that benefits both countries.
The Asia Foundation, in a report based on consultations among academics and former officials from 20 Asian nations, cautioned in November that a U.S. troop pullout could compel Japan and South Korea to seek their own nuclear forces rather than rely on protection from America's. The Asia Foundation is a San Francisco-based international development group.
Trump is nominating retired Marine Gen. James Mattis to be his Defense secretary, but he has yet to fill a full slate of foreign policy aides, so the shape of his Asia policy is unknown. Two Trump campaign policy advisers have said there should be no doubt about his commitment to U.S.-Asian alliances.
"Trump will simply, pragmatically and respectfully discuss with Tokyo and Seoul additional ways for those governments to support a presence all involved agree is vital," former Republican congressional aide Alexander Gray and University of California economist Peter Navarro wrote in a recent commentary.
The Obama administration in recent years has built closer ties with other Asian nations, including India, Singapore, Indonesia and Vietnam, and it began a rotation of Marine contingents to Australia that is meant to further demonstrate a U.S. commitment to Pacific partners.
The nonmilitary centerpiece of the administration's Asia policy is the Trans-Pacific Partnership, a 12-nation trade pact that has not yet been implemented. Promoters of the TPP say it is a step toward building a wider, pan-Pacific free trade zone, but Trump has said it's a bad deal for American workers and that as president he will stop U.S. participation.
Carter has traveled to Asian capitals regularly during his nearly two years as Pentagon chief, nurturing long-standing alliances with Japan and South Korea, pushing for a "principled and inclusive" network of security partnerships across Asia and cautioning that China is "sometimes behaving aggressively." He has gone aboard U.S. Navy aircraft carriers plying the contested waters of the South China Sea.
Carter likely will end his tenure in January as the first American defense secretary in more than two decades not to visit China. A year ago at the Reagan forum in Simi Valley, California, Carter announced that he had accepted an invitation to visit China in 2016, but a planned trip in April fell through for unexplained reasons. William Perry in 1994 was the first defense secretary to visit after the 1989 military crackdown on democracy supporters in Tiananmen Square, and each of the five men who followed him in the job visited at least once, most recently Chuck Hagel in April 2014.
In India later this week, Carter is expected to meet with top government officials. His two-week trip, which also will take him to the Mideast and Europe, highlights the breadth of challenges facing defense policy as the White House changes hands. After more than two decades of dominating great-power relations, the United States is seeing Russia reassert itself and China expand its military influence. Together these trends are testing American pre-eminence and its stewardship of the world order.