EDITORIAL - A warning to be prepared always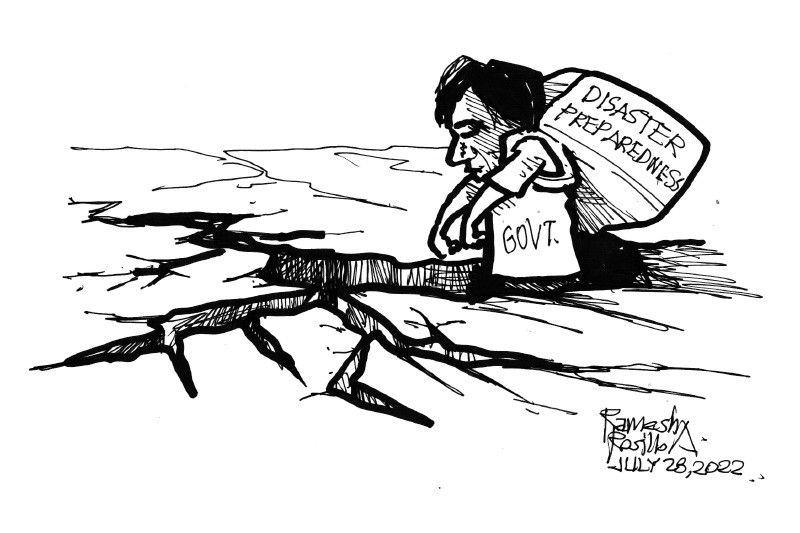 More than most nations the Philippines sees a huge share of natural disasters.
We were reminded of nature's raw power again after a magnitude-7.0 quake hit Abra yesterday morning, leaving four dead and 60 others hurt. While there were no deaths or damage reported in Metro Manila and Region 2, 3, and 4, some services like the Metro Rail Transit, Light Railway Transit, and the Philippine National Railway had to be suspended to check for damage.
Perhaps it was nature's way of reminding us it is still a force to consider after disaster preparedness was not mentioned in the State of the Nation Address a few days ago.
That attempt at levity aside, disaster preparedness is something we should not take for granted, whether by the national government or the barangay council.
Our more-than-usual share of natural calamities isn't by chance. While the Philippines is in a good location in Southeast Asia when you consider tourism and trade, that location also has its disadvantages.
We are in what weather experts call a storm corridor, the path often taken by typhoons as they form then dissipate as a matter of natural occurrence. Mainly due to our location we are pummeled regularly by storms, while our long coastlines --also a major tourism draw-- makes many areas more susceptible to storm surges. We also have a monsoon season that enhances rains even more.
Our location in the Pacific Rim of Fire also ensures our volcanoes are never really silent for so long. It's good that the Bulusan and Kanlaon volcanoes are winding down their latest tantrums, at least for now.
While we don't suffer from earthquakes as frequently as other countries like Japan, we should also assume we will get our fair share, again given our position on the Pacific Rim of Fire.
Being prepared pays off for any local government unit from the richest province down to the poorest barangay; they don't have to wait for aid from outside whenever a disaster happens and can bounce back faster. Usually in many disasters it is speed and a quick response that saves lives.
Let this latest quake be a reminder that nature doesn't have a season, a reason, or political loyalties. It can strike when we least expect. We should heed this as a warning that LGUs, individual families, and individuals themselves must always be prepared for natural disasters.
Recommended
August 17, 2022 - 12:00am