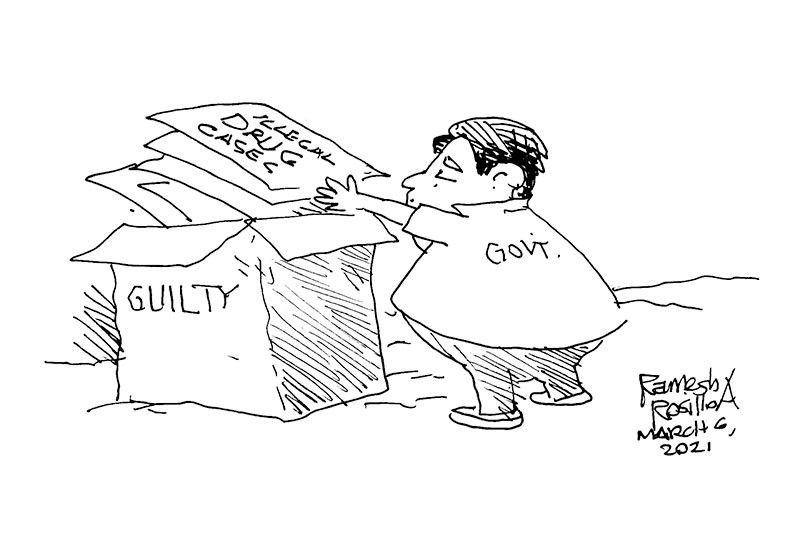 EDITORIAL - Presumption of guilt is dangerous
(The Freeman) - March 6, 2021 - 12:00am
A bill providing that a person arrested for certain drug offenses can already be presumed guilty has been approved by the House of Representatives.
Under Section 3 of House Bill 7814, which amends the Comprehensive Dangerous Drugs Act, anyone spotted in the place where the sale, trading, marketing, dispensation, and delivery or distribution of drugs happen is presumed to be involved in drugs, unless proven otherwise.
So that means anyone who just happens to be near where a buy-bust happened, or near a drug den that was raided, can be arrested and presumed involved in drugs.
Owners or lessors of places being used as drug dens are also "presumed to have given their consent to the illegal use of the leased property if they fail to visit and inspect the leased property at least once every quarter."
Meaning that even if someone's property was used as a drug without his or her knowledge or consent, he or she may be presumed to be involved in drugs.
We understand that drugs is our modern-day scourge, it tears families and communities apart. We also realize that our lawmaker want to strengthen the laws against drugs.
However, this is the wrong way to do it since it violates the basic rights of anyone who is accused of a crime.
The accused of any crime, whether drugs or not, must always be afforded the presumption of innocence until incontrovertible evidence has been produced by the authorities proving that he or she is guilty. It is something basic provided for in the Constitution.
It's not just that we are afraid this new amendment will possibly place innocent people in jail. There is more to it than that. We are afraid this move might set a deadly precedent.
If this amendment sees finality, there is always the chance that other lawmakers will move to have these same condition also applied to other laws.
Imagine these conditions being applied to laws like the anti-terror law, or the anti-graft law, or the law against libel. There is no more need to prove that someone is guilty, we just presume anyone who is arrested for such already is.
You can probably imagine the ensuing chaos, not to mention the abuses and violations, that this will bring.