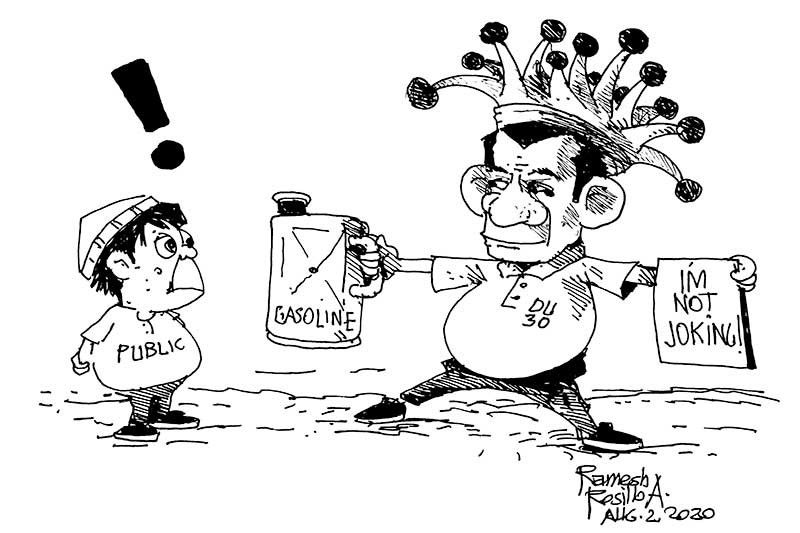 EDITORIAL - Cause for confusion
(The Freeman) - August 2, 2020 - 12:00am
After his own spokesman said that President Rodrigo Duterte was just joking when he said used face masks can be disinfected with gasoline, the president said he was not joking when he made the suggestion.
It was last July 21 when Duterte first said people can disinfect masks with gasoline.
"Maski na gamitin mo 'yan dalawang beses okay man, i-sprayan mo nalang ng alcohol... Pagkatapos ng araw, hang it somewhere i-sprayan mo ng Lysol if you can afford it. 'Yung wala, ibabad mo ng gasolina o diesel," he said.
Days later, presidential spokesman Harry Roque said he was just joking.
"Kayo naman, apat na taon na si President, hindi niyo pa siya kilala. Joke only. Bakit naman tayo maghuhugas ng gasolina?" Roque said.
It could have stopped there. But no, the president had to say that he was serious when he said this.
"Totoo 'yang sinabi ko. Alcohol. Pag walang alcohol available...punta ka lang diyan sa gasoline station pagkatapos patulo ka...that's disinfectant…Akala 'nyo nagbibiro lang ako. Pero sa totoo. Hindi rin ako nagbibiro," he said during a televised briefing last Friday.
This is why so many people are confused by information coming from the government. You have the president saying something, the people under him saying it was not true, then the president insisting that what he said was true.
We have to mention again that there are so many people who take Duterte's words as they are. They swallow the hook, line, and sinker.
We also have to repeat what many medical experts --and not just opposition politicians who take every chance to make Duterte look bad-- are saying; using gasoline as a disinfectant is not advisable.
The fumes from gasoline left on the mask may even be harmful to the user.
When Duterte said it the first time, it is possible to dismiss it as a "joke", like what Roque insists. But now that he said it a second time, this time with his assurance that what he said was not in jest, those of us who still don't take him seriously can't help but wonder what he is really up to.
Again, the president should be reminded that this is no time for misinformation, especially about something as serious as COVID-19.