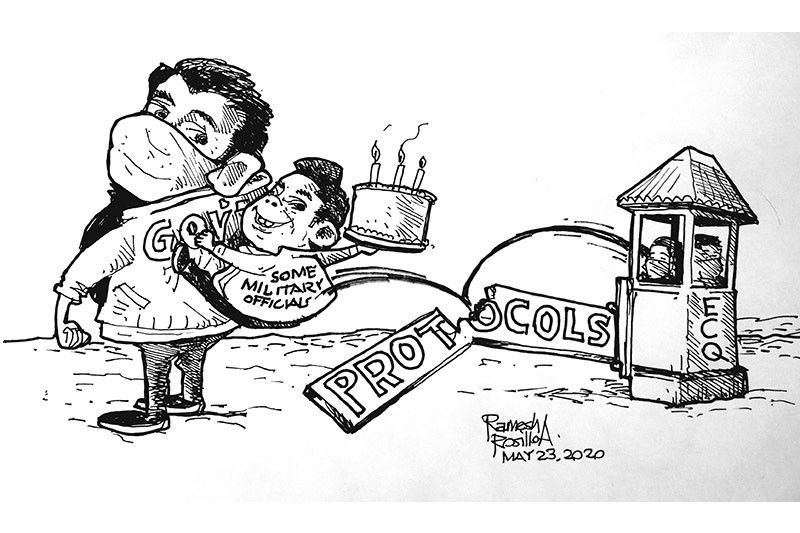 EDITORIAL- Sending the wrong message
(The Freeman) - May 23, 2020 - 12:00am
We have all heard by now about the birthday party National Capital Region Police Office chief Police Maj. General Debold Sinas decided to hold despite the quarantine measures being put in place because of the COVID-19 pandemic.
What he did was wrong because, first, as a law enforcer he is expected to follow the law, and yet there he was, so blatantly violating the law. Second, how can he expect to tell people to use a face mask around others or stay home when he couldn't do it himself?
Despite this incident, President Rodrigo Duterte has decided to retain Sinas as NCRPO chief.
To be frank, it sends the wrong message that while those common people who break the rules have to face the full brunt of the law; those who are close to the powers-that-be can get away with it.
Many are now comparing Sinas' situation to that of a fish vendor who was jailed for 12 days because he violated quarantine rules.
What adds to the disparity is that while the fish vendor was out on the desperate mission to feed his family, making his trip outside essential to survival, Sinas celebrated the party out of his own vanity.
At the very least, Sinas should have been preventively suspended pending the investigation into the incident.
Let us clarify this. A preventive suspension carries with it no dishonor. It is just a safeguard to make sure someone being investigated will not make use of his or her position to influence that investigation. It is neither an indicator of guilt nor a form of punishment.
We are not saying suspending Sinas will bring some form of justice to the situation. He has to face the charges against him. However, letting him carry on after what he did like nothing happened will send the wrong message that those who break the rules but are on the lower rungs of society will have to face the music, while those who break the rules but who have power and influence will just get a slap on the wrist, if any at all.