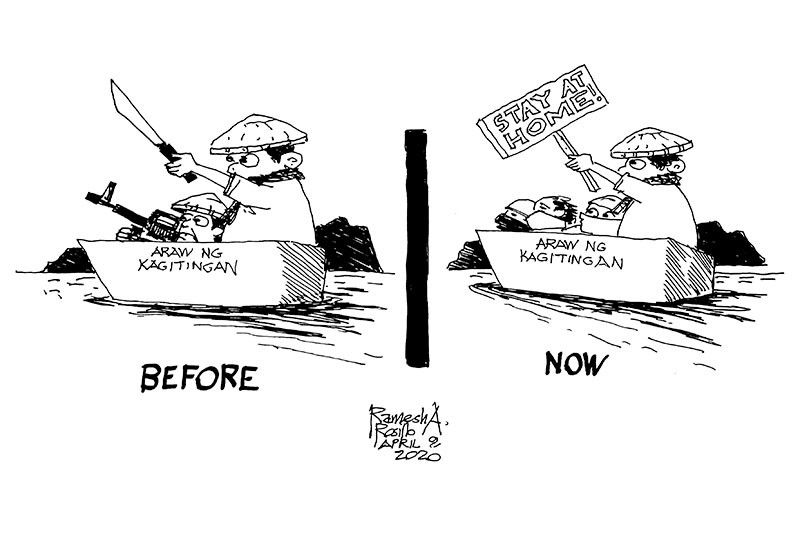 EDITORIAL - Sacrifices, then and now
(The Freeman) - April 9, 2020 - 12:00am
On April 9, 1942, the valiant but undersupplied, outgunned, and starving defenders of Corregidor, mostly a mix of Filipino and American soldiers, was left with no choice but to surrender to the invading Japanese forces.
This event led to the infamous Death March, an 85-mile-long grueling walk to Tarlac that saw even more of the captured defenders die because of starvation, the elements, and the cruelty of their captors.
Since then the date has been remembered yearly as Araw ng Kagitingan, also called the Day of Valor, and today is its 78th anniversary.
On this occasion, allow this paper to make comparisons between our situation during World War II and our situation now, unlikely as some may people find these two events to be.
Our circumstance then and now are worlds apart, but the similarity is that like back then we are facing a threat that can potentially destroy the country
Back then the enemy was the invading Japanese naval and air forces, today it is an unseen virus that is carried around in the human body.
Like back then also, we are all being asked to do our part to ensure the survival of our nation.
Back then, that way was to enlist and join the armed forces to repel the enemy. Later on it was to join the guerrilla movement to harass the enemy. Today, for majority of us anyway, we are just being asked to stay home and avoid going out.
You can probably see the disparity in those two methods of saving the country. One involves taking great personal risk, probably even to the extent of making the ultimate sacrifice. The other? It's probably the easiest thing we can do to save the country.
Yet some people still don't seem to understand that staying home and staying put will do its part in saving our nation. This isn't an enemy that moves around in ships, planes, or 6x6 trucks; this is an enemy that uses the human body to move around and propagate itself.
Our forefathers were asked to risk and possibly lay down their lives to save the nation; all we are being asked to do to do the same is to enjoy ourselves at home.
In this Day of Valor, let us reflect on how so much was required of our forefathers to save this nation back then, and how so little is being asked of us to do the same today.