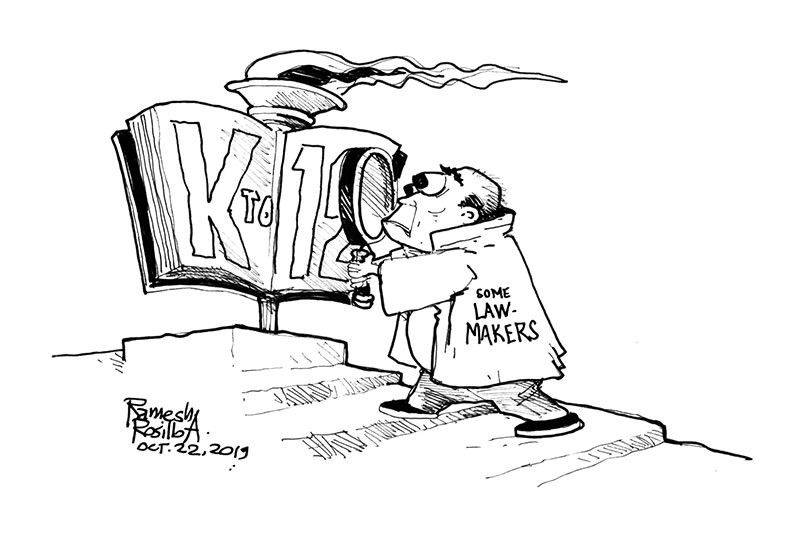 (The Freeman) - October 22, 2019 - 12:00am
The House recently announced that it was open to reviewing the K to 12 program.
To those who have never heard of this program, it was the one introduced by then president Benigno "PNoy" Aquino that added two more years to the present educational curriculum of those in primary and secondary levels. It was designed supposedly to "enhance learners' basic skills, produce more competent citizens, and prepare graduates for lifelong learning and employment."
On paper everything looked so good. However, in actual practice, it was anything but.
The education system, which already deals with the yearly problem of lack of classrooms, was saddled with the additional burden of building even more for the "new" students of the program.
The teachers rushed to fill in the gaps of educators to handle the additional years of the K to 12 program were not even sure what to teach their students.
Yes, it's good the House is open to reviewing this flawed, obviously rushed program. However, like they often say, the damage has been done.
Many parents had to pay for two more years of tuition, school supplies, uniforms, and other expenses. Students sat through two more years of school with nothing to show for it. For all we know, those students might have missed out on educational or employment opportunities because they were held back for two years.
While this review by the House comes too late, it is still hoped something good will come out of it, as the statement from the Department of Education clearly shows it hopes to retain the program despite its many flaws as pointed out by parents, teachers, and even students themselves.
The men and women of the House have their job cut out for them to sort out this mess. We wish them all the luck.