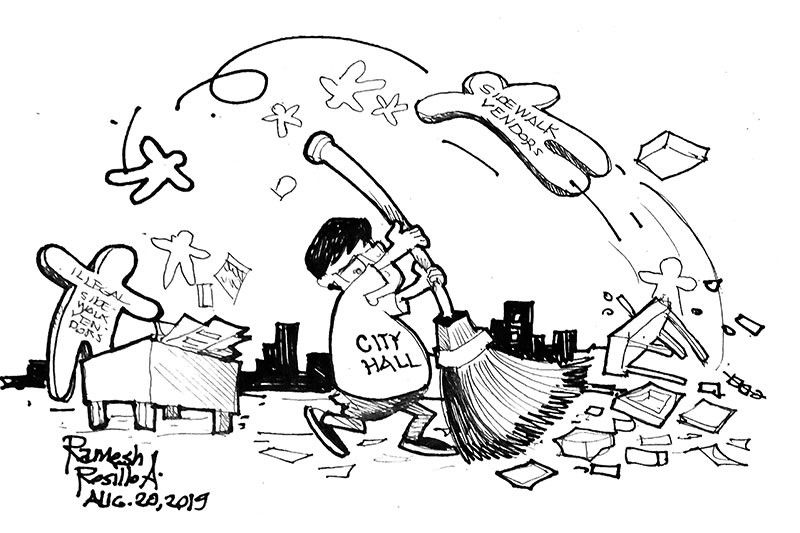 EDITORIAL - Back in business
(The Freeman) - August 20, 2019 - 12:00am
Several illegal vendors have returned to plying their trade along Colon Street in Cebu City just less than a week following the local government's massive clearing operations along streets and sidewalks around the downtown area.
These vendors had packed up and left the sidewalks during the clearing operation conducted by the city's Prevention, Restoration, Order, Beautification, and Enhancement (PROBE) team following orders by Mayor Edgardo Labella.
However, after several days, some vendors were back in their usual places hawking fruits and different items such as clothes and digital video discs. Other resumed their business of repairing watches and buying old coins and banknotes, among others.
As of yesterday, there has been no report of the PROBE team resuming its operations against illegal sidewalk vendors in the downtown area. And it would not be a wonder if the number of returning vendors will swell in the coming days.
It seems the lack of PROBE personnel manning the cleared streets only emboldened those evicted vendors to return to the sidewalks. These vendors probably thought that it is now safe to resume their trade in the absence of any PROBE personnel.
We cannot fault Cebuanos if they put the blame on City Hall and PROBE for not being thorough in their mission of clearing streets and sidewalks of illegal vendors who have been blocking the pathways for years.
Daily sidewalk users in the downtown area were glad that it takes a Labella administration for the city to finally act against illegal sidewalk vending in the downtown area after the previous administrations' failure to address the problem.
Yes, it takes a high degree of political will to eventually rid the sidewalks of illegal vendors. While it's good Labella did not think twice and immediately acted upon the problem, he needs another huge amount of political will to sustain his mission.