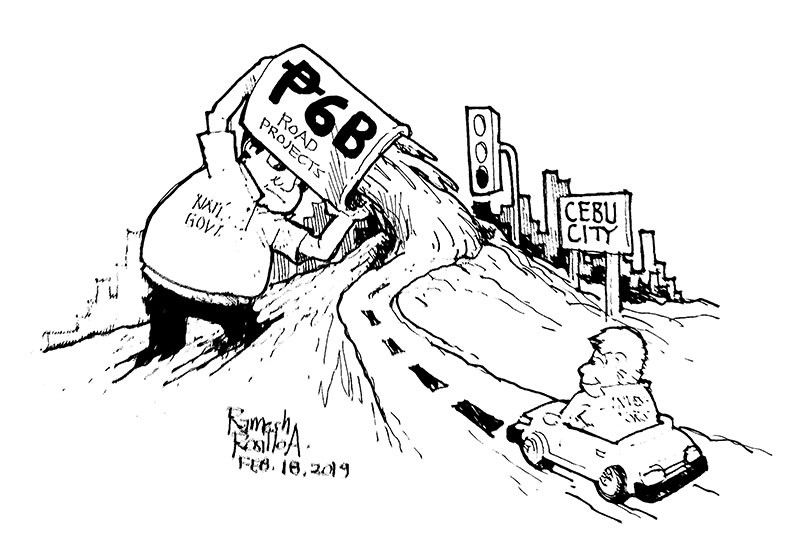 EDITORIAL - Road infrastructure
(The Freeman) - February 18, 2019 - 12:00am
A whopping P6 billion worth of road projects around Cebu City has been scheduled for enforcement this month by the City Development Council to the Regional Development Council in Central Visayas for approval.
Majority of these projects, worth at least P4.7 billion, has been proposed by the Department of Public Works and Highways-7, which sees an urgent need for the city to embark on a massive infrastructure development.
Under the proposal, underpasses will be constructed at the corner of Juan Luna Avenue corner Cardinal Rosales Avenue and Archbishop Reyes Avenue corner Juan Luna Avenue. A skyway is also proposed to be built along General Maxilom Avenue corner M.J. Cuenco Avenue and M. Gotianuy Street and Rahman Street.
These major thoroughfares are among areas identified by the Cebu City Transportation Office as having heavy gridlock, especially during rush hour. Local traffic authorities and the DPWH expect phases of the projects to kick off next year.
It is every Cebuano's hope that these projects will push through as proposed. Cebu City and the rest of Metro Cebu are really in serious need of modern road infrastructure to cope with the unprecedented pace of development
These projects are really a game changer. Once completed, we can only expect traffic to ease up in those areas. One of the main reasons why many businessmen are having second thoughts investing in the city is its worsening traffic problem caused by poor road conditions.
The problem is that, there has been no shortage of sectors that would immediately oppose the implementation of such projects. These sectors are those whose interests are seriously affected by skywalks, street widening, and other road projects.
With such magnitude, these projects will certainly bring economic benefits to the city. Once implemented, they can trigger investments which will, in turn, generate more employment. Therefore, the city should vigorously push for their realization.