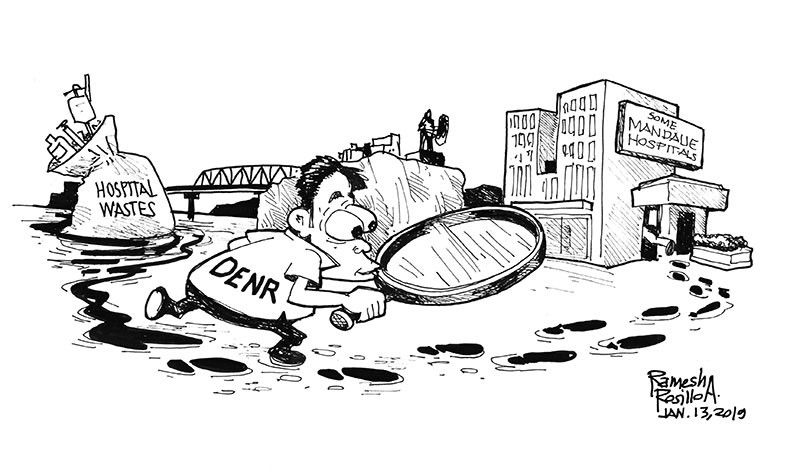 (The Freeman) - January 13, 2019 - 12:00am
No one knows whether or not the hospital waste found floating in the seawaters off Lapu-Lapu City was intentionally dumped. But, as the issue becomes bigger, many see there is a clear mishandling of infectious trash.
The issue has become so serious that it also affected Mandaue City where some hospital waste was found near a dumpsite in Barangay Umapad and in other areas, making the problem worse than we previously thought.
Authorities are now rushing against time investigating the improper disposal of medical waste. The culprit has already been identified; a company tasked by some local hospitals to dispose of their trash.
As hefty fines and sanctions are piling up against the contractor, health authorities should also consider looking into any culpability of those hospitals that hired the company to dispose of their waste.
Are those hospitals not liable for the mishandling of their waste by their contractor? Did their responsibility end when the time the contractor collected the highly contagious waste? Did the hospitals and the contractor have any agreement on proper waste disposal?
These questions must be answered during the investigation. Authorities should not leave any stone unturned in their probe so as to punish those liable. Not only is the illegal dumping of medical waste an environmental violation, it also poses a serious risk to humans.
However, it is too early to say the blame should entirely fall on the contractor handling the medical trash. But it should have a lot of explaining to do why the highly infectious waste ended up just being scattered in the two cities.
The investigation should not only be limited to the issue on the improper trash disposal. It should also include the contractor's practices and whether it is really capable of handling highly contagious waste.
Of course, lack of monitoring by health authorities is also partly to blame for this mess.