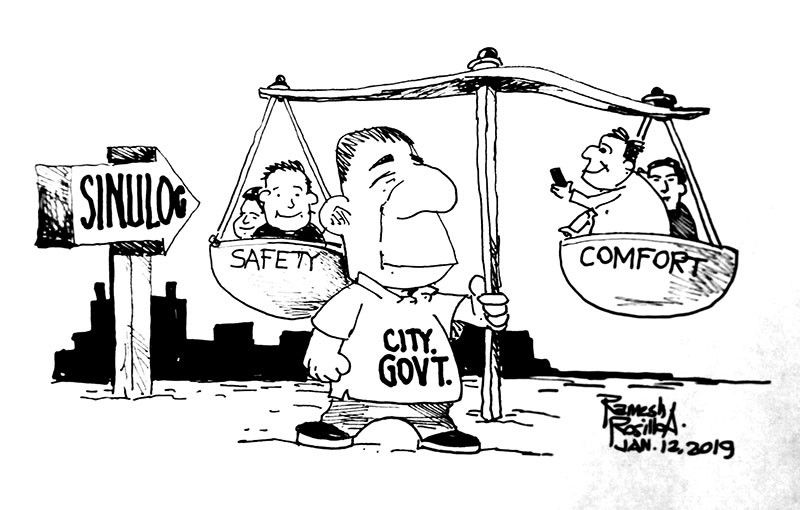 EDITORIAL - Authorities need a balanced execution of fiesta security
(The Freeman) - January 12, 2019 - 12:00am
As the Fiesta Señor season kicked off with the "Walk with Jesus" Thursday dawn, authorities are now tightening their security for every event related to the celebrations, especially the Sinulog Festival on January 20.
Thanks to mass deployment of policemen, the "Walk with Jesus" went on smoothly without any untoward incident. Just like the previous editions, the event was participated in by tens of thousands of devotees.
For this year's fiesta celebrations, authorities have outlined stricter security measures. The inter-agency committee, which handles the celebrations, has prohibited the use of backpacks, drones, and balloons by the devotees. It also bans any fireworks display.
The police have earlier eyed another cellular phone signal shutdown for this year's fiesta to prevent any terrorist attack. Such measure was highly successful when it was first implemented last year.
But for this year, the police are not taking chances, especially now that the United Kingdom had just issued a travel advisory to its citizens in the country to refrain from venturing into the southern part of Cebu over terror threats.
Of course, the stricter security measures did not escape the ire of many who are beginning to feel the authorities' handling of the situation is too harsh that it now makes the room smaller for them to breathe.
Some even think the police, in throwing a stricter security blanket, have become too paranoid in their preparations that public convenience has already been compromised. If you ask the police, of course they would be quick to respond that they are simply doing their job.
Yes, securing an event as huge as the Fiesta Señor is definitely a nightmare for the authorities, especially as it is Cebu's biggest annual religious activity. However, there should also be a balanced execution of whatever security plans they are implementing. And this includes avoiding measures that would only take a serious toll on public comfort.