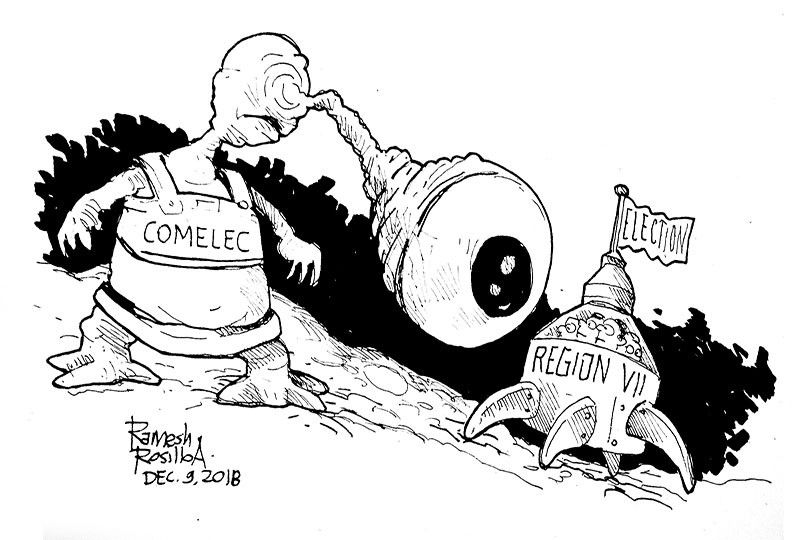 EDITORIAL - Election watchlist areas
(The Freeman) - December 9, 2018 - 2:07am
Because of their population density being highly urbanized areas, the cities of Cebu, Mandaue, and Lapu-Lapu have been classified as election watchlist areas or EWAS in preparation for the midterm elections next year.
The three cities were part of at least 29 areas in Central Visayas that the regional joint security committee of the Commission on Elections, Philippine National Police, and the Armed Forces of the Philippines identified as EWAS for various reasons.
Of the list, seven areas are in Cebu. And aside from the three cities, Danao City and the towns of Ronda, San Fernando and Tuburan are also in the list of EWAS. Comelec-7 Director Rafael Olaño said they considered the presence of armed groups, intense political rivalry, and history of election-related violence as reasons for their declaration.
However, it is the population density that shoved the cities of Cebu, Mandaue and Lapu-Lapu into the list, drawing different reactions from officials of the three local government units.
In Cebu City, while Councilor Joel Garganera of the opposition supported the decision of the security committee, Councilor Mary Ann de los Santos of the administration said the declaration was "unnecessary and baseless."
Mandaue City Mayor Gabriel Luis Quisumbing, for his part, said he welcomes the city's inclusion in the EWAS. Meanwhile, Lapu-Lapu City Mayor Paz Radaza said she was not against her city being part of the list, although she wonders why it was included.
We cannot really blame if many officials of these cities will feel uncomfortable with the declaration. We know that since the filing of the certificate of candidacy there has never been any election-related incident in those areas that would merit special attention from authorities.
The joint security committee may have valid reasons for including population density as ground for EWAS declaration. However, we cannot erase the fact that the classification will only bring negative impact to the whole image of these cities.