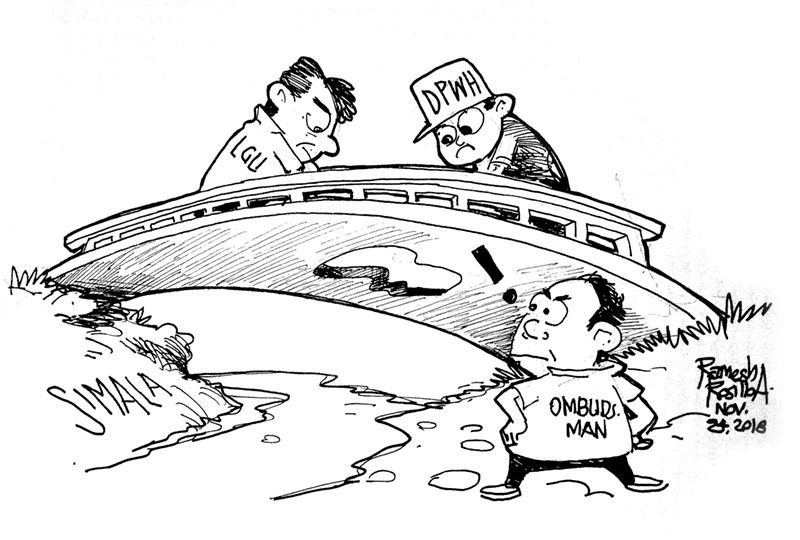 EDITORIAL - Bridge contractor has a lot of explaining to do
(The Freeman) - November 24, 2018 - 12:00am
A P60-million bridge project in Barangay Simala in Sibonga town has become famous when its photos went viral on social media. Its sudden popularity has nothing to do with its structural design or importance to the people of the south now glad over the new infrastructure.
Its unexpected rise to fame was attributed largely to a fairly big hole on its south-bound lane that is endangering the lives of people using the bridge. The netizen who posted the photo on Facebook said the hole not only poses danger to motorists but is also causing monstrous traffic jam in the area.
The bridge's defect has caught the eyes of Cebu First District Representative Gerald Anthony Gullas, who urged the Department of Public Works and Highways to launch an investigation into possible lapses in the construction of the project.
Saying he already communicated with DPWH, Gullas urged the department's officials to seriously look into matter. The lawmaker also wanted the contractor to immediately fix the bridge at no cost to the government.
Even the Office of the Ombudsman in the Visayas is interested to investigate the matter. An Ombudsman officer, Maria Irene Pintor, said any concerned resident requesting for an investigation should include copy of the pictures of the bridge.
Good thing the defect instantly caught the attention of authorities, thanks to the power and influence of social media. Had it not been immediately reported by the public, it would just be a matter of time before an accident occurs.
The contractor has a lot of explaining to do over the serious defect of the project. Aside from the obligation to fix the bridge, it should also be investigated over the integrity of the infrastructure.
This is not to conclude substandard materials were used to construct the structure. There may have been other reasons for its physical defect. But for us to know the truth, a thorough investigation is needed.