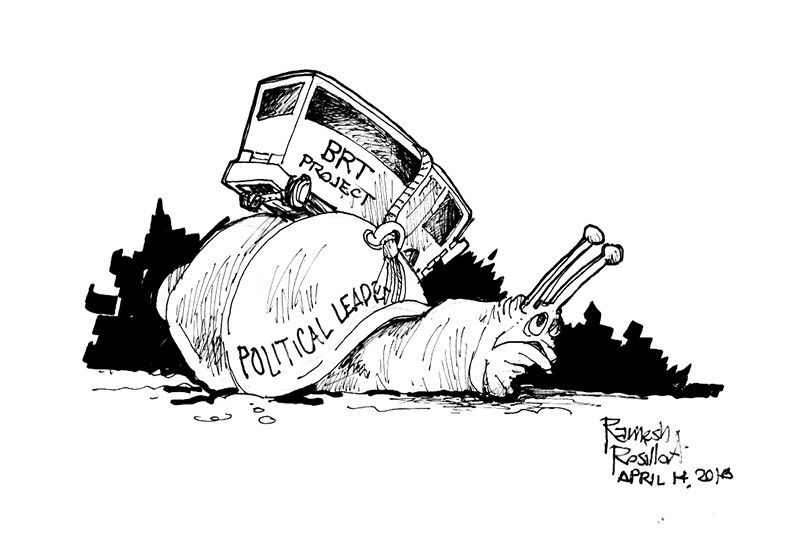 EDITORIAL - BRT: Delay this long suggests something's wrong
(The Freeman) - April 14, 2018 - 12:00am
Now we are being told that the government, meaning the people, will be paying for the added cost incurred by delays to the Bus Rapid Transit project being pushed for implementation in Cebu City. As of the moment, the added cost being assessed already amounts to P14 million. Proponents of the project blame politics for the delay. But isn't it also politics that is to be blamed for pushing a project that can never work in a small city like Cebu City?
Yes, both sides of the fence have been at it for the last 25 years. A conflict that lasts that long will tell any sane person to give it up already. The project, modeled after places where the BRT system worked (Google them, their avenues are as wide as the Amazon), cannot hope to succeed in places where streets are as wide as inaugural ribbons. Besides, having taken this long, it has been overtaken by time, events, and circumstances.
True, the feasibility studies made to prop up the project suggest it should be a go. But of course these studies will always say it's a go. They are no different from brand surveys intended to prop up commercial products. You do not plunk in good money to conduct brand surveys that end up rejecting the brand meant to be propped up.
Those who are pushing for the BRT love to point out the fact that many of the critics are not real experts. But of course they are not real experts. You do not need any expertise to come to the conclusion that the BRT will not work in Cebu City. All that is needed is a pair of eyes to see, a practical mind between the ears to think without thinking of vested interests, and a heart that is all for what is good in a truly honest sense.
It is being suggested that to cut on the added cost incurred by the delays, we might just as well give up and let the BRT project proceed, on the mistaken notion that if, as feared, the project eventually fails, the failure will be on the head of its main proponent. Why, such a proposition will be even more costly, as by then we will all be saddled with a failure whose consequences and costs we will all bear, not with happiness and satisfaction, but with misery and anguish.
The BRT will not work in tiny, congested Cebu City that is getting tinier as it gets more congested every day. Oh, there is one other thing that has been left out of the equation, and it is that to Filipinos, owning a car is like a status symbol, just like owning a cellphone and being on Facebook. It is a socio-psychological thing, not urban dynamics. Nobody will ride a bus when you can now drive home a car on a P5,000 downpayment.