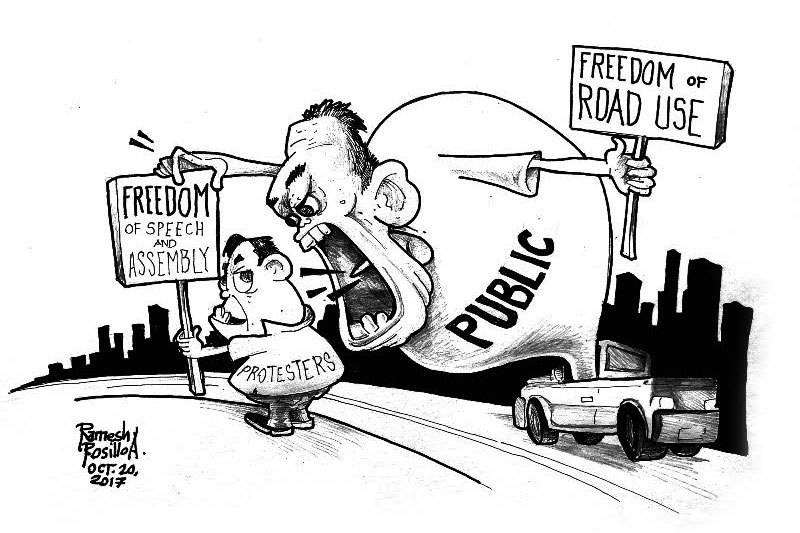 EDITORIAL - Protesters can't resort to anarchy with impunity
(The Freeman) - October 19, 2017 - 4:00pm
Leftist protesters sympathetic to the two-day jeepney strike launched by a jeepney group against an impending plan of government to modernize the transport sector took over portions of several major thoroughfares in Cebu City last Tuesday, blocking the flow of traffic. Instead of dealing resolutely with the protest, the police did nothing. Rendered helpless, traffic enforcers could only redirect traffic to available detours.
Protesters cannot be allowed to take over streets. If they want to protest and air their grievances in the exercise of their constitutional right to free speech and freedom of assembly, they are free to congregate in parks and other open spaces where they can scream until they get hoarse. But they cannot take over streets because a far greater number of citizens have their own rights to freely use them without having to be impeded by protesters.
If the protesters insist on their freedoms, then it would be the height of hypocrisy for them to deprive others of their own freedoms as well. If they mouth big words about democracy and democratic space, then they have to recognize and respect what democracy says about equality and the rule of the majority. And if these protesters cannot do this, or refuse to do so, then law enforcers are obliged to insist on what the law in a democracy says.
Protesters cannot usurp what belongs to everyone, such as public thoroughfares. Nobody is stopping them from protesting. Nobody is stopping them from saying what they want to say in these protests. But in doing so, they must not force others to join them or listen to what they say, which is what usually happens when they strike. They begin to coerce non-participants, ignoring the fact that others refuse to join simply because they do not share the same sentiments.
When you force others who do not share your views and position, you become a hooligan, in which case you become authoritarian and undemocratic. You get exposed for what you really are, and it is time this bastardization of democracy is stopped. Peaceful and law-abiding citizens who merely want to pursue their own private endeavors quietly cannot forever be at the mercy of a few noisy and unruly tyrants who hold them hostage.
But what are the law enforcers doing? Where were they when the protesters resorted to taking over streets and blocking traffic? Such actions already bordered on anarchy that required the strong arm of the law to quell. These protesters protest anything and everything. They have been at it for decades. There is nothing new in their script. They have made a cottage industry out of protesting. If they want to earn a living, it must not come at the expense of the greater number.