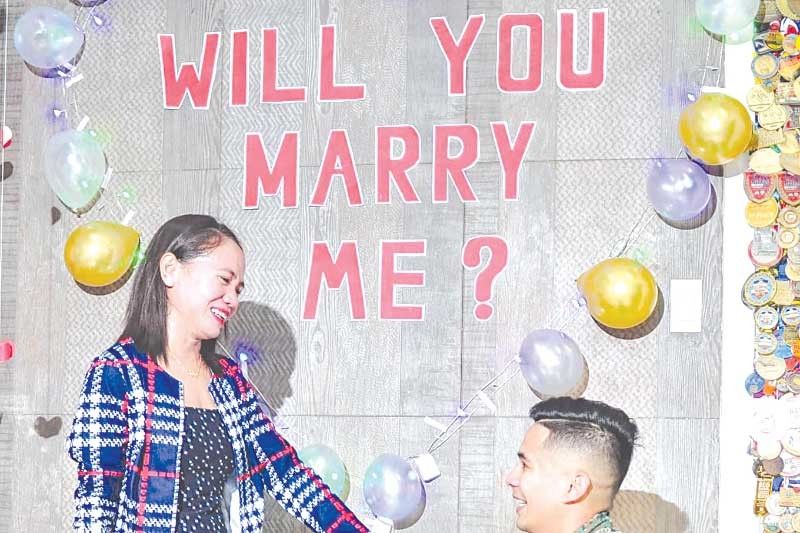 Decorated Cebuana marathoner Mary Joy Tabal got engaged to her navy man boyfriend Hector Dan J. Jimenez recently.
Photo by John Velez
What a joy! Cebuana marathon star Tabal gets engaged to navy officer
CEBU, Philippines — Cebuana Olympian Mary Joy Tabal has just made a special run in her life, not on the race track but on the road toward a lifelong commitment after getting engaged to navy man Hector Dan J. Jimenez, his boyfriend of three years.
"Was only dreaming for this day to happen! My heart's crying out with so much joy! Thank you my Baby Dan Rain Collins. It's a YES!" Tabal posted on her Facebook page three nights ago.
Sharing her memorable event in a separate interview, the 31-year-old Tabal said she was in the biggest surprise of her life, yet extraordinarily happy and swept with overwhelming joy when Jimenez, an officer of the Philippine Navy with a rank of Lieutenant Junior Grade, proposed to her in a private gathering last Thursday.
And the moment Jimenez popped the question, the bemedalled long distance runner from the mountain Cebu City barangay of Guba did not waste a single second in exclaiming 'yes'.
Tears of happiness then raced through Tabal's cheeks after the 26-year-old Jimenez, kneeling in navy fatigue uniform, gently put the ring on her finger that sent her to seventh heaven.
"It was a cloud nine feeling. It was as amazing as he is, he never fails to surprise me and always make me feel loved and cared," said Tabal, a six-time national marathon champion and Southeast Asian (SEA) Games gold medalist who made history as the first Filipina marathoner at the 2016 Rio Olympics in Brazil.
Though swapping I Do's is in their horizon, Tabal said they will focus first on their priorities and respective careers for now.
While her fiancée keeps serving the navy, Tabal said she will pour her energy preparing for this year's 31st SEA Games slated on November 21 to December 2 in Hanoi, Vietnam.
"That' s really our plan," said Tabal, a lieutenant commander under the 202nd squadron of the Philippine Coast Guard Auxiliary (PCGA) on December 3 last year. "To do a one-year preparation and maybe after the 2021 SEA Games we will tie the knot."