Starting January 1, most establishments in Cebu City: For fully vaxxed only
December 3, 2021 | 12:00am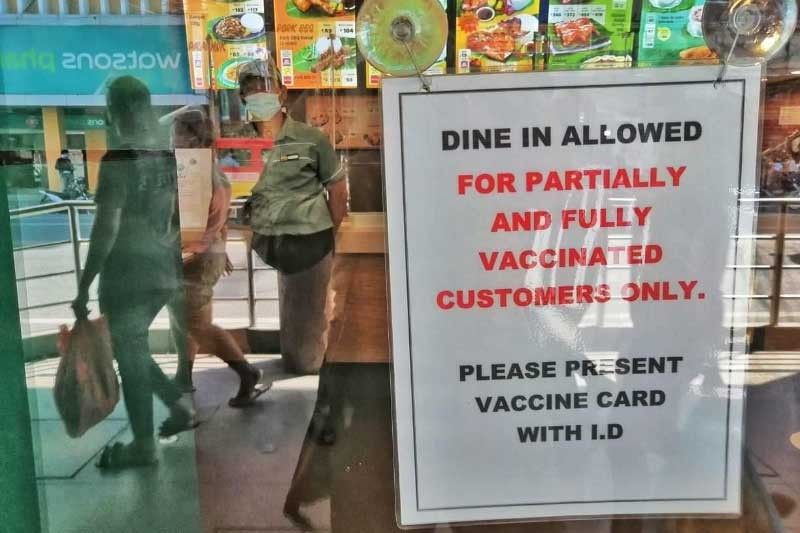 CEBU, Philippines — Starting January 1, 2022, only fully vaccinated individuals will be accommodated in specific venues in Cebu City, whether indoor or outdoor, Mayor Michael Rama ordered in a latest directive meant to stem the spread of coronavirus amid the threat of new COVID-19 variant, Omicron.
According to Directive No. 11-20-2021-01, the above rule shall be observed effective January 1, 2022 in following venues in Cebu City:
Amusement parks or theme parks; cinemas and movie houses; limited face-to-face or in-person classes for basic education subject to prior approval of the Office of the President; and limited face-to-face or in-person classes for higher education and for technical-vocational education and training; funfairs/peryas or kid amusement industries; venues with live voice and wind-instrument performers and audiences such as karaoke bars, clubs, concert halls, and theaters.
Gatherings in residences with individuals not belonging to the same household will also fall under the guideline.
The rule will also cover venues for meetings, incentives, conferences, and exhibitions (MICE); permitted venues for social events such as parties, wedding receptions, engagement parties, wedding anniversaries, debut and birthday parties, family reunions, and bridal or baby showers; dine-in services at restaurants; visitor or tourist attractions such as libraries, archives, museums, galleries, exhibits, parks, plazas, public gardens, scenic viewpoints or overlooks, and the like; in-person religious gatherings; gatherings for necrological services, wakes, inurment, and funerals for those who died of causes other than COVID-19 and for the cremated remains of the COVID-19 deceased.
For the time being, the enumerated establishments, venues and activities may be allowed to operate or to be undertaken at a maximum of 50% indoor venue capacity for fully vaccinated individuals only and or at 70% outdoor venue capacity.
In justifying his new directives, Rama said it has been the thrust of the city to open all businesses and establishments, permit persons and allow activities to be conducted within its territory provided all are vaccinated.
Currently, Cebu City is categorized under Alert Level 2 until December 15, 2021.
"In the immediately preceding couple of months, the city (has been) doing well in resuscitating its economy, as well as its health facility, until most recently, all sectors of the society were put into alarm of the existence of the new COVID-19 variant, Omicron," Rama said.
"To efficiently sustain a balance between health and economy under these circumstances, it is imperative that a uniform and omnibus guideline be made for the conduct and operation of businesses and activities, including those special activities, for better management of emerging infectious diseases and enforcement of health protocols," he added.
Caroling
As for caroling and other Christmas activities, the directive allows such activities, subject to the provisions of existing laws, ordinances, rules, and regulations, for as long as caroling during the Christmas season shall be conducted and participated only by fully vaccinated individuals. In addition, the carolers must not be minors.
Caroling activities, according to Rama, shall also be strictly subject to curfew hours and observance of minimum public health standards.
The curfew schedule runs from 12 midnight to 3 a.m. In general, curfew schedule shall apply to all establishments and offices permitted to operate. However, authorized persons outside residences (APORs), employees of the business process outsourcing industry, health workers, and government agencies providing frontline and emergency services shall be exempted.
The curfew for minors or those below 18 years of age shall start at 10 p.m. and run until 4 a.m. the following day.
Christmas parties and other related activities are also allowed subject to observance of venue capacity and the participation of only fully vaccinated individuals.
Likewise, the directive reiterates that the celebration of Misa de Gallo, Christmas and New Year midnight masses are permissible special activities under a prior executive order subject to the submission to evaluation.
The use of firecrackers, buying and selling are only allowed in certain designated areas.
Yes to contact sports, but...
Contact sports shall now be allowed in barangays, provided that the barangay shall identify and designate areas where such contact sports may be conducted and shall submit a list of venues for inspection by the Emergency Operations Center.
Only vaccinated individuals shall be allowed to participate in contact sports for now. The concerned barangay and other officials shall conduct regular inspection to ensure compliance of this requirement.
As a rule, only residents of the same barangay are allowed to join and engage in contact sports held in barangay-owned gyms and other sports or recreation areas located in the same barangay, unless authorized by the Office of the Mayor, EOC or the barangay.
Entry requirements
All persons entering and or bound for Cebu City as an initial or final point of destination, whether through seaport or airport, must present the following documents before entry may be granted:
For COVID-19 fully vaccinated individuals: valid identification document (ID)/proof of identity bearing the holder's picture and signature; and official vaccination card with QR Code.
If without QR Code, the official Vaccination Certificate issued by the local health officer of the LGU concerned or vaccination certification issued by the Department of Health-Bureau of Quarantine may be presented.
As for unvaccinated or incompletely vaccinated individuals, the requirement is a negative RT-PCR test result taken within the last 72 hours or a negative antigen test result taken within the last 48 hours or a negative saliva test result taken within the last 48 hours. (FREEMAN)