Crowds throng Cebu City vax sites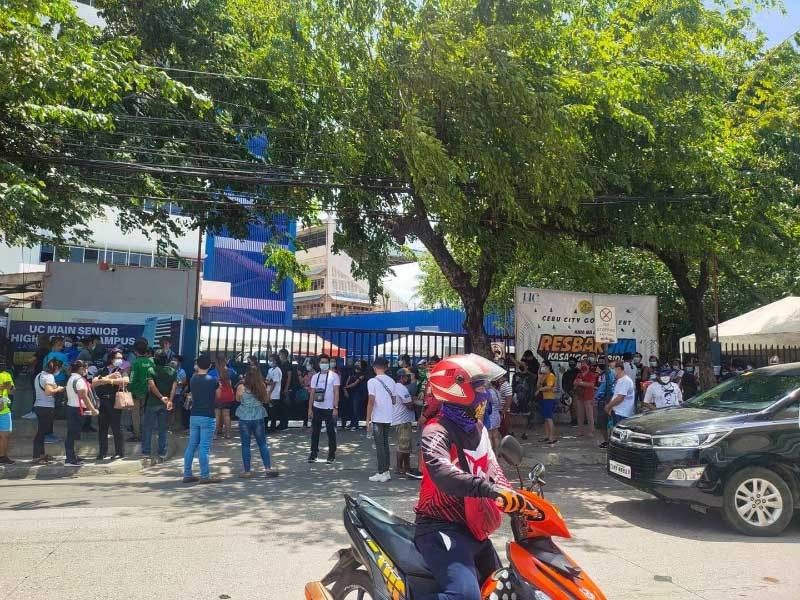 CEBU, Philippines — Cebu City is not only experiencing a surge in COVID-19 cases but also in the number of residents wanting to get vaccinated against coronavirus.
Based on the city's Vaccine Information Management System (VIMS), 10,144 people have registered online for their COVID-19 jabs on June 27 alone.
City Councilor David Tumulak, the coordinator of the vaccination sites, said hundreds of people are also flocking to the vaccination sites.
"Dunay problema gyud ta diri dapit sa tanan natong vaccination centers sa atong dakbayan gumikan kay ni dagsa na ang mga taw na gusto magpabakuna," he said.
He said some of them were those scheduled for vaccination last April and May, but did not show up due to vaccine safety scare.
"Katong uban nga nakadawat ug text confirmation niadto nga wala sila motunga gumikan nahadlok, karon nanunga na. Nitunga palang na sila unta adto wala unta silay problema karon," said Tumulak.
He said vaccination centers are witnessing long queues as hundreds of residents wanted to get COVID-19 vaccine jabs.
He lamented that the people also disregarded the social distancing protocol.
"Ang atoang Cebu City government naningkamot gyud makontrolar ang gidahanon sa mga taw nga magpabakuna base na sa mga text confirmation na ilang madawat. Apan ang atong katawhan nanimpad, nagkahiusa ilang huna-huna midagsa ron sa tanan nato nga vaccination centers hinungdan nagkaproblema ta sa atoang social distancing," he said.
Personnel from Task Force KASALIGAN (Kaluwasan sa mga Amigo Cops ug Sugboanon ang Gusto sa Atong Liderato nga Ipatuman Gumikan sa hulga sa COVID-19 Alang Natong tanan) were deployed in the city's vaccination sites to help in managing the crowd, ensuring that health and safety protocols are properly observed.
City Health officer-in-charge Dr. Jeffrey Ibones said those who flocked to vaccination sites were mostly economic workers, such as delivery riders, who belong to the A4 priority group.
He said they were somehow compelled to take the jab after some local government units are requiring vaccination cards.
Lapu-Lapu City, for instance, disallows customers who are not vaccinated against COVID-19 from entering several establishments in the city.
Section 4 of E.O No. 2021-040 issued by Mayor Junard Chan reads, "only vaccinated persons upon presentation pf their vaccination cards, shall be allowed to enter public and private markets including department stores, supermarkets, grocery and convenience store." The new rule is set to take effect on August 25.
To prevent further spread of COVID-19, Ibones has discouraged walk-ins.
He urged the public to register online first at https://vims.cebucity.gov.ph/page/register. — Sly Anthonette E. Baseo and Dianah Rule D. Salinguhay, CNU Comm Interns, KQD (FREEMAN)