Compromise sought on protocols for OFWs, ROFs arriving in Cebu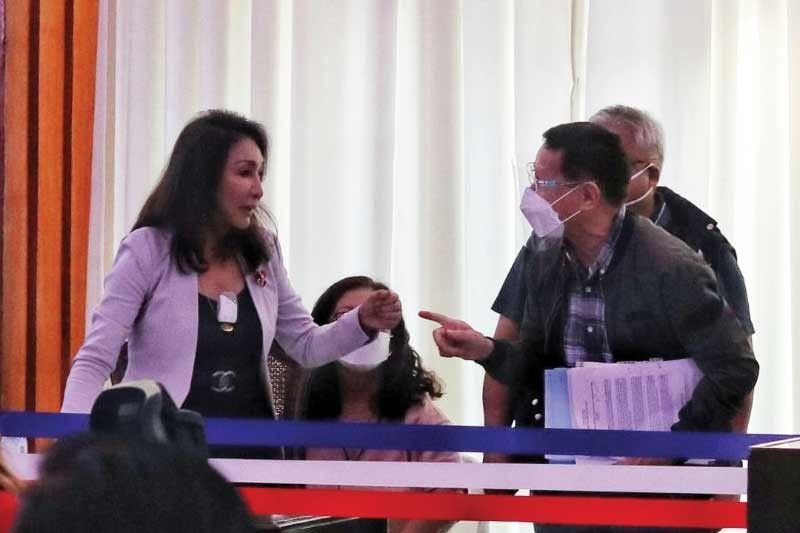 CEBU, Philippines — Cebu Governor Gwendolyn has appealed to the Inter-Agency Task Force for the Management of Infectious Diseases (IATF-MEID) to allow Cebu Province to implement its own COVID-19 protocol among Cebuano Overseas Filipino Workers (OFWs) and Returning Overseas Filipinos (ROFs).
"Allow us to do this for the Cebuanos. Let this be a compromise," Garcia told members of the IATF headed by Health Secretary Francisco Duque III, other members of the national task force on COVID-19, and the national government's medical experts who attended the special session of the Cebu Provincial Board Tuesday, July 29, 2021.
Under the Cebu protocol, arriving OFWs and ROFs will be allowed to proceed to their local government of destination if they test negative in the swab test, which they need to undergo upon arrival at the Mactan Cebu International Airport.
They will continue with quarantine at home or at a facility of their LGU and will be swabbed again on the seventh day.
Garcia said the local policy is meant to ease the burden of Cebuano OFWs and ROFs and the province will not mind if the national government will continue implementing the national policy among returning non-Cebuano OFWs and ROFs.
"It is our request, with all due respect, please… I speak not as a doctor, I certainly am not; not a scientist, I certainly am not; but I speak with a deep sense of duty as an elected official… Allow us to take this responsibility into our hands for we cannot govern with 'what ifs'… we cannot possibly hope to achieve the welfare of our constituents when it is based on models, possibilities, and assumptions," she said.
Based on the national policy, inbound travelers will have to undergo quarantine at a facility and, on the seventh day, will be tested for COVID-19. Those who will test positive will remain in quarantine while those who will test negative can be discharged after 10 days.
They have to undergo four more days of quarantine at their local government units.
Duque said he will discuss the matter with the national task force.
"Ang sinabi naman ni governor is to consider their request to have a separate (policy) for Cebuanos from those who aren't Cebuanos. This has to be deliberated upon by the IATF. There is nothing for me to say at this point because we are just here upon the gracious invitation of the governor and the PB," Duque said after the session.
Cabinet Secretary Karlo Nograles said they could not decide on the matter immediately and they "need to chew (information) on this".
Besides, he said, the IATF is just a recommendatory body and the final decision will come from President Rodrigo Duterte.
Nograles said Cebu Province has a valid point but "at the end of the day, we have to balance all the different factors and come up with something that is best for all," pointing out the value of having a "uniformed policy" for the country.
Earlier, National Task Force Special Adviser Ted Herbosa said what the national government does not like in Cebu's policy is the part where OFWs and ROFs are allowed to do home quarantine if they test negative for COVID-19 at the airport.
"That's what the national government does not want. You can swab on arrival if you want but you have to be in a quarantine facility," he said.
He said it is this aspect of the Cebu policy that relaxes and opposes the protocol being implemented by the national government.
Delta variant
Also during the special session, the IATF underscored that the Delta variant of the coronavirus is dangerous as it is more transmissible and is considered deadly having affected 85 countries.
Dr. Edsel Salvaña of the DOH Technical Advisory Group presented data from other countries like the United Kingdom wherein 90 percent of new cases are caused by the Delta variant.
The Philippines, as of June 17, has recorded 17 cases of the variant – one case is active, 15 other patients have recovered, while one has passed away.
Salvaña said if strict implementation will not be followed, it is possible that the variant can cause an "India-like surge" especially that the Philippines has a low vaccination rate.
Nograles said that while they laud the accomplishment of Cebu Province in fighting COVID-19, "I also beg of you not put our guards down, not to be complacent, and not to think that we have been successful really in beating the virus."
Secretary Carlito Galvez, IATF chief implementer, said Cebu has been the entry point of OFWs and ROFs because of its relaxed protocol. They removed the home quarantine because their study showed there has been high transmission at home.
But Garcia said protocols set by the national IATF are not "religiously and rigidly" followed at hotels.
"Reality is, from the meeting that I have conducted with HRRAC and has been admitted, they cannot always monitor these OFWs and ROFs because they lack hotel staff," Garcia said.
"What makes a hotel room far safer and more hygienic than the strict protocols that I have defined in Executive Order No. 5, February 3, 2020 as regards home quarantine?" Garcia pointed out.
Seventh District Board Member Christopher Baricuatro said the province has strong emergency response with the help of barangay emergency response teams and local government units.
He said that before OFWs can be allowed to proceed to home quarantine after testing negative at the airport, the house where they intend to stay will be checked it meets the requirements of DOH for home isolation. — JMO (FREEMAN)