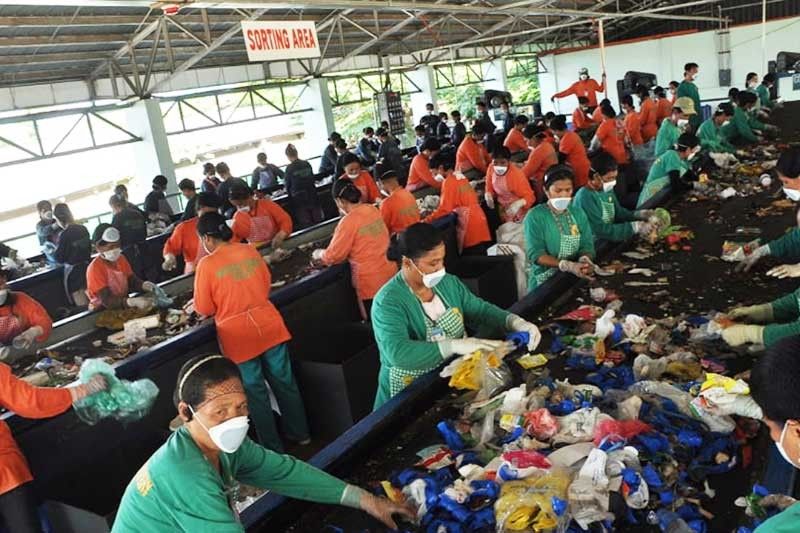 Lapu-Lapu City has one centralized MRF in Barangay Soong, which was established way back in 2010 under the tenure of CENRO head Roderico Tagaan.
Special Report: Metro Cebu Waste Problem: The long road to full compliance (Part 2)
CEBU, Philippines — While Cebu City makes do with a makeshift material recovery facility, its neighboring cities have established a few as part of their baby steps to comply with the Ecological Solid Waste Management Act (R.A. 9003). But the road to full compliance remains long and winding.
Lapu-Lapu City has one centralized MRF in Barangay Soong, which was established way back in 2010 under the tenure of CENRO head Roderico Tagaan.
The facility's main product is organic compost, though plastics are also incorporated with other materials for eco-bricks and footpaths.
Tagaan said that aside from Soong, there is another MRF in Agus, but it is more of a sorting area of recyclables. Other than the two, no other MRFs could be found in the city.
There are no immediate plans to introduce and put up an MRF in the island barangays as there are reportedly no resources for it, aside from the fact that most of the wastes produced there are biodegradable and only a few recyclables.
But the Commission on Audit noted that the city still lacks revenue-generating plans and strategies for saleable materials from its MRF.
With this, the commission said the city has been deprived of additional funds from sale and utilization of the facility.
The city has an existing Executive Order No. 2020 for its "no segregation, no collection" policy that took effect last April 1, 2020, but according to zero waste advocates, this has not been properly implemented.
"Wala man gyuy ma-perfect ani. Kami, kuwang pud mig manpower to check everything, that is why ang mga barangays are asked to educate residents to segregate," said Tagaan.
Barangay Soong used to have a dumpsite but it has been closed and is undergoing rehabilitation in consonance in the approved safe closure and rehabilitation plan.
However, Lito Vasquez, Visayas coordinator of Break Free From Plastic (BFFP)-Philippines, said they still receive complaints that the facility is still being used as it still emits foul odor.
Tagaan explained that this is because the city government has made it into a transfer station of collected garbage to its hauler, ARN.
Tagaan hopes the city would procure more garbage trucks for them to have a direct line to ARN's private sanitary landfill like what Cebu City and Mandaue City are doing right now.
"We are dependent on the contractor's haulers," said Tagaan.
The city also regulates the use of single-use plastic every Wednesday and Saturday and bans plastic straws courtesy of Ordinance No. 15-003-2019 but again, the implementation has not been stringent.
Tagaan said they lack manpower to monitor everything.
A feasibility study on a possible WTE plant in the city is in the works, but Tagaan said he doubts it will push through unless other LGUs will collaborate with Lapu-Lapu for its public private partnership (PPP).
"One of the hindrances is mahal ang WTE and they need at least 500 tons of garbage a day para di sila maalkansi ang facility while ang atong LGU without segregation, maka-produce rag 250 tons a day," shared Tagaan.
Mandaue City
Mandaue, for its part, has at least four MRFs, according to ABC president and Subangdaku barangay captain Ernie Manatad. The four are in Subangdaku, Canduman, Pagsabungan and Jagobiao.
Subangdaku, the pilot area for waste diversion (reusing, recycling), has produced different products, implemented cash for trash program, among others, paving the way for livelihood opportunities for less fortunate residents.
Manatad shared they also have a so-called "banking system" in the purok level.
"We distributed passbook to all households by purok where they record the garbage delivered to our MRF, recyclables, biodegradable then at the end of the year, they get patronage refund and also a share of it goes to the purok for their own funding," he said.
Manatad admitted that the establishment of MRF used to be only for compliance, but he was happy to note that they were able to pull it off. He said this also enabled them to save funds as the amount of waste each barangay in Mandaue could dump in the landfill is limited.
"Kiluhon baya. Og mosubra mi sa among quota nga pwede ilabay didto, mpbayad biya mi, ang barangay ang mobayad," he said, adding that he understands that not everyone has the space required of an MRF.
"Problem gyud sa HUCs is space. We don't have the space kay naay uban naa untay bakante, but the people around usually has a perception that and MRF baho. Mao gyud ni challenge sa HUCs," he added.
There was also a proposal to have a clustered or centralized MRF for the city's 27 barangays at the previous Umapad dumpsite. But with some issues that remain unresolved, the project has been set aside.
According to COA, Mandaue City's 10-year SWMP has been approved by DENR. The problem is, the said city had not prepared a Solid Waste Management Board's Accomplishment Report. Thus, projects may not be properly implemented, assessed and monitored to ensure sustainability and achievement of the goals of ecological solid waste management program.
The LGU's Solid Waste Management Board is expected to adopt measures to promote and ensure the viability and effective implementation of solid waste management programs in its component barangays.
COA also stated that the city is expected to adopt specific revenue-generating measures to promote the viability of its Solid Waste Management Plan.
Other cities in Cebu
DENR-EMB data showed that the likes of Bogo, Naga, Danao and Toledo have their 10-year SWMP already approved, but these plans need to be revisited to suit new developments and address other concerns.
Talisay City is hoping to finally get DENR's nod for its 10-year SWMP with the centralized MRF in the Tapul landfill expected to be finished by the end of this year by its private partner, said Talisay CENRO's Lagrimas Abarquez.
Other revisions of the plan are also needed, including handling special wastes from COVID-19 and the rehabilitation of its open dumpsite.
Just like other cities, Talisay is also faced with problems in solid waste management and in establishing their own MRFs because of scarcity of land for such use.
It was, however, learned that Barangay San Isidro has expressed interest in building one.
Abarquez is hoping that once the city's centralized MRF will be finished, they will also be able to strictly impose the "no segregation, no collection" policy.
Currently, Talisay has a temporary MRF at the City Hall where water bottles are converted as eco-waste traps for rivers and the "Basura ko, panginabuhian ko", their version of the trash-for-cash". Instead of cash, though, the barangays or schools get rice and school supplies depending on the amount of plastic bottles turned over.
Conclusion
Two decades after RA 9003 came into effect, the national government and environmental advocates continue to hope for a genuine change in the mindset of the LGUs and its people in general, not only for show or compliance.
The collect-dump practices of LGUs have been found to be unsustainable.
The LGUs' violation of the mandates under RA 9003 can be grounds to invoke Section 52 of RA 9003. Accordingly, "any citizen may file an appropriate civil, criminal or administrative action in the proper courts/bodies against any public officer who willfully or grossly neglects the performance of an act specifically enjoined as a duty by this Act or its implementing rules and regulations."
However, lawsuits can be avoided if LGUs take a serious and genuine concern to problems in solid waste.
Vasquez said there are two crucial steps that are needed before the collection of solid waste -- solid waste avoidance and volume reduction.
He said LGUs can start with banning single-use plastics (SUPs) to save up on public funds to collect and dispose of SUPs created by top plastic polluters.
As for volume reduction, a good waste diversion program can recover waste already generated.
In the waste hierarchy, waste avoidance should be on top then reuse, reduce, recycle thus MRFs should really be established by the LGUs.
San Fernando City, Pampanga, for one, was able to attain a daily waste diversion rate of 81 percent and only 19 percent being disposed of in landfills using those measures.
A typical waste composition of an LGU is 50 percent or more biodegradable waste and more than 20 percent recyclables, which can be recovered through composting and recycling.
In the case of Cebu City, instead of 700 tons disposed to landfill daily, only 133 tons will then be brought to the landfill, saving not only on monetary costs of tipping fee, fuel, truck maintenance, and personnel salary and also improving health and environmental impact.
If San Fernando, Pampanga and other LGUs in the country are able to find ways and safe solutions to problems in solid wastes, why can't it be done here? — JMD (FREEMAN)