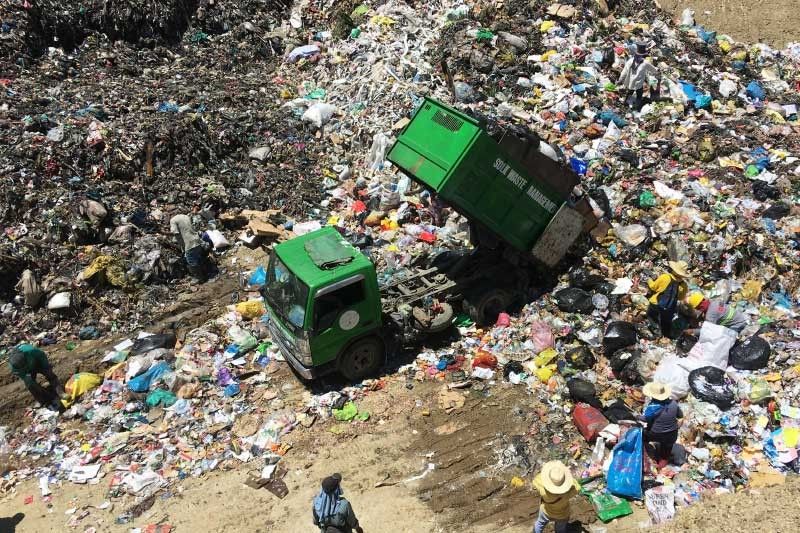 More than 20 years later, Cebu's three highly urbanized cities are still scrambling to comply with some of the law's salient requirements.
Cebu's silent and expensive waste problem (Part 1)
CEBU, Philippines — The Ecological Solid Waste Management Act (Republic Act No. 9003) was enacted in 2000 with the goal of adopting a systematic, comprehensive, and ecological solid waste management program which shall, among others, ensure the protection of public health and environment.
More than 20 years later, Cebu's three highly urbanized cities are still scrambling to comply with some of the law's salient requirements.
Section 32 of R.A. 9003 mandates: "There shall be an established Materials Recovery Facility (MRF) in every barangay or cluster of barangays. The facility shall be established in a barangay-owned or leased land or any suitable open space to be determined by the barangay through its Sanggunian."
The law describes an MRF as a facility that includes a solid waste transfer station or sorting station, drop-off center, a composting facility, and a recycling facility.
But until now, the long-required institution of an MRF has eluded many of Cebu's barangays.
The three highly urbanized cities of Cebu, Mandaue, and Lapu-Lapu have 80, 27, and 30 barangays, respectively, or a total of 137 barangays. Yet among these 137 barangays in these three key cities, there are only six functional MRFs at the moment – four in Mandaue, a centralized MRF in Lapu-Lapu, and a makeshift one in Cebu City.
In disposing of their wastes, all three HUCs rely on a private-owned landfill in Barangay Binaliw, Cebu City called the ARN Central Waste Management.
The justification raised by the LGUs for their failure to comply with the MRF requirement is mainly the lack of a suitable place for its establishment.
But it is really because of the lack of site or the lack of will?
Cebu City
Depending on the occasion and time of the year, Cebu City produces 500 to 700 tons of mixed solid wastes daily, data from the Department of Public Services show.
When the pandemic hit Cebu City and lockdowns were imposed, the generated trash dwindled but only marginally to about 400-plus tons daily. The number does not include undocumented cases of mismanaged uncollected solid wastes that go into waterways and in the air when the trash is burned.
From 2020 to 2025, the Environmental Management Bureau projects that the Cebu City would generate 1.6 million tons of wastes.
For a city whose growth rate in producing trash is expected to continue, it remains baffling why virtually none of Cebu City's 80 barangays has an MRF.
Instead, what it has is a makeshift MRF of CCENRO at the Osmeña Shrine in Barangay Kalunasan with recyclables and composting done using the takakura method. It has one functional shredder for glass bottles.
In addition to not having a formal MRF of its own, the city has also yet to get approval for its 10-year solid waste management plan, according to reports from the Department of Environment and Natural Resources' Environmental Bureau and the Commission on Audit.
"The city's 10-year Solid Waste Management Plan (SWMP) did not bear the approval of the National Solid Waste Management Commission and was not fully updated contrary to Section 16 of RA 9003," a COA report stated in 2019.
Because Cebu City has not established an MRF, collection, sorting, segregating, composting, and recycling of wastes at the barangay level were not implemented, contrary to the mandate of Section 32.
This, the COA said, has cost the city a lot of money in terms of waste collection.
Cebu City Councilor Eugenio Gabuya once proposed for a centralized MRF since barangays do not have enough space for individual MRFs. However, it was opposed because the proposed site, the Inayawan Sanitary Landfill, was saddled with legal impediments after it was permanently closed in 2018.
Since then, no other area has been floated for consideration.
To be fair, there had been a few MRFs established in the city before, but the COA noted these were later found to be "more of composting sites."
Initiatives meant to minimize wastes before collection are launched in the barangays every now and then, but none has been sustained.
The current COVID-19 pandemic is also not making things any better. Even the Galing Pook awardee, Barrio Luz's "trash for cash" program and recycling efforts, got stopped early into the pandemic.
MRF, a must
The Cebu City government is eyeing for waste-to-energy plant as a solution to the solid waste problem, but the opposition from various environmental groups and concerned citizens has been deafening.
Most of the opposition is anchored on the health hazards and high costs.
Yet even if Cebu City trudges the WTE direction, an MRF remains a must.
"MRF is necessary. Even if we have plans to put up a WTE, we cannot just collect everything and put it in a WTE facility. We still have to pay for the collection of these solid wastes...and still entails a lot of money," said Engr. Glory Rose Manatad, a specialist at the Cebu City's Environment and Natural Resources Office.
For 2021 alone, the city government has allocated P405 million for garbage collection, hauling and disposal via the ARN landfill.
But environmental advocates wish funds must also be devoted for composting biodegradable wastes or recover the recyclables to rescue them from being dumped in the landfill.
Several barangays, though, have already expressed interest in putting up their own MRF, according to City Councilor Philip Zafra.
However, as of this writing, it is only Barangay Kalunasan that has already mapped out concrete plans for it, thanks to the support of the EcoWaste Coalition and No Burn Philippines for a Zero Waste Barangay.
Barangay Carreta is also asking CCENRO's help with its solid waste management plan.
Kalunasan example
The zero-waste work in Kalunasan is an attempt to showcase compliance of a barangay with the provisions of R.A. 9003.
"If it succeeds, this is not the first time that a barangay in Cebu City becomes another benchmark on ecological solid waste management (here)," said Lito Vasquez, Visayas coordinator of Break Free From Plastic (BFFP)-Philippines.
Vasquez used the word "another" because Barangay Luz was also once hailed for its successful solid waste management.
The target MRF site of Kalunasan is the one utilized by CCENRO as makeshift facility, with barangay officials proposing for a co-management arrangement with the city government.
Barangay Captain Nunilon Monares Jr. endorsed to the city government the proposal to co-manage the Osmeña Shrine for tourism and environmental projects of the barangay.
The City Legal Office, in turn, said there is no legal impediment to the proposal once it clears with the City Council and Mayor Edgardo Labella.
Councilor Zafra said before he lobbies this to the council, he will first ask his consultant to review it and to check if an MRF would be feasible near the Osmeña Shrine area.
If this pushes through, this will be funded by the P55 million grant received by the city in 2012 to build MRFs in four barangays.
Kalunasan, if this happens, would be among the four beneficiaries of this continuing appropriation, according to City Councilor Jerry Guardo, chairman of the council committee on infrastructure.
A program of work and estimate (POWE) for the MRF design was already prepared by the City's Department of Engineering and Public Works (DEPW).
According to Vasquez, the processing of wastes shall be done in phases, with the solid wastes of Kalunasan to be accommodated first.
"The barangay will start piloting several sitios and homeowners' associations. A transition period will be agreed wherein solid wastes from other neighboring barangays will be accepted, making it as the MRF for a cluster of barangays," Vasquez said.
If clustered, the likes of Guadalupe, Capitol Site and Lahug, the three other big waste generators of the city, also stand to benefit from the arrangement.
Despite the lofty and ambitious proposals to answer Cebu City's waste problem, Vasquez still believes in the wisdom of an MRF.
"Coupled with waste avoidance measures such as the strict implementation of a ban on single-use plastics, the diversion of biodegradable and recyclable solid wastes away from landfills negates the urge to use false solutions such as the proposed WTE incineration projects," he said.
"These sustainable measures shall spare residents, both living near the private landfill and along the route leading to the ARN landfill, from the daily health risks of foul smell and other hazards posed by transporting unsegregated wastes by more than 200 garbage trucks," he added. (To be continued) (FREEMAN)