Citing modern jeepneys, bleak income: TPUJs snub Cebu City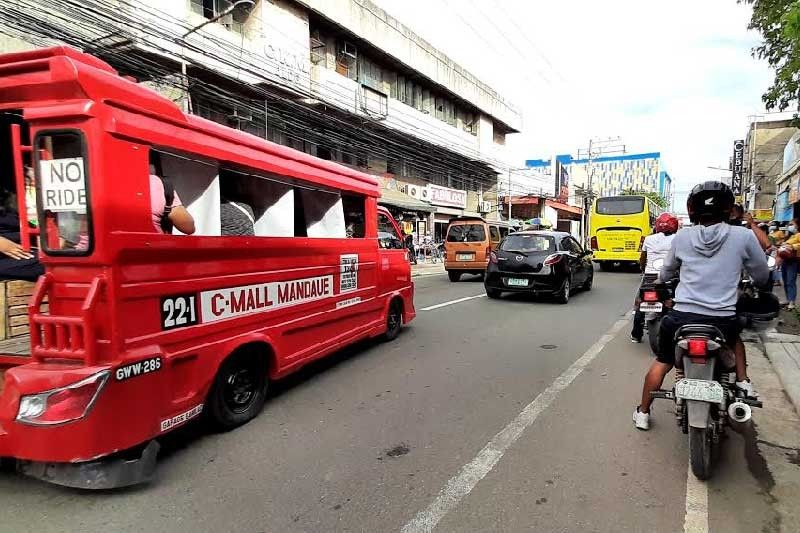 CEBU, Philippines — Despite Cebu City opening its borders to traditional public utility jeepneys (TPUJs) from neighboring local government units, majority of the operators appear unenthusiastic with the development, citing their plans to pursue modern jeepneys and the low income due to limited passengers.
"Wala na may ganahan mobyahe padung sa Cebu City kay kasagaran sa mga operators nag-consolidate na man sila (in preparation for operating modernized jeepneys). Unya gasto na pud daw kaayo kung ilaha pa padaganon ilang mga traditional jeepneys," Eduardo Montealto, director of Land Transportation Franchising and Regulatory Board-7, told The FREEMAN in an interview yesterday.
Cebu City Mayor Edgardo Labella recently issued an executive order allowing traditional jeepneys from Talisay City and Mandaue City to ply their designated routes in the Queen City.
Montealto said that he is not sure whether his office has already granted a special authority to operate for traditional jeepneys in Mandaue City but he is sure he has granted such special permit for modernized jeepneys.
The Mandaue City government has allowed 300 traditional jeepneys to operate up to Cebu City but Montealto said that operators have so far applied for approval for only 14 units.
Montealto said of the 3,000 traditional jeepneys that were allowed to travel within Cebu City, only 565 have applied and been given special permits to operate.
"Unya ang uban operators ani nila kay daghan na wala nanagan kay menos na man lang ang manakay. Ang mga pasahero mas ari na man mosakay sa mga modern jeepneys kay hayahay imong pagsakay unya gamay ra ang deperensiya sa pletehan," said Montealto.
The minimum fare for modernized jeepneys is P11 while for traditional jeepneys, P9.
Just like in Mandaue, application for special authority for traditional jeepneys from Talisay to travel up to Cebu City is also slow. LTFRB-7 has allowed 50 units to operate but so far, there are no takers.
"Wala pay nakasulod sa Cebu City. Taman Bulacao pa sila kutob," said Montealto.
He added that Metro Cebu now has 582 modern jeepneys, and another 40 will be inaugurated this week. He said that every week thereafter, new modern jeepneys will be seen plying the streets.
"Magkadaghan na man gyud ni atong mga modern jeepneys sa Cebu kay every week at least naa tay mga 40 units nga inagurahan. Sige-sige na ni matag semana," said Montealto.
Recently, LTFRB-7 inaugurated 56 modernized jeepneys and 38 of these are expected to operate this week or next week as their special permit to operate are still being processed.
Mandaue compliant
Meanwhile, Mandaue City becomes the first local government unit in Central Visayas awarded by LTFRB a notice of compliance with their local public transport route plan (LPTRP).
The LPTRP is an important component of the public utility vehicle modernization program wherein the implementation of modernized jeepneys is included.
It can be recalled that the Department of Transportation's Department Order No. 2020-021 or the guidelines for the scrapping of old public utility vehicle units under the Department Order 2017-011, or the Omnibus Franchising Guidelines, recognizes that the LGUs is in a better position to identify the road networks and demand points in their own locality.
The DOTr and the Department of Interior and Local Government has signed a joint memorandum circular wherein DOTr shall set the guidelines, criteria and procedures for local public transport planning and help build local capacities to prepare the LPTRP while LGUs shall be responsible for collecting data, analyzing public transport supply and demand, identifying specific transport supply gaps for travel within their territories.
In line with this, the Mandaue City Council recently approved on its first reading an Ordinance entitled "Local Public Transport Route Plan in Mandaue City".
The proposed measure, sponsored by City Councilor Jimmy Lumapas, states that the new and developmental routes of the LPTRP will cover four intra-city route structure. These are the CICC to Banilad and Cabancalan; CICC to Cabancalan and Banilad; Tintay to CICC/Parkmall; and the Parkmall Loop via D.M. Cortes and Parkmall Loop via D.M. Cortes.
Under the measure, there shall be at least 15 authorized units which shall be provided per authorized route and that the Mandaue City government reserves its right to incorporate a Class 2 PUJ (modern jeepney) which is electrically-operated or an e-jeepney among its total number of authorized units per route.
This initiative, the ordinance states, shall be in consonance with the Green Movement and all other environmental causes spearheaded by the city.
There shall also be a fine of P1,000 for Class 2 PUJ drivers who shall operate outside of designated and authorized route, according to the ordinance. — JMD (FREEMAN)