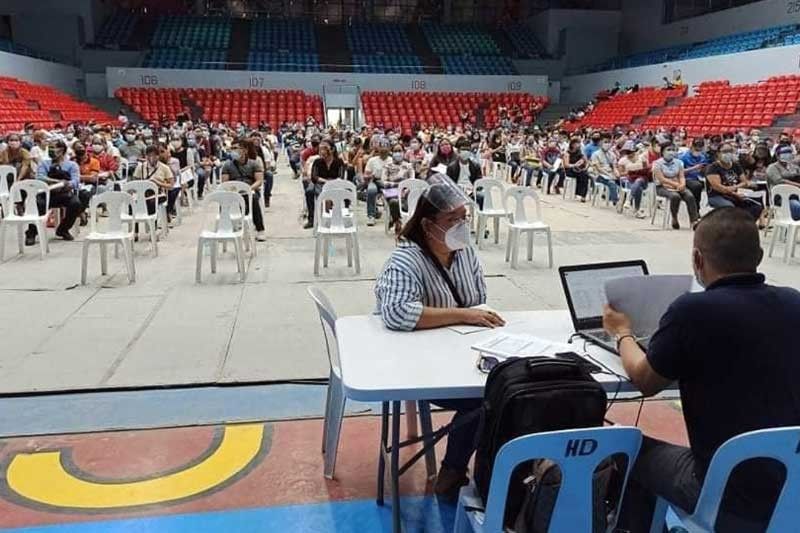 Interview in Lapu-Lapu City, Cebu for those applying to be contact tracers.
DILG
Central Visayas to get 1,417 contact tracers
CEBU, Philippines — Central Visayas is among the three regions that will get a number of the 15,000 contact tracers the Department of Interior and Local Government (DILG) will re-hire for the continuing efforts against COVID-19.
Central Visayas will have 1,417 tracers while Central Luzon will have 1,504. National Capital Region will have 2,381, said DILG's spokesperson, Undersecretary Jonathan Malaya.
DILG also plans to rehire 1,264 tracers for CALABARZON; 1,052 for Region 9; 974 tracers for Region 6; 813 tracers for Region 11; 856 tracers for Region 5; 634 tracers for Region 10; 510 tracers for BARMM; 501 tracers for Region 1; 451 tracers for MIMAROPA; 433 tracers for Region 8; 352 tracers for Region 2; and 267 tracers for the Cordillera Administrative Region.
DILG hired close to 50,000 contract tracers last year whose contracts expired in December. The number of contact tracers this year is based on the number of active cases in a particular region.
Based on data from the Department of Health (DOH) - 7, Central Visayas has 1,846 active cases.
Most of the cases are from Cebu Island – 618 from Cebu City, 92 from Lapu-Lapu City, 125 from Mandaue City, and 355 from Cebu Province. Negros Oriental has 640 active cases, Bohol has 12, and Siquijor has four.
Earlier, Cebu City Mayor Edgardo Labella requested DILG to retain the contact tracers DILG hired, at least for the first quarter of 2021.
The contact tracers that DILG will re-hire will serve for at least six months, following approval from the Department of Budget and Management (DBM) for a budget of P1.9 billion.
"While the country's COVID-19 response is significantly improving, we should sustain our contact tracing efforts especially with the reported entry of the new UK variant into the country. Hence, we are pleased that we have been given the funds to re-hire some 15,000 CTs this year who will continue to help us track down, monitor coronavirus cases, and cut transmission in the community," Malaya said.
DILG also dismissed apprehensions that the re-employment of only 15,000 contact tracers will weaken the Philippines' contact tracing capacity.
Malaya said the existing number of contact tracers is currently at 255,854 nationwide, which is more than sufficient for the country's needs.
"We already have 29,611 contact tracing teams which is composed of 255,854 contact tracers nationwide. Even without the DILG hiring, we already have sufficient number of contact tracers," Malaya said.
DILG only seeks to augment the current number of contact tracers to meet Department of Health (DOH) standards of 1:800 contact tracer to population ratio.
"With our number of CTs, we have exceeded DOH standards. Per the DOH, the ideal contact tracer to population ratio is 1:800 so to fully cover 108 million Filipinos, we actually need a total of 135,000 contact tracers only. So wala po tayong dapat ipanangamba," Malaya said. — JMO (FREEMAN)