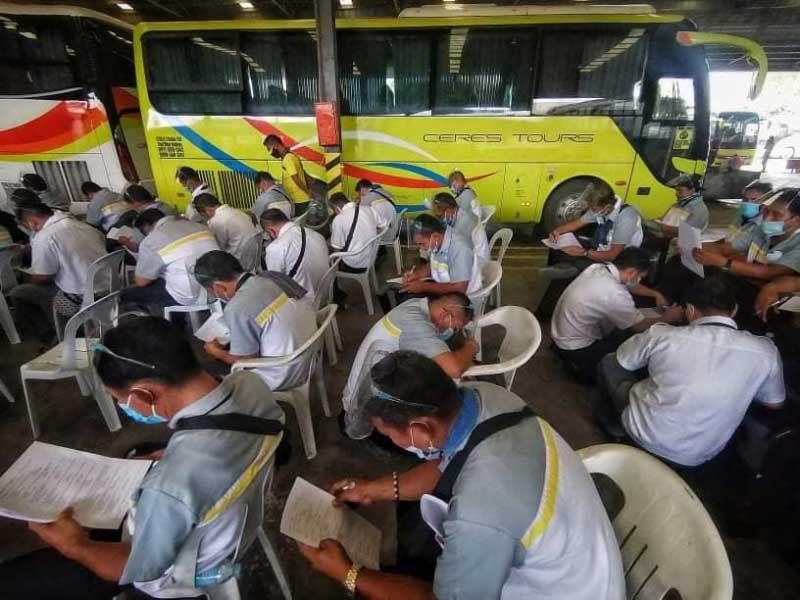 Ceres bus drivers undergo a seminar after several units of the bus line figured in road accidents in Cebu in October.
File
Ceres bus firm threatens to pull out of city routes
CEBU, Philippines — The Ceres bus operator has asked for exemption of travel line and identification cards of its drivers issued by the Cebu City Transportation Office.
The request was addressed to the City Council's Committee on Transportation to defer the imposition of fines and sanctions to their bus drivers.
"This is for the reason that we are mere grantees of Special Permits by the DOTr (Department of Transportation) and LTFRB (Land Transportation Franchising and Regulatory Board) for the Cebu City routes hence, our operation is temporary and interim during this COVID-19 pandemic," read the letter of Vallacar Transit Inc. addressed to Councilor James Anthony Cuenco, the committee chairman.
"Furthermore, we are at most providing our services as requested by the DOTr and the Local Government to sustain the economic needs of Metro Cebu, as such we are to return to our original provincial franchise any time soon," the letter further read.
Cuenco said he will endorse the letter to the City Council for them to be able to come up with the action regarding the request.
"Because it's not up to me to give the exemption. Wa man ko'y power ana. It's the council that passed the ordinance requiring that travel line and it's the council only who can give the exemption," said Cuenco.
Cuenco said the bus company called up his executive assistant threatening to pull out if its request will not be acted upon.
Cuenco stressed that the matter is beyond his power.
He said he received the letter last Friday and he was supposed to include it in the agenda for the city council's session today, but the secretariat has a deadline of until Thursday so its inclusion was moved for next week.
Cuenco advised the Ceres bus firm to try to relay its request to the executive department which is headed by Mayor Edgardo Labella.
"If they really want immediate action, go to the executive, adto sila ni mayor," said Cuenco. — GMR (FREEMAN)