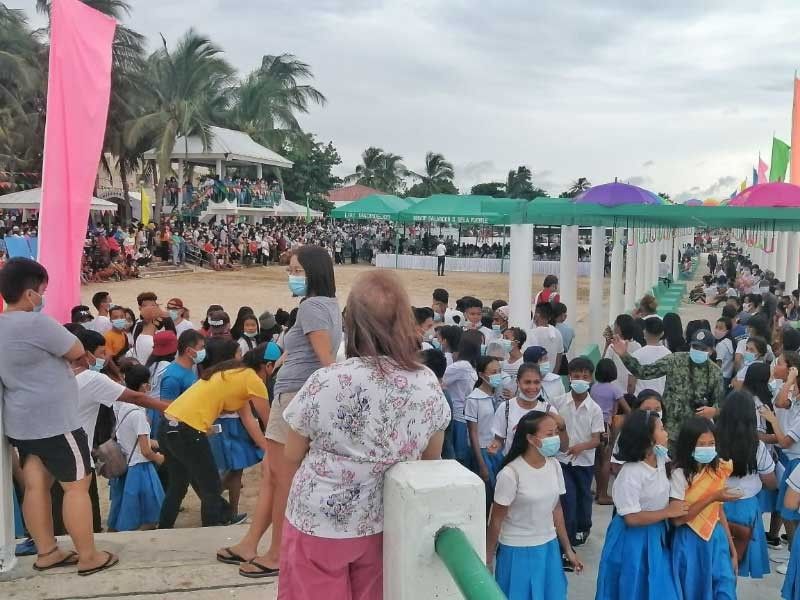 People gather in Madridejos town to welcome the participants to the Suroy-Suroy Sugbo Bantayan Island Escapade last Friday. DILG Secretary Eduardo Año has ordered an investigation into the breach of health protocols.
Aldo Nelbert Banaynal
Bantayan island escapade: DILG to probe crowded tour
CEBU, Philippines — Fact-finding initiatives will be conducted into the group tour in Bantayan Island in Cebu after crowds converged in Madridejos town on Friday, November 27, 2020, ignoring physical distancing rules.
"We will make sure na magkaroon ng fact finding diyan at kung merong dapat managot ay titignan namin (We will make sure there will be fact finding to determine who should be held accountable," said Interior Secretary Eduardo Año on Sunday over dzBB.
Año is a member of the national Inter-Agency Task Force (IATF), which oversees actions to combat the coronavirus pandemic.
Madridejos was the second stop of the Suroy-Suroy Sugbo Santa Fe/Madridejos/Bantayan Escapade aimed at promoting tourism under the new normal in Bantayan Island, which has just opened a new airport in Santa Fe town.
The flight that brought guests straight to Bantayan Island from the airport in Mactan Island was the maiden trip.
In Madridejos, however, crowds flocked to the Kota Park where the welcome ceremony was held. Even students who are not attending in-person classes were made to wear their uniform to the welcome ceremony.
High-ranking government officials present at the event were presidential spokesman Harry Roque, Office of the Presidential Assistant for the Visayas Secretary Michael Dino, Department of Tourism-7 Director Shalimar Tamano, Department of Health-7 Director Jaime Bernadas, Cebu Governor Gwendolyn Garcia, and Cebu Provincial Police Director Aladdin Collado.
Also in attendance were some candidates of the recently concluded Miss Universe Philippines pageant.
The event was initiated by the Mactan-Cebu International Airport (MCIA) in partnership with the Cebu Provincial Government and DOT-7.
Statements
Madridejos Mayor Salvador Dela Fuente said they will face the investigation.
"Okay ra kung adunay himooon nga imbestigasyon (It's ok if they will open an investigation)," he said Sunday.
Dela Fuente has since admitted that they were unable to control the crowd at that time.
"Sa amo nga parte, medyo wala mi ka-control tungod man gud sa kahibalo na ka nga diri sa isla intawon panagsa ra gyud maarian sa mga bisita," he said.
(We, somehow, were not able to control the crowd because, you know, it is not often that many visit us here in the island.)
He said earlier that they have advised the people to observe social distancing but eagerness and enthusiasm of the attendees prevailed. He assured that the incident will not happen again.
Garcia also welcomed the fact-finding.
"I welcome this 'fact-finding' probe. And I am offering myself to be questioned first and foremost. After all, I initiated the mini Suroy Suroy. And the crowd, wearing facemasks, in an open beach area, was there to watch a presentation during the Madridejos Suroy Suroy stop," she said on Sunday.
Roque, for his part, said he had no control over the large crowds that gathered in Madridejos.
"The activity where I was seen speaking before a crowd was organized by the local government, which I had no control as a guest," Roque said.
"I was later informed that the local official/s mentioned in interview/s that they did not expect the huge turnout of people as well," he added.
Roque said there was "general compliance" since most of those in the crowd wore masks despite the absence of physical distancing.
"The venue was open air as it was held by the beach, but I had to reiterate for the audience to keep on their masks," he said, adding, "As a precautionary measure, I observed physical distancing and reminded those who were present to observe the minimum health standards. Also, I did not shake hands and I wore a face mask."
Stop activities that can't be controlled
In the same dzBB interview, Año told the public not to push through with activities that they will have problems controlling.
"Nananawagan tayo sa lahat, including government officials: Kung mayroon kayong activities na hindi niyo kayang ipatupad ang health standards, particularly physical distancing, stop it. Wag niyo nang ituloy yan kasi you cannot just say sorry kung hindi na-control. Mahirap yan," he said.
(We're calling on everyone, including government officials: If you have activities wherein you can't enforce health standards, particularly physical distancing, don't push through with them because you cannot just say sorry when you won't be able to control them. That's difficult.)
Based on records released on Saturday, November 28, the Philippines still has 31,000 active COVID-19 cases.
In Cebu, the province still has 293 active cases with 26 cases recorded on November 28. The province has a total of 6,800 cases of which 405 patients have died. At least 6,102 have recovered from the virus.
After the controversial event in Madridejos, the town immediately advised those who went to Kota Park to undergo home remedies, including steam inhalation, against COVID-19.
"Gi-awhag ang tanan Lawisanon nga nitambong sa Kota Park ganina diin gipahigayon ang Suroy-Suroy Sugbo dinhi sa atong lungsod sa pagtu-ob or steam inhalation aron mapakgang ang virus nga mapasa sa usa ka asymptomatic nga tawo nga mitambong sa maong okasyon kung aduna man gani," the municipal government wrote in a Facebook advisory.
(We urge all Lawisanon who went to Kota Park where the Suroy-Suroy was held to undergo steam inhalation to prevent contracting the virus from those who may be asymptomatic and who may have attended the event.)
Dela Fuente said that even from the start of the pandemic, residents of the town have practiced home remedies.
"Advisory lang sila nga home remedies lang ilang gamiton, kun mahimo mag-steam inhalation sila or moinom sila og luy-a; actually mao gyud na among gigamit since pagsugod sa pandemic mao nay mga advisory namo," Dela Fuente said.
(We have advised them to do home remedies, if they can, like steam inhalation and drinking of ginger tea. We have been practicing these since the start of the pandemic.) — with reports from Philippine Star, JMO (FREEMAN)