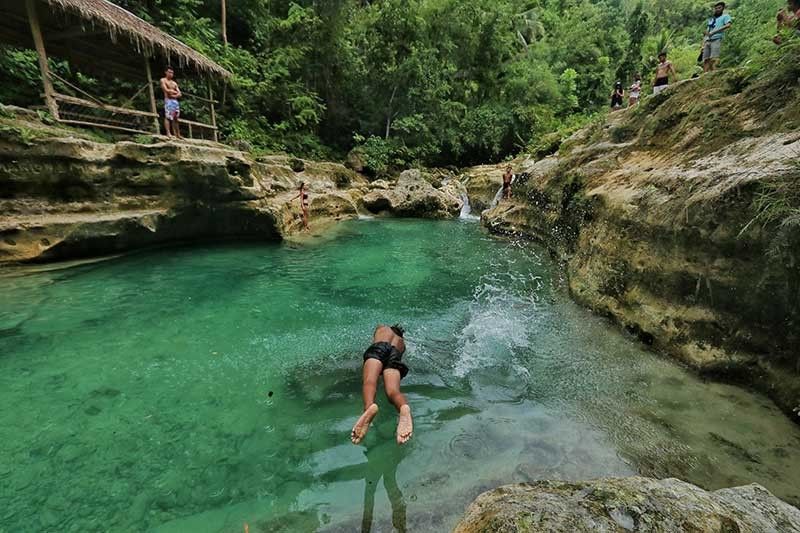 Canyoonering adventure in Alegria town is among the tourism activities the province of Cebu reopened late last month. Cebu City residents, however, are not yet welcome to join and visit any tourist spots of the province.
Aldo Nelbert Banaynal
For tourism activities: Province bars city residents
CEBU, Philippines — Cebu City residents are not yet welcome to visit tourism sites in Cebu Province even if the whole Cebu island is now under modified general community quarantine (MGCQ).
This according to Governor Gwendolyn Garcia as she is yet to confer with mayors in the province.
"As of now, wala pa, but I also need to confer with the mayors. I know that most of them are really very, very careful to say the least about Cebu City residents kay ang nakatakod lagi sa province ang Cebu City," Garcia said in her press conference yesterday.
(Not yet, as of now, but I also need to confer with the mayors. I know that most of them are really very, very careful to say the least about Cebu City residents because it was Cebu City that infected the province.)
Capitol does not want a spike of coronavirus cases in the province like what happened in June when it opened its borders to Cebu City when both transitioned to general community quarantine.
In the first week of June, the province had 168 cases but the number rose to 617 by the fourth week of the month.
The province started reopening its tourism sites in August to resuscitate the economy. Reopening kicked off in Oslob town in the south with its whale watching.
Oslob lost over P30 million in revenues since tourism activities were cancelled starting in April when quarantine restrictions were put in place.
The resumption of tourism activities was seen to spark hope that the economy in Cebu could finally gain back momentum, especially since most towns and cities in the province rely on tourism as main economic driver.
The province then launched an online portal, the One Cebu Tourism portal, where those who want to visit the sites can register and pay cashless. The portal also contains all tourism activities offered by the province, such as whaleshark-watching, trekking, canyoneering, sardine run and turtle-watching, scuba diving, and snorkeling.
Province data
As of September 13, data released by the Department of Health (DOH-7) showed that Cebu Province has a total of 5,053 cases, of which 583 are active. At least 4,143 have recovered from the disease but 327 have died.
Garcia said that while the numbers in the province are higher, this time, compared to those of other local government units in Region 7, these are still lower if analyzed in terms of population.
Cebu Province has over three million residents.
"Sa active (cases), ang Cebu Province per 1,000 (population) 15, ang Bohol eight, ang Negros Oriental two, ang Siquijor zero kay wala man silay active, ang Cebu City 38," Garcia said.
With this, Garcia objected to the warning of a doctor from the Cebu Medical Society against a possible increase in the number of cases if people will ignore health protocols.
Garcia presented data from the Cebu Provincial Health Office, which show that the number of active cases in Cebu Province has deceased even if there are additional new cases.
In the PHO data, the province had 1,011 active cases as of August 8 but this number went down to 505 by September 12. At least 2,441 have recovered as of August 8 and this number rose later to 4,137.
"Hae may surge ana (Where is the surge there)?" Garcia said.
Garcia also said that of 50 LGUs in the province, there are eight that have no active while 42 still have infections.
As far as hospital bed occupancy in its provincial and district hospitals is concerned, the province has provided 300 COVID-9 beds, but only 54 have been occupied or 20 percent of the number of intended beds. Available beds are still 246 or 80 percent.
Garcia said the warning of the doctor was "speculative and unfounded on pure unadulterated data and therefore it is false and inaccurate."
The governor said the increase in the number of COVID-19 cases in Cebu City stemmed from how passengers that arrived in Cebu were managed in March.
At the time, Garcia said, Cebu Province, as well as Mandaue City and Lapu-Lapu City, had guidelines set for arriving passengers wherein those whose houses are not fit for quarantine must be isolated in a facility provided by the LGU for 14 days.
In Cebu City, Garcia said, the former Cebu City Health Officer issued a memorandum for arriving passengers.
"Ni-issue sya sa iyang kaugalingon nga memorandum. Ug ang iyang protocol, pasultian na lang kuno, lecturan didto ang mga naghuwat nga pasahero didto sa ariport, unya pasakyon na lang og Grab, pasakyon sa kung unsay masakyan… ug maoy nay nahitabo. I hit the roof when I heard that, and that was the first that I said, Cebu City will be our weakest link. Two weeks later, sugod na og saka (COVID-19 cases)," Garcia said.
(She issued a memorandum and her protocol was to just to give passengers at the airport a lecture then let them take a Grab or whatever vehicle they could find… and that's what happened. I hit the roof when I heard that, and that was the first that I said, Cebu City will be our weakest link. Two weeks later, the number of cases started going up.) — JMO (FREEMAN)