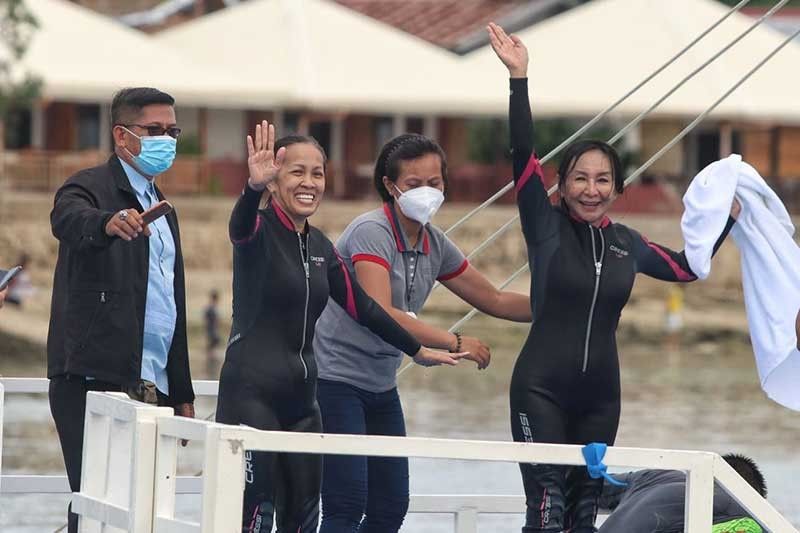 Governor Gwendolyn Garcia and Mayor Paz Rozgoni try snorkeling on Saturday to lead the reopening of tourism in Moalboal town in western Cebu, a popular diving destination in Cebu Province.
Aldo Nelbert Banaynal
Tourism activities in the south open
CEBU, Philippines — The Cebu Provincial Tourism Task Force has reignited the tourism flame in the municipality of Moalboal yesterday.
Governor Gwen Garcia said she had to reopen the tourism industry in the province, especially in Moalboal, since the town greatly depends on tourism.
"We are not living in a perfect world, as we go out and interact, there will always be diseases lurking around, including COVID," Garcia added.
Almost 80 percent of the total income of the municipality comes from tourism.
During the launching activity, Moalboal Mayor Paz Rozgoni has expressed gratitude for the reopening of the town's tourism industry.
Over 60 boatmen, who were primarily affected by the global pandemic, had attended the launching activity.
"Gusto napud mi mabalik tungod sa gidugayon gyud namo, mga four months kapin wa gyud mi sa island hopping, wa gyud mi income," said Arnold Endino, member of the Boat Operators of Moalboal Island Hopping Associaton.
Despite the COVID-19 scare, boat operators, divers, business owners in Moalboal who attended the launching activity were glad that the tourism activities in their town are finally open again which gives them a brighter future during the pandemic.
"Mahadlok man gyud ta sa COVID, pero maningkamot lang gyud ta for safety. Mao nga naa mi mga requirements, kompleto ug requirements before makasakay sa bangka," Endino said.
Moalboal, located around 90 kilometers southwest of Cebu City, is widely known for its white beaches, diving, island hopping activities and underwater life for domestic and international tourists. It has been popular among divers because of its rich marine life, particularly the sardine run experience.
Since the announcement of the suspension of tourism activities in Moalboal last March 20, what used to be a vibrant and active tourist destination was silenced by COVID-19.
Garcia participated in the island hopping and snorkeling activities, which signaled the formal resumption of the tourism industry of the town.
Joining the governor during the launch were Provincial Board Members Jose Marie Salvador, Christopher Baricuatro, Jerome Librando, Congressman Peter John Calderon, Rozgoni, Vice Mayor Inocentes Cabaron, Department of Trade and Industry (DTI) Assistant Secretary Asteria Caberde, Department of Tourism (DOT) Regional Director Shalimar Hofer Tamano, Philippine Coast Guard, Philippine National Police and Maritime Industry Authority Regional Director Marc Anthony Pascua.
The Provincial Tourism Task Force is also set to launch the All-Terrain Vehicle (ATV) adventure in the municipality of Barili today. — GAN (FREEMAN)