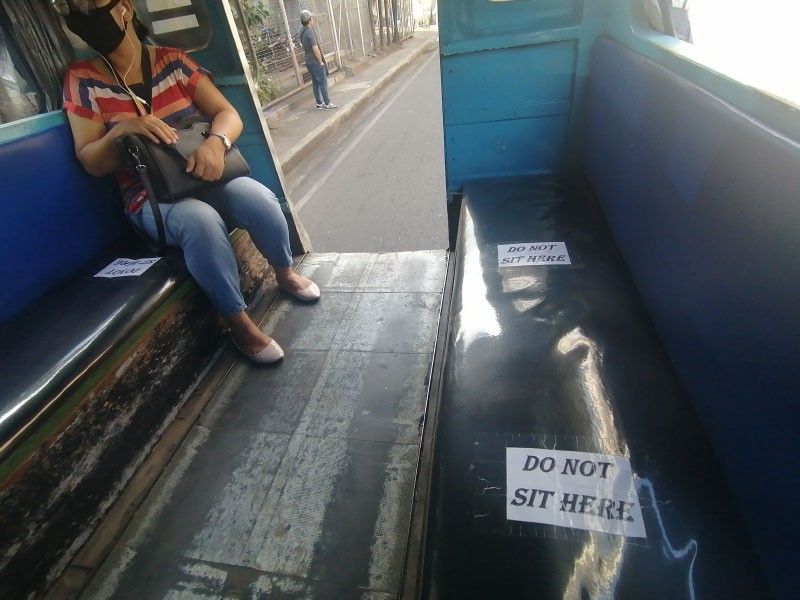 A jeepney unit plying downtown Cebu City goes the extra mile by pasting signs where passengers can and cannot sit to maintain social distancing.
Aldo Nelbert Banaynal
406 PUV drivers apprehended for violating 'social distancing'
CEBU, Philippines — At least 406 public utility vehicle (PUV) drivers were apprehended for violating the social distancing protocol as ordered by the Department of Transportation (DoTr).
The Land Transportation Office-7 OPLAN COVID-19 : Social Distancing apprehended the erring PUV drivers during its operations from March 20 to March 25.
"Since we have become the most-hated government agency as of this time because of the no backrider policy, we are therefore inspired to be more aggressive in our drive to implement the law. Discipline, discipline and more discipline," LTO-7 Regional Director Victor Caindec said in his Facebook post.
Also, Land Transportation Franchising and Regulatory Board-7 Regional Director Eduardo Montealto Jr. said his men apprehended one taxi driver and 13 jeepney drivers yesterday for also violating the social distancing rule.
With the 14 new apprehensions, Montealto said this brings to a total of 97 apprehensions since last week when the said protocol was implemented.
Montealto said violators will be fined P5,000 for the first offense, P10,000 for the second offense, and P15,000 for the third offense. Their certificate of public convenience will also be suspended for 30 days.
Montealto also urged PUV drivers to observe and follow the protocol at all times to avoid being penalized.
"Motuman lang gyud ta kay para man ni natong tanan aron dili ta matakdan aning COVID-19 social distancing lang gyud ta," Montealto said.
In a separate development, Police Colonel Hector Grijaldo Jr., Cebu City Police Office (CCPO) director, flagged down an open truck for violating the social distancing rule.
At least 30 people were on board the vehicle, he said.
"Dikit-dikit sila," said Grijaldo who led a team from CCPO during yesterday's inspection on Gorordo Avenue, Cebu City.
He ordered the passengers to alight from the truck and advised the driver to transport them in batches.
To avoid similar incident, the police chief has urged companies to provide free shuttle ride for workers.
"The social distancing rule is not strictly observed especially during rush hours," he said.
The peak hour period is from 7 a.m. to 9 a.m. and from 5 p.m. to 8 p.m.
"Wala man sila (workers) gibawalan mo byahe, di man sad sila bawal moadto sa ilang trabahoan. Ang obligasyon sa employer na tagaan og sakyanan ang ilang nga trabahante aron makaabot sa ilang trabahoan," Grijaldo said.
He also urged drivers and commuters to observe social distancing to avoid inconvenience. KQD (FREEMAN)