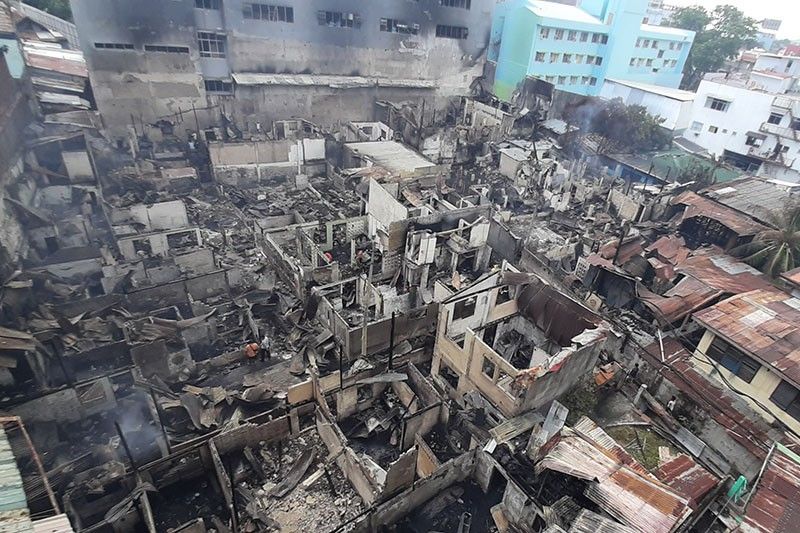 Aftermath of the fire that hit a cluster of houses in Barangay Sambag 1, Cebu City dawn on Saturday, October 19, 2019.
Joy Torrejos
Almost 100 families left homeless: Girl killed in fire
CEBU, Philippines — A 14-year-old girl perished in a fire that hit a small cluster of houses right beside the Cebu City Sports Center in Barangay Sambag 1 dawn Saturday.
Senior Fire Officer 3 Oliver Tautho identified the girl as Dawn Therese Awi, a third year student at a private school.
Initial investigation revealed that Awi was left sleeping at home because her parents were at work at that time. Tautho said it was likely that the girl did not hear or notice the commotion when the fire broke because she was wearing headphones while in bed.
She was found dead in the rubble only after authorities had placed the fire under control.
Five other residents in the area also sustained injuries during the fire that destroyed at least 32 houses and left nearly a hundred families homeless.
Tautho said most of the houses in the area were made of light materials that the fire spread very quickly, leaving most of the survivors almost nothing to bring to safety.
The survivors are housed temporarily at the Barangay Hall.
Mayor Edgardo Labella has instructed the Department of Social Welfare Services (DSWS) to provide the survivors immediate assistance.
Tautho said they received the alarm at 2:35 a.m. and were able to control it at nearly 5 a.m.
They traced the fire to the house of one Diano Flores and firefighters suspect there might have been appliances that malfunctioned. This, however, needs to be investigated.
Aside from the 32 houses, the fire also managed to penetrate the propsroom and audio room at the Cebu City Sports Center. The area hit by the fire is located right behind the grandstand, which houses several of the center's offices.
Damage is estimated at P320,000. JMO (FREEMAN)