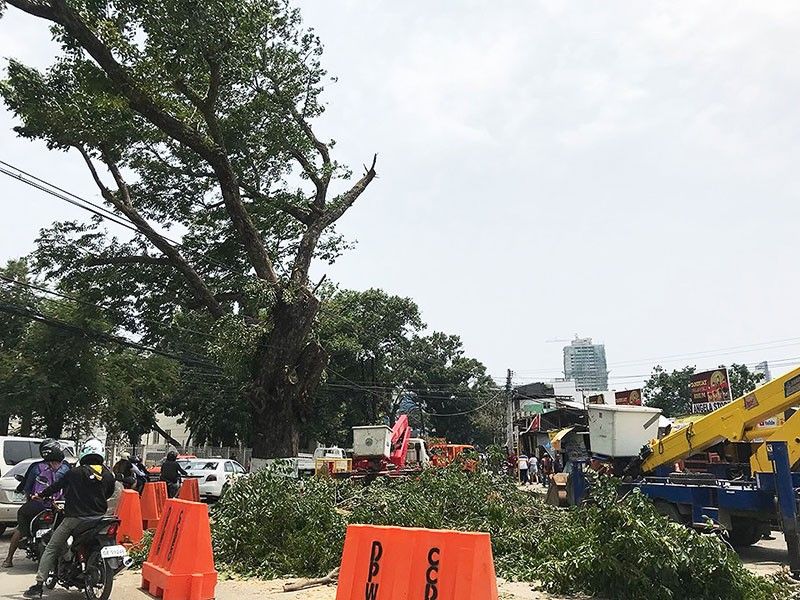 Trees in Cebu City cut for DPWH road projects
CEBU, Philippines — At least 14 trees in Cebu City are being cut to pave way for ongoing road widening projects of the Department of Public Works and Highways (DPWH) - 7.
The Department of Environment and Natural Resources-7 has granted permits to DPWH-7 to cut five trees on M. Velez Street, Barangay Capitol Site and nine other trees along F. Sotto Drive from Gorordo Avenue to General Maxilom Avenue.
The permit covers four Narra trees and one Mahogany tree on M. Velez Street six Mahogany trees, two Jackfruit trees, and one Ficus tree on F. Sotto Drive.
DENR issued the permit on condition that DPWH gives 950 seedlings – preferably of indigenous species and at least one meter in height – to the nearest DENR office for the government's national greening program and climate change initiatives.
DPWH also needs to turn over to DENR for proper disposition the log and other wood materials from the trees cut.
The permit requires DPWH to undertake measures during and after cutting operations that would mitigate the possible impacts of the cutting of trees to the locality and the environment.
The tree cutting permits became effective on August 29 and 30 and will expire within 50 days upon receipt.
The special tree cutting permit on M. Velez Street was signed by CENR officer Raul Pasoc while that on F. Sotto Drive was signed by DENR-7 Officer-in-charge Emma Melana.
The trees on M. Velez Street used to stand in the middle of the road right next to the Provincial Capitol compound leading to Barangay Guadalupe.
Opposition
Urban planner, Engr. Nigel Paul Villarete, appealed for DPWH to reconsider its move but to no avail. As of yesterday, the trees on M. Velez Street were already cut.
"Please don't cut that tree. We have so little left of those and the little that we have, you continue on cutting," he said.
"Something is strange when we cut a decades-old tree, possibly standing there for more than a century, for what? To speed up traffic and make it safer?" he added.
Villarete said there was traffic flow disruption and increased danger on M. Velez Street because the road in the area was widened beyond the capacity of the corridor – describing the widening as unplanned and unwanted.
"Note: (a) M. Velez St. is 4-lanes, 2-lanes each direction, (b) Don Gil Garcia St. is also (presently) 4-lanes, 2-lanes both direction, from cor. M. Velez St. to N. Escario St., while N. Escario St., from that corner onward is 4 lanes going to cor. Osmeña Blvd. (2-lanes going to Don Gil Garcia St.)," he said.
"The better scheme to adopt is to maintain a constant width from cor. Osmeña Blvd. to cor. M. Velez St. That way, speed will be constant. And this can simply be done by channelizing the area. Anybody who knows traffic-calming techniques knows that in many situations, narrowing roads can improve traffic flow and make it safer for everybody," he added.
Villarete said other solutions to the problem include pedestrian-friendly infrastructure and a green center island instead of "the drab endless concrete we call roads."
He said it is also better to place pedestrian crossings at both ends to provide accessibility to the Provincial Capitol.
"Pedestrian-friendly infrastructure around the capitol would earn the gratitude and praise of the ordinary people. And the acacia tree would be the centerpiece of that little oasis beside the citadel," he said.
Meanwhile, environmental lawyer and law professor at the University of San Jose-Recoletos, Benjamin Cabrido Jr., said yesterday his class is ready to sue DPWH and DENR if the tree cutting continues.
He asked that DENR stays or recalls the permits it issued to DPWH.
Cabrido is also a co-founder of the Philippine Earth Justice Center.
"Who's dangerous? Trees or humans? If your answer is the latter then we may as well cut off the necks of all human beings on this planet," he said in a Facebook post.
For Cabrido, the solution is not to kill the trees but to put up a sign 60 meters away to warn motorists that obstruction is present or that the road is narrow ahead.
"Under RA 4136, the maximum speed limit on this Capitol road is 30kph! So how would a driver not being able to see this tree at such slow speed? Ergo, if there's a driver who bumps this tree, either he/she is driving under the influence or overspeeding," Cabrido said.
Republic Act 4136 or the Land Transportation and Traffic Code states that any motor vehicle shall not exceed the maximum allowable speed of 40 kilometers per hour on "through streets" or boulevards, clear of traffic, with no "blind corners," when so designated and 30 km per hour for motor trucks and buses.
The maximum allowable speed for passenger cars and motorcycles and motor turcks and buses on city and municipal streets, with light traffic, when not designated "through streets" is 30 km per hour.
"Penalize the negligent driver, not this tree," Cabrido said. — JMO (FREEMAN)