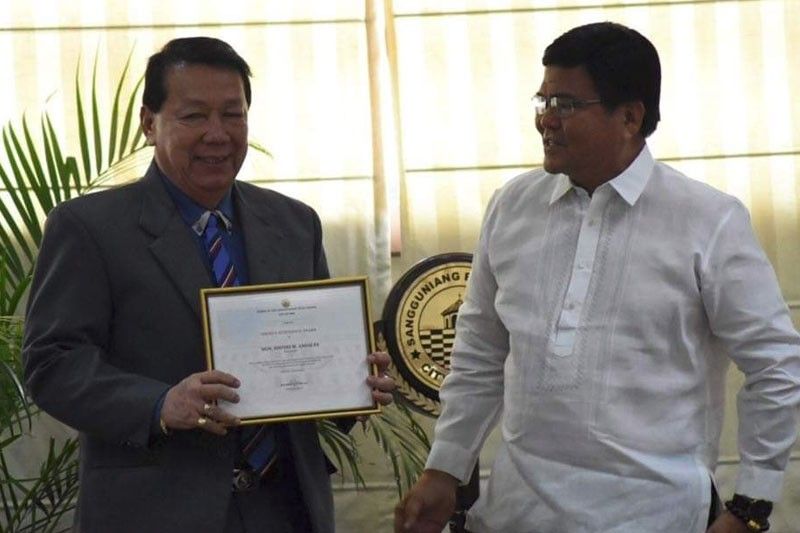 Andales told The FREEMAN that he was grateful for the recognition, as it acknowledges their efforts as a legislator.
Paul Rosaroso
Andales, Arcilla receive recognitions
CEBU, Philippines — Even though the Commission on Elections en banc has yet to resolve the disqualification cases of councilors Sisinio Andales and Alvin Arcilla, they were among the three-termer members of the Cebu City Council who received recognition during yesterday's last regular session of the 14th Sangguniang Panlungsod.
The two councilors received a plaque of recognition from the Cebu City Council signed by the presiding officer, Vice Mayor Edgardo Labella.
Andales told The FREEMAN that he was grateful for the recognition, as it acknowledges their efforts as a legislator.
"Disqualification has nothing to do with the awards. This is purely a legislative function and his sound discretion to recognize members of the council who did exemplary work. Dako nakong pasalamat kang Vice-Mayor Labella sa iyang paghatag og award namo," Andales said.
The disqualification cases of Arcilla and Andales are still in limbo. For Arcilla's case, en banc has yet to implement the finality of disqualifying him from running for a fresh term in the recent midterm polls through granting the motion of execution which is to be filed by the petitioner, Allen Canoy, a resident of Barangay Apas.
The en banc has also yet to issue a decision for Andales' disqualification case.
Andales was surprised that he received another recognition for his complete attendance from July 2016 up to the present.
"I am happy that Vice Mayor Labella recognizes my perfect attendance in all regular sessions. Although I personally believe that it is my second term as city councilor kay nasuspenso ko sa 2013 sa Department of the Interior and Local Government, pero naa man award gihatag si Vice Labella in front of the public. Ako nalang gihangop ang award," he said.
Another three-termer councilor that was recognized yesterday was outgoing councilor Margarita Osmeña, wife of outgoing mayor Tomas Osmeña.
Under Section 8, Article X of the 1987 Constitution and Section 43 (b) of Republic Act No. 7160 or Local Government Code of 1991, elective officials shall observe a three-term limit rule in public office.
Other members who will no longer be in the 15th Sangguniang Panlungsod are James Anthony Cuenco, Councilor Jose Daluz III, Mary Ann de los Santos, Jocelyn Pesquera, and Pastor Alcover Jr.
The fate of councilors Jerry Guardo and Joel Garganera, who both failed in their recent election bids, will depend on the outcome of the disqualification cases of Arcilla and Andales.
If the decision will be against Arcilla and Andales, Guardo (who ranked ninth in the recent midterm polls) and Garganera (who ranked 19th) will replace them.
In a privilege speech, Alcover thanked the other members of the City Council for a productive term.
"Padayon kong motabang sa mga proyekto sa liderato ni Mayor Labella. Dako akong kumpiyansa nga magmalampuson ang iyahang bag-ong mandato isip mayor nato. Mao akong giawhag ang tanan sa pagtabang ni Mayor Labella aron sa pagtunhay sa kalamboan sa Siyudad sa Sugbo," Alcover said.
Aside from the recognitions, ordinances authored by Cuenco, Osmeña, Garganera and Andales were also passed in the City Council yesterday.
The ordinances are for naming the bridge connecting barangay Mambaling and F. Vestil Street as Scoutmaster Sergio Damazo Jr. Bridge, creating the Cultural and Historical Affairs Office, and creating an organizational structure at the City Budget Office through additional divisions, sections and positions.
Labella also expressed gratitude to all members of the 14th Sangguniang Panlungsod for the opportunity to work with them.
"Regardless of political persuasions, I hope and pray that we can work together to bring this city to greater heights. Ours will be a government of the people and a governance of compassion and collaboration," he said.
"As I heed the call of the people of Cebu City, I call upon you to be my partners for change." (FREEMAN)