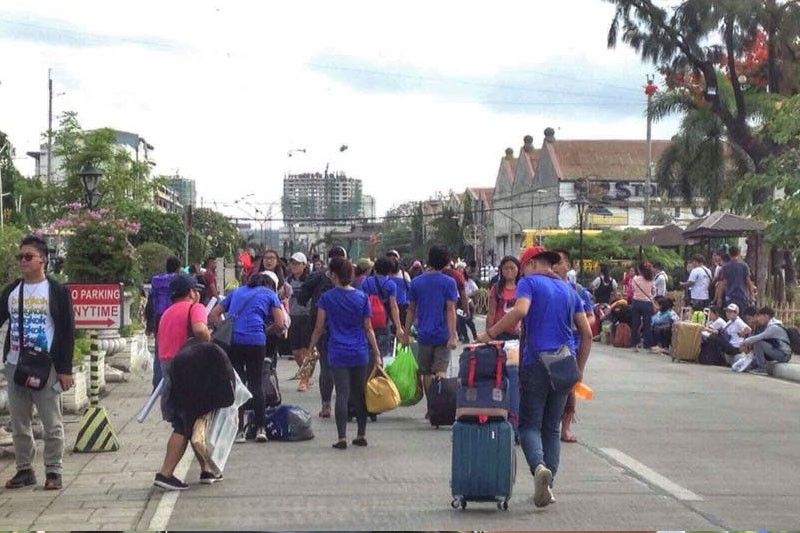 Bishop Paul Jaucian, chairman of the Episcopal Commission on Youth of the Catholic Bishops Conference of the Philippines (CBCP), in his welcome message to the delegates, said he is praying for the safe journey and peaceful arrival of participants in Cebu.
Aldo Banaynal
Youth delegates told: Feel at home in Cebu
CEBU, Philippines — Thousands of youth delegates from across the archipelago are in Cebu April 24-28 for the National Youth Day activities, and though they are far from home, Catholic leaders want them to feel that's not the case.
Bishop Paul Jaucian, chairman of the Episcopal Commission on Youth of the Catholic Bishops Conference of the Philippines (CBCP), in his welcome message to the delegates, said he is praying for the safe journey and peaceful arrival of participants in Cebu.

"To all who are traveling now, with prayers for your safety. To all those who are here already in Cebu, welcome and feel at home," he told the media in a statement.
Some 12,000 young people will gather in Cebu, the country's prime southern province, for the first time since the NYD was first organized in 1986.
One of them is Pia Lopez, who has come all the way from Albay in Bicol. On NYD's official Facebook page, Lopez was quoted as saying she has been saving up money and doing odd jobs since January so she could raise funds for her participation.
"I expect to have a close encounter with God and to meet other NYD participants to know their life stories and testimonies," the first-time participant said.
Lopez and other youth delegates will be billeted in different foster homes and parishes under the Archdiocese of Cebu throughout the duration of the activities.
At the Archdiocesan Shrine of Immaculate Heart of Mary in Minglanilla town, more than 300 pilgrims from 16 delegations had arrived as of 3 p.m. yesterday. Of that number, 119 were already fetched by their foster parents.
Jasper Barreno, who represents the Diocese of Gumaca in Quezon Province, said he wishes to make the most out of this opportunity, especially as he loves to travel to build networks, meet new people, and to strengthen his connection with God.
But Barreno, 20, revealed the road to Cebu was not easy.
"I struggled financially, but that's how it is; we should make sacrifices and do whatever it takes to serve God— it's all for God," he said.
Before the youth pilgrims are deployed to their respective foster homes, they first get orientation from organizers in which they are briefed on the dos and don'ts during their stay.
Among those who have volunteered for the first time as a foster parent for the delegates is Rosminda Cañalita, who said it's her simple way of showing the young people that she is willing to help them.
Basilica closed
As the activities formally begin today, the Basilica Minore del Sto. Niño will be closed to regular devotees starting at 4 p.m. today as it will be exclusively opened to the delegates.
According to Father Genesis Labana, OSA, they have decided to cancel the regular 5:30 p.m. Mass today at the basilica in preparation for the activities.
No tourists will be allowed inside as the place is reserved for the youth delegates, he added.
Labana said those who wish to visit the basilica today are advised to do so tomorrow, Thursday. He also said they have mobilized thousands of volunteers to help accommodate the delegates, who will be given a chance to do the traditional Sinulog dance at the opening today.
Code white
Meanwhile, the Department of Health in Central Visayas said it remains on code white, meaning on a heightened alert, in line with the NYD events.
Dr. Shelbay Blanco, head of the Regional Epidemiology and Surveillance Unit at DOH-7, said the department has been involved in the preparations since last year. Recently, it has deployed augmentation teams to local government units playing a role in the activities.
Blanco said DOH-7 also checked all the festival sites where the delegates will visit to determine whether there are health hazards but it has been negative so far.
DOH-7 will also field teams during the main events such as the opening later today and the closing on April 28. In total, six teams each composed of a trained nurse and other medical staff will be deployed by the department.
The agency has been on code white since last week and will lift this on April 29, a day after the NYD closes.
For his part, Brigadier General Debold, director of Police Regional Office-7, has urged the public to be vigilant at all times and to be patient with the expected heavy traffic.
Police are on a red alert status as the NYD goes on a full swing today.
Maintaining cleanliness
To ensure cleanliness, over 100 barangay environment officers are deployed along Osmeña Boulevard in Cebu City, said Cebu City Environmental and Natural Resources Office (CENRO) head Ma. Nida Cabrera.
CENRO has put up 13 eco-stations for the proper disposal of garbage.
Cabrera said the BEOs will strictly implement City Ordinance 1361 or "An establishing a system of garbage collection, imposing fees therefor, and appropriating funds and for other related purposes." Those who will be apprehended for violating City Ordinance 1361 are fined P500 or render community service.
But NYD delegates, Cabrera said, the BEOs will inform them first of the ordinance before issuing citation tickets. — With Jean Marvette A. Demecillo (FREEMAN)