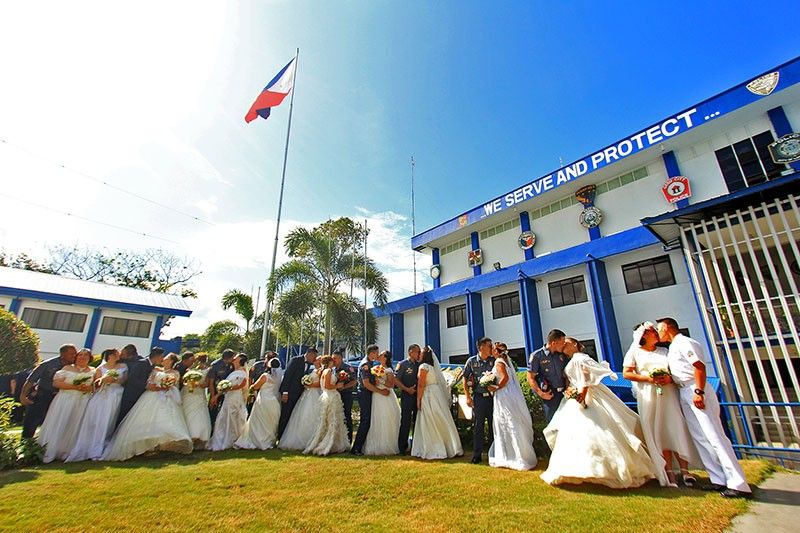 At least 16 couples, including police officers and their partners, tie the knot during a mass wedding sponsored by the Police Regional Office-7 yesterday.
Aldo Nelbert Banaynal
16 cops tie knot in mass wedding
CEBU, Philippines — Just in time for the love month, the Police Regional Office in Central Visayas sponsored the mass wedding of 16 couples yesterday at Camp Sergio Osmeña, the regional police headquarters.
One of the policemen who took the occasion to get married has been in the service for 22 years; Senior Superintendent Julian Entoma, 54, the director of Mandaue City Police Office.
Entoma was first wed to his wife Socorro Villaces Entoma, 52, through a civil wedding 22 years ago. They now have four children.
He said that he is happy they finally get to experience a church wedding, after he devoted most of his time in the service.
Entoma has had a busy PNP career, rising through the ranks via lateral entry to become a Senior Superintendent and Mandaue City chief.
He is set to retire this year.
"Nalipay ra pud ko nga karon nakasal na mi sa simbahan, I would want to work still even after the wedding, pero giingnan man mi ni RD (Chief Superintendent Debold Sinas), nga naa mi honeymoon which is modagan tulo ka adlaw," Entoma said.
Deputy Director General Archie Gamboa, chief of the Deputy for Operations in Camp Crame, and the Consul General of China, stood as godparents for the couples.
Sinas said that he gave them a break of three days to enjoy with family as most of the married couples already have children.
He said that PRO-7 shouldered all the expenses as part of its mandate to ingrain in policemen moral aptitude and values. These include seeing the family as the roots to keep a policeman grounded. He said that no matter what happens, a person, including policemen, would go back to his family.
"Practice your faith, and it is good to blessed, mao pa ingon sa pari, I have done my job. Gastos ni tanan sa PRO-7 from food to the church, and with cash gift worth P5,000 for the gown, including P5,000 for hotel honeymoon," Sinas said.
During the Mass, officiating priest, PRO-7 chaplain Superintendent Raynaldo Piañar, emphasized the importance the meaning of conjugal love. He said that in order for happiness to foster in any marriage, it is vital for the couple to mutually and totally give love to each other.
This means that they have to love and complete themselves, so they can share the same to their partners. (FREEMAN)