In Lapu-Lapu and Cebu City: 4 perish in fires
January 7, 2019 | 12:00am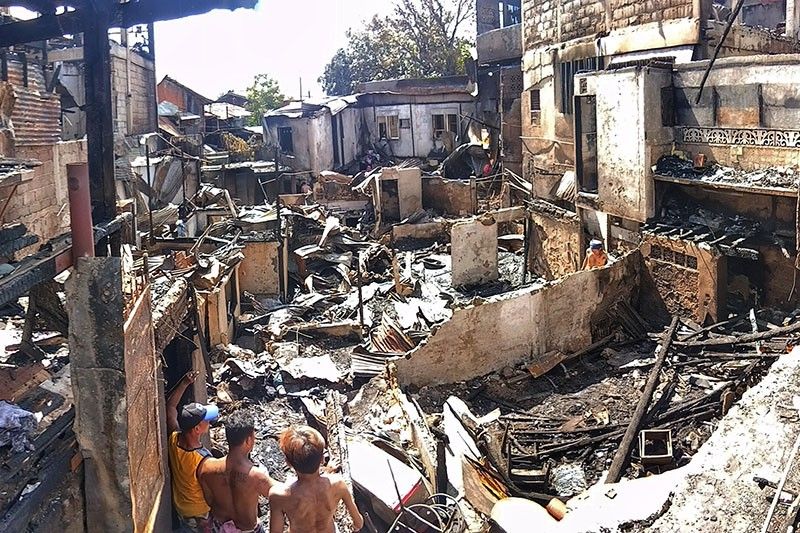 CEBU, Philippines — Four persons, including three children ages 14, 12, and 7, died in separate fire incidents in Cebu City and Lapu-Lapu City over the weekend.
Rosalina Armilla, 55; her 14-year-old niece Desiree Jalipot; and granddaughter Aaleyah Jean Inoc, 7, were charred to death after their house located at Phase 2, Joanna Homes, in Sitio Sudtunggan, Barangay Basak, Lapu-Lapu City was razed by fire yesterday morning.
Senior Insp. Eulalio Muñez, officer-in-charge of Lapu-Lapu City Fire Department, said the victims were trapped at the second floor of their house.
All efforts to save the victims failed because of the iron grills installed on the windows that prevented rescuers from breaking into the house.
The cause of the fire is yet to be determined but fire investigator Hadjiluden Samonte believes it may have been due to a lighted candle that was left unattended.
The area reportedly experienced a power outage before the fire broke out at 6:05 a.m. It was raised to first alarm before it was declared under control five minutes later and put out at 7:25 a.m. The fire department pegged the damage at P300, 000.
It was the fourth fire to hit Lapu-Lapu City in a span of five days. A warehouse at Vera Compound in Purok Lemonsito, Barangay Gun-ob was razed by fire on January 2. It was followed by another fire at a dive shop in Sitio Buot, Barangay Punta Engaño on January 3.
A Korean spa in Barangay Maribago also caught fire on Saturday leaving at least P250,000 in damage.
Duljo-Fatima
Meanwhile, 14 houses were razed by another fire that struck Barangay Duljo-Fatima, Cebu City Saturday evening, barely over a week since a huge conflagration hit the area on Christmas day that killed a 12-year-old boy and left close to 600 families homeless.
The recent fire also claimed the life of Christian Lopez, 12, who was declared missing after the fire. His charred remains were found yesterday said SFO1 Romeo Birao of the Cebu City Fire Department.
There were also 32 families left without roof above their heads and at least P500,000 in property damage.
The calamity also baffled barangay officials where to source out funds to help the fire victims.
"Mao ni problema namo karong bag-o, nangita mi og paagi unsay mahimo namo kay hurot na raba among funding (this is now our problem, we are trying to find ways because our funds have been depleted)," said Barangay Capt. Elmer Abella.
Cebu City Vice Mayor Edgar Labella said all the victims of last Saturday's fire will be given food by the city within the next three days. Labella visited the fire victims yesterday together with retired Philippine National Police chief Ronald "Bato" dela Rosa.
Some of the latest fire victims are sheltered at the barangay sports complex while others opted to rent a pension house. Some also take shelter with their relatives.
Cebu City Disaster Risk Reduction Management Office head Nagiel Banacia advised the public to be vigilant to prevent fire incidents especially in urban poor and heavy populated areas.
"Ang tanang recent na sunog tungod sa (all recent fires were due to) human negligence, like sa (in) Duljo niadtong Pasko (last Christmas). Magbantay gyud kay kung masunog, dako kaayong kadaot (be vigilant because fire will cause a lot of damage)," Bañacia said.
City Of Naga
At least 11 houses were also gutted by fire Saturday afternoon in Sitio Mohon, Barangay Langtad, City of Naga. The damage was pegged at P300,000.
Fire Officer 1 Ronel Andagan said the fire alarm was reported around 3:22 p.m. and was declared under control at 3:52 p.m. It allegedly started at the house owned by Marcelino Zamora, 32.
Investigation revealed that the main circuit breaker exploded because of alleged electrical misuse. It was found out that there were too many appliances used at the same time resulting in overload. — With Isabella G. Obor (FREEMAN)