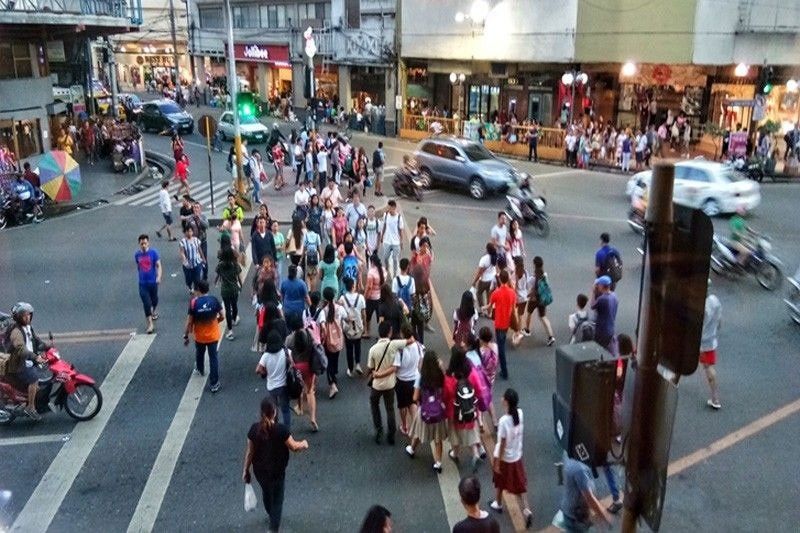 Provincial Focal Person on Traffic Management Jonathan Tumulak said that pedestrianization may only be applied in limited areas.
Aldo Nelbert Banaynal
Pedestrianization backers told: Consider tapping alternative roads
CEBU, Philippines — While the idea of pedestrianization is enticing, a traffic officer opined that a wide alternative road should be a factor in deciding whether or not an existing road should be converted solely for walking.
Provincial Focal Person on Traffic Management Jonathan Tumulak said that pedestrianization may only be applied in limited areas.
"Mahimo na nato siyang ma-apply kung pananglitan duna tay alternatibo nga dalan nga imong kabutangan sa matangtang nga mga sakyanan. Kung way klaro, maka-create nalang sab na siyag another problem sa kasigpit nga dalan nga inyong gisirad-an unless dako ang dalan," he said.
Despite this, Tumulak acknowledged that the proposal itself is a good idea but the NEDA study should also look into the impact not only on the businesses nearby the roads but also on the possible traffic management schemes.
"It's an idea kay pag-promote pud against aning pollution. Maayo siya nga plano pero dili lang ko mag-mention og lugar, pero angayan siguro timbang-timbangon kung ma-apply pa ba na siya dihang dapita tungod sa volume sa sakyanan," he said.
He urged local government units, especially the metropolitan areas, to also look at under-utilized roads, which may also be part of the solution.
"Angay sab tingali nga i-review sa mga LGU ang ilang mga dalan diha sa ilang lugar. Tingali diay adunay mga dalan nga wala diay na-properly gamit unya gigamit lang hinuon nga parking area sa mga nagpuyo anang lugaraha," he said.
Colon
Should "pedestrianization" be implemented in Cebu City, the city's traffic group recommended it be put in place on Colon Street, the oldest street in the Philippines.
CCTO Operations chief Francisco Ouano believes the initiative will address traffic congestion as walking and biking would be an alternative mode of transportation for the people.
"Dako'g posibilidad ma-implement ang pedestrianization sa Colon area. Maayo gyud ni kay less traffic, less pollution," he told The FREEMAN.
The National Economic and Development Authority-7 is undertaking a P3.5 million study for possible "pedestrianization" in Cebu City.
NEDA believes the initiative would address traffic congestion as a specific area will be made solely for walking and biking.
Ouano said there were initiatives before to revitalize Colon Street through pedestrianization. With pedestrianization, motorists may be convinced not to use their cars and vehicles anymore.
"With the limited road space that we have, lisod gyud labi na nagkadaghan ang atong mga sakyanan. So, mo-provide ta og alternative sa mga motorista," he said.
Ouano said there are other countries and cities that are successful in implementing pedestrianization.
If the study begins this year, results and recommendations may be given by middle of 2019.
In the meantime, the city government will implement measures to smoothen traffic flow by imposing hefty fines against erring motorists.
He said raising fines to P3,000 from P1,000 should encourage motorists to follow traffic rules strictly.
Ouano said motorists continue to violate even simple traffic laws like "no stopping", "no parking," "obstruction" because of the meager fine.
"Habitual nalang ang mga violation. Inig human og kadakop, balik napod kadakpan kay ni violate napod. So, usa na sa gitan-aw ni mayor nga ma-implement before sa elections," he said. (FREEMAN)