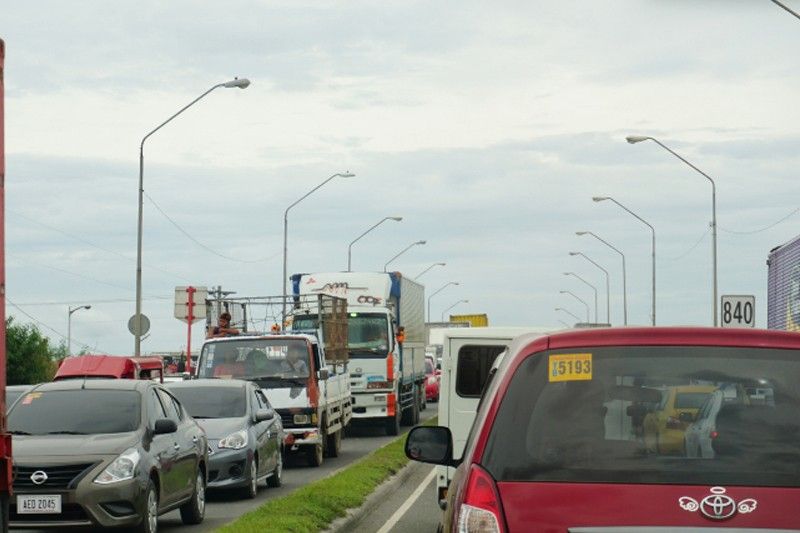 A state of traffic emergency declaration in Cebu City is being eyed to decongest Natalio Bacalso Avenue by allowing public jeepneys to use Cebu South Coastal Road while the underpass project is ongoing. Kristine Joyce W. Campaña
To decongest Natalio Bacalso Avenue: Talisay PUJs to use CSCR
CEBU, Philippines — Starting Wednesday next week, public utility jeepneys from Talisay City that go to Cebu City will use the Cebu South Coastal Road at the South Road Properties (SRP) to help alleviate the traffic situation on N. Bacalso Avenue in Cebu City.
Almond Dela Peña, head of Talisay City's Traffic Operations Development Authority, said the city agrees with the Land Transportation and Franchising Regulatory Board (LTFRB) that doing so would help address the traffic situation.
Traffic congestion on N. Bacalso Avenue has worsened in recent months owing to the ongoing construction of an underpass in Barangay Mambaling, Cebu City, which started in August 2017.
Around 40 jeepneys ply from Barangay Tabunok in Talisay City to Cebu City via N. Bacalso Avenue.
With the new route, commuters can expect a higher fare, which will be determined by LTFRB. At present, commuters pay P9 from Talisay City to Cebu City.
He said loading and unloading areas at SRP are being identified to ensure the safety of the riding public.
"Walay loading and unloading areas kay dili designed ang CSCR nga naay PUJ's. Kusog pud kaayo ang dagan sa mga sakyanan. Basin pahunongon nato sa establishment nga naay dakong hawan para iwas sa aksidente," Dela Peña said.
State of calamity
In Cebu City, Mayor Tomas Osmeña wants the City Council to declare a state of calamity over the traffic situation on N. Bacalso Avenue so that the city, like Talisay, can allow PUJs at the SRP.
"We will ask the council through Tumulak to declare state of emergency because it will take time to amend the ordinance and we have to test the idea before we can make it into an ordinance," Osmeña told reporters.
The mayor is referring to Councilor David Tumulak, chairman of the City Council's committee on public order and safety.
In a separate interview, Tumulak said he will file a resolution to this effect during the Council's session on March 20.
He said that once a state of emergency is declared, the city can come up with measures that would address the traffic problem, among which is allowing PUJs to pass through the Cebu South Coastal Road at the South Road Properties (SRP).
If PUJs will be allowed at the SRP, Tumulak said certain rules must be in place.
"Dapat naa gyu'y designated lanes for them and dapat mo-observe sa speed limit," he said.
Other options
Cebu City Councilor Jose Daluz III believes a better option is for the city to franchise buses that can ferry commuters from the south.
"Well, ako, I have a different suggestion to the mayor. Instead of jeepneys, let's have buses in Cebu South Coastal Road. I think we can do that in a special franchise to alleviate the traffic congestion sa N. Bacalso," Daluz said.
Daluz said the buses can pass a specific route from Plaza Independencia in Cebu City and even up to Minglanilla town, which is after Talisay City.
Councilors Raymond Alvin Garcia and Jocelyn Pesquera agree.
"I believe pwede man na siya nga isa ka mechanism nga ma-reduce ang traffic congestion sa N. Bacalso kay as of now, lisod kaayo ang kahimtang and it can be a temporary solution," Pesquera said.
What Osmeña is eyeing at, at the moment, is providing free bus rides to City Hall workers from the south so they will not be late for work.
"The purpose here is trying to reduce congestion so it's not trying to benefit the City Hall employees; it is for the benefit of everyone in the south. We have to experiment with this with City Hall employees first," Osmeña said.
Pesquera supports Osmeña's request for the council to declare a state of calamity. — Odessa O. Leyson (FREEMAN)