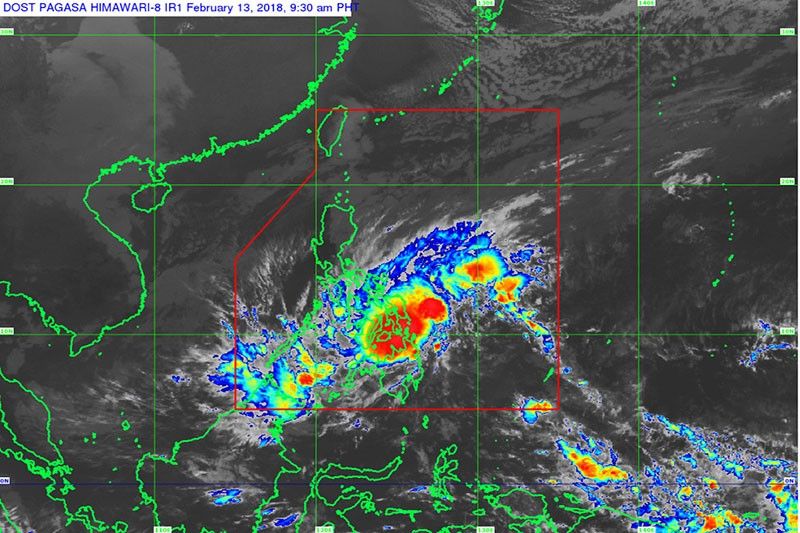 As of 7 p.m. last night, 64 families (195 individuals) are from Alegria, nine families (53 individuals) are from Ginatilan, 23 families are from Sibonga, seven families (30 individuals) are from Argao, and six families (22 individuals) are from Boljoon.
PAGASA/Released
Basyang leaves 300 people in evac centers
(The Freeman) - February 14, 2018 - 12:00am
CEBU, Philippines — No one was reported hurt in Cebu as Tropical Depression Basyang passed the province yesterday but at least 300 people living in coastal or flood-prone areas had to be evacuated preemptively.
As of 7 p.m. last night, 64 families (195 individuals) are from Alegria, nine families (53 individuals) are from Ginatilan, 23 families are from Sibonga, seven families (30 individuals) are from Argao, and six families (22 individuals) are from Boljoon.
Evacuations in Sogod and Aloguinsan towns were ongoing last night as of this writing.
Basyang was classified initially as a tropical storm but it was downgraded into a tropical depression at 11 a.m. yesterday. It weakened as it was traversing Bohol with sustained winds from 65kph to 55kph.
All classes in public and private schools were suspended yesterday until today. Sea travel and all outdoor tourism activities were also suspended.
As a result, at least 683 people were stranded at different wharfs, 167 of whom are foreigners, said the Provincial Disaster Risk Reduction and Management Office (PDRRMO).
There are nine ports and wharfs in the province located in Argao, Bogo City, Daanbantayan, Danao City, Dumanjug, Hagnaya (San Remigio), Oslob, Samboan, and Santander.
Minor landslides were reported in Barangay Ilaya while flooding was reported in Talisay City. Also, erosion at a road in Barili town widened due to the rain.
The command center of PDRRMO will operate 24 hours until the weather disturbance exits the Philippine Area of Responsibility (PAR). The office also ensures that relevant information and response are delivered immediately to the local level when the need arises.
Emergency Response Management Head Raphael Luche said the office is also coordinating closely with the Air Force of the Philippines (AFP).
Two trucks from the Infantry Battalion were deployed and repositioned in the south, one in Moalboal and another in Boljoon. Heavy equipment were also on standby in Boljoon in the event of a landslide.
Police Regional Office (PRO) – 7 activated its search and rescue team.
Senior Supt. Julian Entoma, chief of the Operations Plans Division, said all provincial police stations in southern Cebu have been directed to monitor and coordinate with local government units so as to immediately respond to disasters.
"Ato nang gialerto tanang police station. Kung duna'y bagyo, mag full alert man ta for public safety purposes. Ang kapulisan, labi na sa southern Cebu, nag-monitor na karon," Entoma said yesterday.
LGU Situations
No injury was recorded in Cebu City but Nagiel Bañacia, chief of the Cebu City Disaster Risk Reduction Management Office said strong winds uprooted some trees in mountain and rural areas.
The team is on red alert, which means all personnel, equipment, and other resources are ready to be deployed in case of emergencies and incidents, Bañacia said.
He said the city's thrust is to prepare the families for all kinds of emergencies.
At 10 a.m. yesterday, Councilor David Tumulak recommended to Mayor Tomas Osmeña and to CCDRRMO to suspend classes in all levels.
Many netizens said the suspension was too late, considering several private schools in the city and the provincial government itself, suspended classes Monday evening yet.
Tumulak, the deputy mayor for police matters, said there is a need to assess the hazards and risks to justify the suspension of classes.
"Dili mana matawag nga late announcement kay kinahanglan naa gyod kay basis and justification dili lamang kay unsa atong gibasehan. Nag-rely ta sa PAGASA and other weather monitoring stations," he said.
The emergency team of Lapu-Lapu City has also been on standby.
"Naka-blue alert ta, meaning 24 hours atong monitoring. Naka-standby sad atong emergency team ari," said Andy Berame, head of the city's disaster team.
Trips to Olango Island were also cancelled yesterday.
Classes in pre-school and kindergarten were suspended immediately after Storm Signal No. 1 was raised over Cebu.
In Mandaue City, Mayor Luigi Quisumbing also suspended classes in all levels owing to heavy rains.
Work hours at the City Hall were also shortened at 2 p.m.
Like in Cebu City, the city government in Mandaue is on "red alert" until Basyang leaves the country.
Alive
Meanwhile, the 48-year-old fisherman from Medellin town who went missing was found safe in neighboring San Remigio yesterday.
Demetrio Booc left Medellin at 1 a.m. yesterday and was fishing at the area between Gibitngil and Bantayan Islands when he reportedly fell asleep in his banca. It was already 3 a.m. when he was awakened by the waves getting bigger.
His banca's engine reportedly stopped working after taking in seawater.
Fortunately, another fisherman passed by the area and pulled his banca to Barangay Anapog in San Remigio. The town's disaster team helped him return home to Medellin. —/JMO (FREEMAN)